Nov. 1, 2000, by Gene Kira:

Might as well spill the beans, as it were. One of the reasons I went fishing on Tony Reyes' San Felipe panga mothership, the Jose Andres, a few weeks ago, was to discuss and plan an extraordinary Baja voyage with its skipper, Tony Reyes Jr.

This amazing voyage will take place in the spring of the year 2002, and it will be a replica cruise of the seminal trip taken by John Steinbeck and marine biologist Ed Ricketts in 1940. The Jose Andres will depart Monterey, California, at noon, March 11, 2002, and it will spend the next month retracing the historic route of Steinbeck's original boat, the Western Flyer, around the tip of Mexico's Baja California peninsula, up the Sea of Cortez to the Midriff Islands, over to the Mexican mainland, and back to Cabo San Lucas. The cruise will officially end at 3 a.m. the morning of April 13th at Cabo Falso (just as Steinbeck's book, the Log Of The Sea Of Cortez, does), with a champagne toast to the sunrise and our tremendous adventure, and we will then have the option of flying home from Cabo, or returning to San Felipe aboard the Jose Andres for a complete "circumnavigation" of Baja. (I plan to ride the boat all the way to San Felipe).
As closely as possible, and on the same days of the year, we will visit the places and reefs that Steinbeck and Ricketts did. We will be led by senior marine biologist, Ron McPeak, and we will be keeping our own "Log Of The Sea Of Cortez," a species list of marine tide pool life, birds, whales, fish, coral, lizards, snakes (Ron has just published a book on the reptiles of Baja California), and such things as the "green flash" sunrise/sunset phenomenon, and Ron's favorite demonstration, the "green flush" (photoluminescent plankton netted and flushed down the toilet at midnight).

We will use snorkel, nets, microscopes, bait lights, and Ron's expert eyes to observe a range of species that most people won't see in a lifetime. We'll also black light beaches for scorpions (they glow bright blue in UV light and Baja has more scorpions than anywhere else), and Ron will take us on after-sunset flashlight walks to check out the many things that go bump in the Baja night. One of his specialities is observing the giant 30-pound chuckwalla lizards that are found in many areas. But...there's a lot, lot more, and space is short.

One of the reasons we're doing this trip aboard the Jose Andres is that it pretty closely resembles Steinbeck's original boat, the Western Flyer; it's a relatively small, 87-foot work boat adapted to an extended cruising adventure. Moreover, the Jose Andres has something that Steinbeck and Ricketts didn't have: pangas! And real live pangueros!
We will take the Jose Andres' normal complement of six pangas on this voyage, each with a full-time guide. All day, every day, each group of three guests will have its own dedicated panga and driver, to be used for snorkeling, beach visits, shopping runs into towns and villages, island explorations, and (even) fishing, if that's desired. We'll also have kayaks on board, and the pangas will be used as "mini-motherships" that can take kayaks into remote bays and coves for a day of exploring.

Another reason this size boat is ideal as a learning platform is that everyone will be able to participate in all phases of the operation. We'll learn how to steer and operate a real (former) shrimp boat, navigate, use the various radios, gps, charts, video fathometer, radar, and oh yes...everyone will learn to operate a panga!

Food? Arf! Arf! We'll have steaks and so forth, of course, but one of the main purposes of this trip will be to eat as much and as great a variety of gourmet seafood as possible! Our pangueros, aided by those of us with an interest, will catch fish, dive, and interface with local pangueros to tap deeply into the astounding abundance of the Baja sea, and we'll be dining like royalty on seafood specialities cooked especially for us (really fresh seafood comes as a life-changing surprise for many). As backup, we'll take plenty of ingredients with us, such as Mexican wines and giant San Felipe shrimp. In addition, we're planning overnight stays in several of Baja's historic luxury resorts, complete with blow-out banquets prepared especially for us.

We'll also do literary readings, special land tours, missions, museums, rock art, etc., etc., a sort of giant smorgasbord of the best that Baja has to offer. But for me, the most important part of the trip will be to stand beside Steinbeck and Ricketts at Cabo Pulmo, Bahia de los Angeles, and a hundred other places, and ...feel... really feel, the history and lore of Baja California.

There is, I think, no better place to do this than during a leisurely cruise aboard a San Felipe mothership, and for those who may not be familiar with these rustic, unique and historic working boats, here's a photo album from my recent fishing trip aboard the Jose Andres: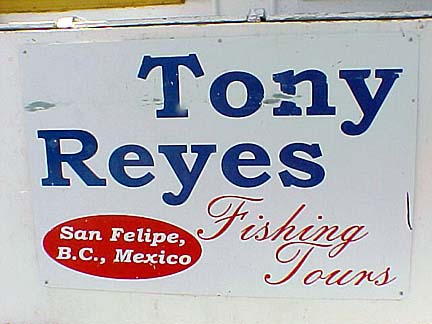 The Tony Reyes van is used to take people to the boat in the San Felipe commercial harbor. Right, Tony Reyes Sr. and Jr. have 35 years experience in the panga mothership business.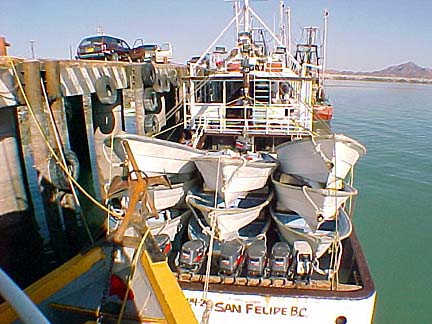 The Jose Andres waiting for San Felipe's tremendous 20-foot tide to rise enough for departure. Right, Tony Reyes Jr., 14 years' experience as a mothership skipper.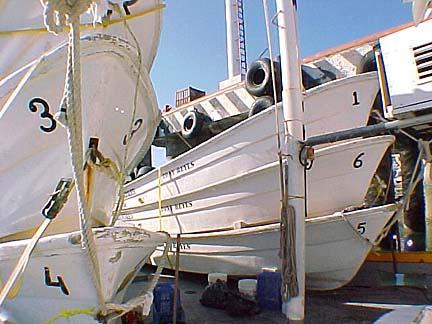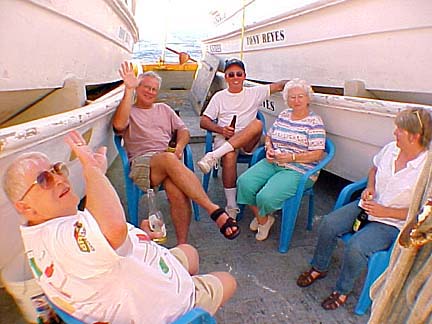 Our pangas, ready for departure. Right, relaxing during the cruise south.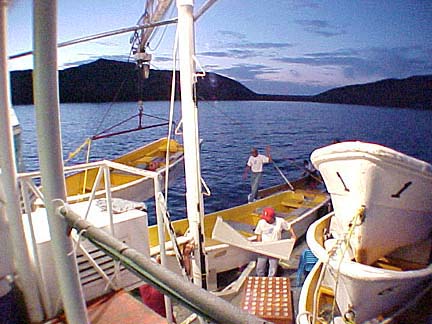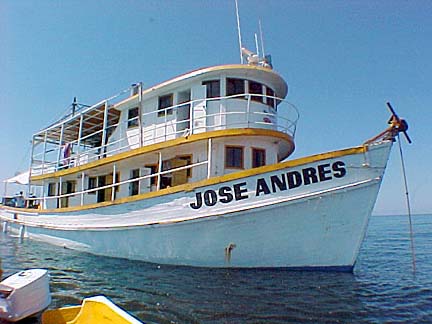 Off-loading our pangas at daybreak. Right, at anchor the next morning, at San Francisquito.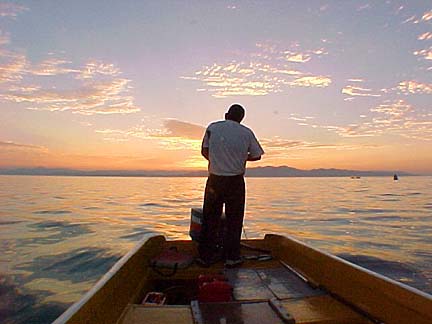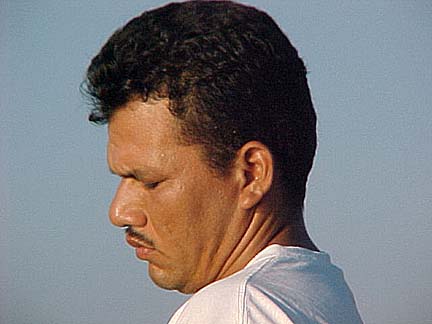 Dawn on our second day, fishing off Isla San Lorenzo. Right, our panguero, "Bebo."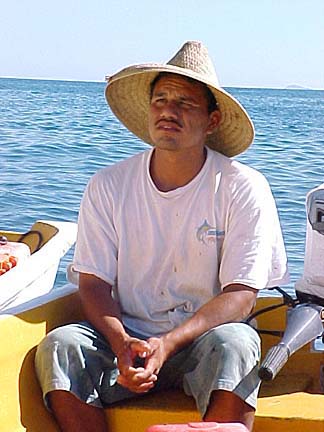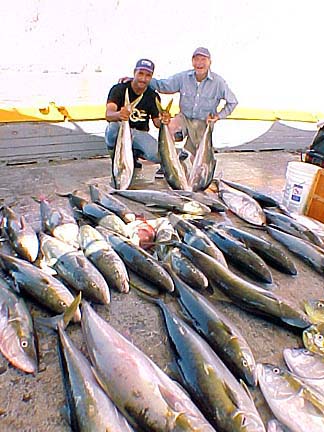 So Bebo, how come no fish? Right, Oops! Here they are. A typical catch of yellowtail at Isla San Lorenzo.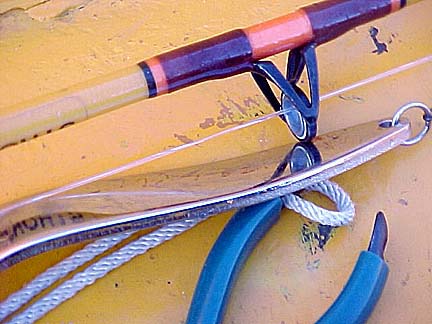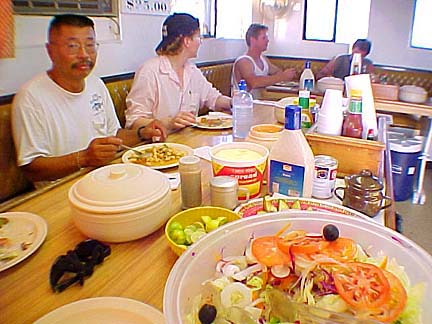 A favorite lure, the Luhr Jensen Krocodile. Right, a quick lunch in the galley of the Jose Andres.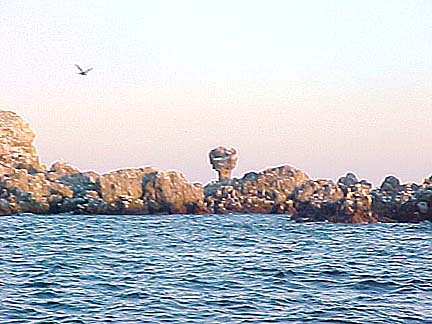 Rock formation at Isla Salsipuedes. Right, dawn at Isla Partida.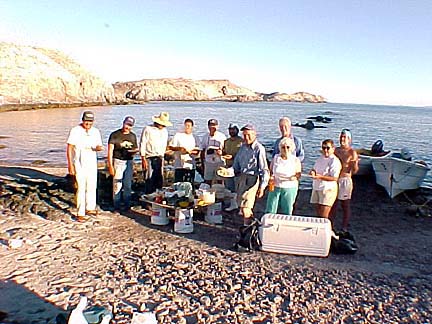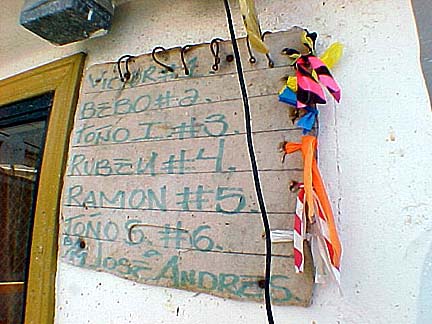 Ashore for a marvelous yellowtail barbecue and all the fixin's. Right, pangueros' names and their panga numbers.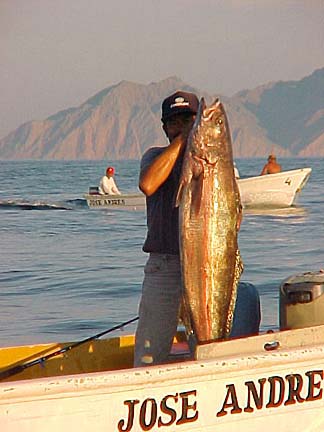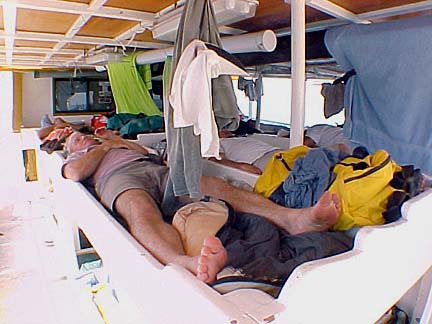 A monster white seabass at Isla San Lorenzo. Right, resting up for the afternoon bite.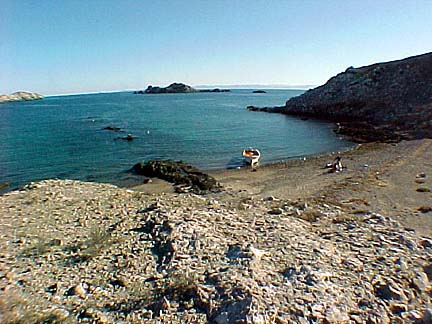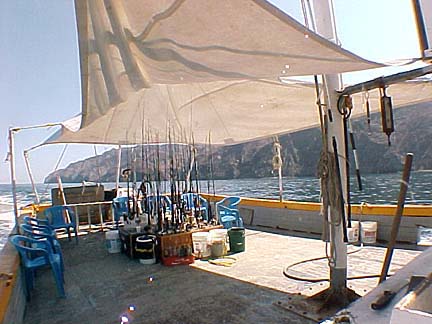 A perfect, hidden island cove for exploring and solitude. Right, moving the boat in the afternoon sun.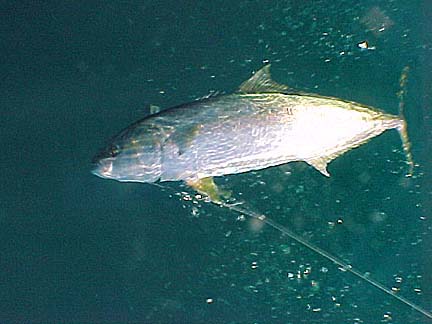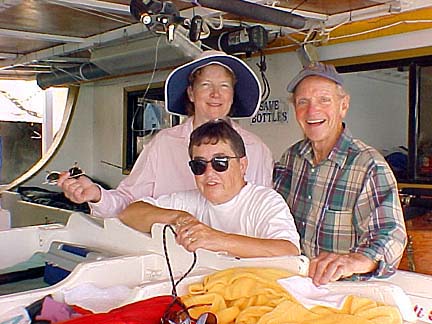 A powerful, 35-pound yellowtail comes to gaff on 80-pound mono and a buttoned-down drag. Right, guests during the 15-hour cruise from the Islands to San Felipe.
(Related Baja California, Mexico, articles and reports may be found at Mexfish.com's main Baja California information page. See weekly fishing news, photos, and reports from the major sportfishing vacation areas of Mexico including the Baja California area in "Mexico Fishing News.")