March 16, 2000, by Gene Kira, Western Outdoor News:

Suddenly, Mag Bay is "hot" again. And this time, the invaders aren't whalers or commercial fishermen, but modern light tackle sport anglers who are beginning to discover the "undiscovered" excitement of Baja-style mangrove fishing.

Until quite recently, few sport anglers paid much attention to this magnificent, 140-mile long system of bays and narrow, winding channels at the southern end of Baja's Pacific Coast.

But, Mag Bay, more properly called "Bahia Magdalena, Baja California Sur, Mexico," has a long boom-and-bust history of human activity going back over a century.

First, in the mid-1800s, the bay was the scene of a bloody whaling trade as American and European ships came to harvest the California Gray Whales that swam either inside the bay or in the Pacific Ocean outside its three principle bocas. The shores of the bay were littered with the bones and rotting remains of whales that had been boiled down for their oil. A lack of whales and, eventually, legal protection put a stop to that one.
Then, in the late-1800s Mag Bay was the scene of a strange European trade in a Spanish Moss-like plant called "orchilla" that was harvested around San Carlos and shipped to Germany and England for the manufacture of a vivid purple dye. The advent of modern synthetic dyes stopped that industry.

Next came the commercial fishermen, about the turn of the century, either in canoes or in tall ships sent from distant ports, and the bay was netted for a wide variety of fish, including giant black snook that some old pangueros say weighed up to 50 kilos, over a hundred pounds. The fishermen were accompanied by divers who harvested lobster, clams and scallops, as they still do today on a limited basis.

Then in the 1950s came canneries at San Carlos and later, Puerto Lopez Mateos, that still serve boats fishing the eastern Pacific, and then a large commercial pier was built in San Carlos to ship agricultural products grown in the Santo Domingo valley, which was irrigated and developed during the same period.

And at last, in the 1960s and 1970s, a few sport anglers began to arrive, lead by Ed Tabor's famous Flying Sportsmen Lodge in Loreto. Tabor flew his clients to San Carlos in a World War II surplus PB-Y amphibious seaplane, and he landed on the bay near San Carlos. According to his wife, Bertha, if they couldn't find pangas for hire, Ed's clients would open the side doors of the PB-Y and stick their rods out to fish right from the plane. Bertha doesn't recall if Ed ever trolled with the PB-Y, although some old timers insist that he did.

Tabor built a small complex of cottages raised on stilts at the south end of San Carlos, and you can still see them today. After the Flying Sportsmen Lodge closed, the cottages served as a motel, then as a cantina and house of questionable purpose, then a motel again, and today it serves college kids as a field research station.

But as the fishing thinned out drastically in the late 1970s, the old style "sport" angler--bent on filling huge ice chests with enormous fillets of giant black seabass and huge grouper--stopped coming to Mag Bay, and things settled into a sleepy doldrums of slow decline. Mag Bay faded from the general public's awareness, and only a few anglers came to fish the seemingly endless mangrove channels for the fantastic variety and quantity of medium-sized fish missed by the commercials.

For these very few anglers, mostly tent campers with small aluminum boats, Mag Bay provided year-round action for a very wide variety of medium-sized fish, including halibut, corvina, bass, broomtail and gulf groupers, snook, several snappers, several jacks and pompanos, roosterfish, and many one-of-a-kinds that aren't in the popular fish I.D. books.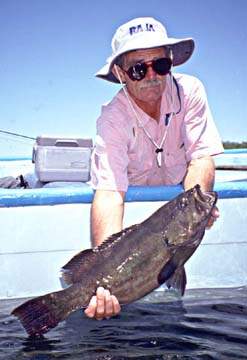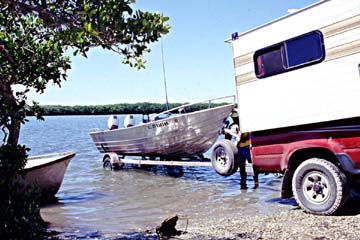 Baja On The Fly's Gary Graham with a nice broomtail grouper. Right, a typical Mag Bay launch spot.
Today, Magdalena Bay is rising from the ashes yet again, with a booming whale-watching business every winter that caters to Mexicans as well as Americans, and small but exponentially-growing sport fishing industry based on light tackle fishing for mixed species in the mangroves, and a wild, wild offshore pileup for marlin, tuna, wahoo and dorado that occurs during fall in the Thetis Bank area, 18 miles outside of the main boca near San Carlos.

But Mag Bay is still difficult terrain for a sport fishing operator, because of its remoteness. To get there, you either have to drive two hard days from the border, or fly to Loreto or La Paz, and arrange ground transportation by bus or van. Then, you are faced with a total lack of organized fishing operations, and you must either have your own boat or find a commercial panguero to take you out.

It's no wonder that sport anglers were first brought to Magdalena Bay by operators who had their own transportation and lodging facilities, beginning with Ed Tabor's old PB-Y, and continuing with the panga motherships that have come to Mag Bay from the farthest corner of Baja, San Felipe, at the north end of the Sea of Cortez. It's no coincidence that all four of San Felipe's motherships have visited Mag Bay. These include Tony Reyes Fishing Tours, the "Jose Andres"; Bobby Castellon's Sea Of Cortez Sportfishing, the "Celia Angelina"; Jig Stop Tours, the "Captain Villegas"; and Baja Sportfishing, the "M/V Erik." These motherships not only solve the transportation problem, but they also provide room and meals on the boat, pangas, guides, and live bait tanks. These boats come ready for action, and the catch is heavy, both on the outer banks, and in the mangrove channels. Lately, the "Captain Villegas" has been quite active in Mag Bay, and the owners of the other three boats are contemplating future trips to the area.
But where the mangroves really shine is in light tackle and fly fishing. Many years ago, when my Baja Catch coauthor, Neil Kelly, and I first came to Mag Bay, Neil recognized it instantly as the ultimate paradise for a fly angler. Few people knew that Neil was really an expert mountain stream trout guy, and he only started fishing Baja when health problems stopped him from going to high altitudes. His right arm was very weak, and he converted to spinning tackle because he had trouble casting, and he only had a few seconds to catch a fish, or his arm would freeze up. Neil's first love was a fly rod and that's what he would have used in Mag Bay, if he had been able to.

Today, Neil's vision is being turned into reality by another great fly fisherman, Gary Graham, of Baja On The Fly, who is running the only regularly scheduled trips to Mag Bay that don't employ a San Felipe mothership. In addition to his very successful East Cape operation, Gary guides both conventional and fly anglers out of San Carlos, which is ideally situated at the juncture between Mag Bay's northern mangrove panhandle and its main opening to the Pacific at the south end of Isla Magdalena.

Baja On The Fly is a "deluxe" operation, where you fly into La Paz, are whisked to San Carlos by private van, and are lodged in one of the very pleasant motels owned by the Brennan family. You dine in one of several good restaurants, or if you're like me, you take your pick among the town's many excellent taco stands.

In the morning, Gary and your panguero take you for a quick boat ride across the bay and into the super-protected mangrove channels, where you can cast easily for a wide variety of species, even if it's blowing 20 knots outside. The action is pretty steady all year round, with a dip in February and March, and with sunny skies and water that's always warm enough for a pleasant swim.

In November and December, Baja On The Fly also takes clients 18 miles offshore to hit the tremendous annual Thetis Bank fish pileup. On one of these trips, I witnessed an incredible striped marlin pileup, in which we raised over 150 fish to the fly in a five-day period.

Despite the current renaissance of Mag Bay that is now going on, the number of anglers coming here is still just a sliver compared to the better-known areas of Baja. Even though this place has been "discovered" many times before, it once again has a genuine "frontier" feel, as a whole new generation of modern, light tackle and fly anglers begin to discover the excitement of Baja's magnificent mangroves.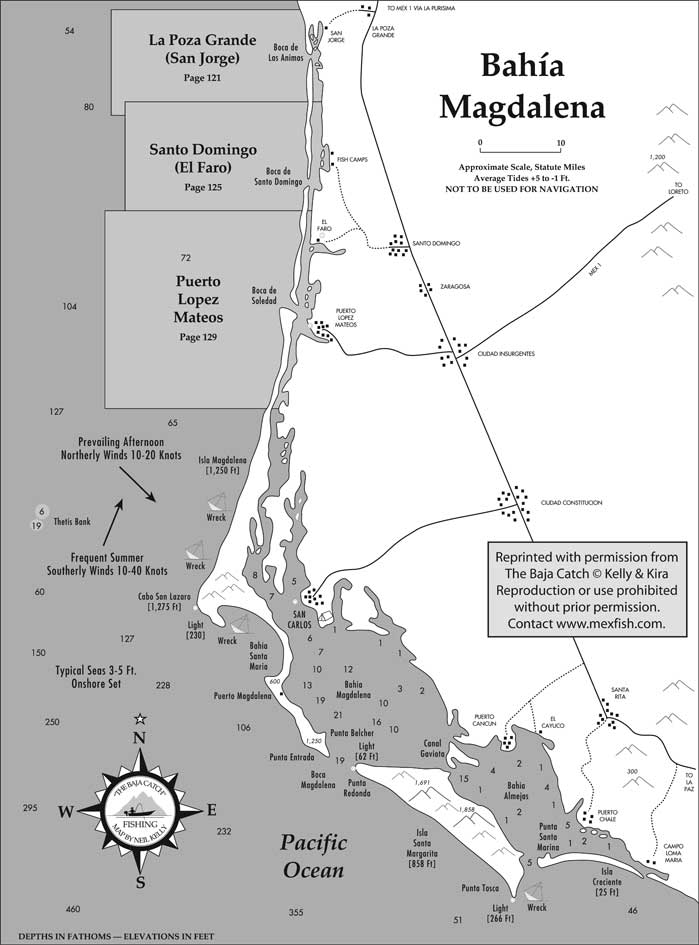 Map reprinted with permission from The Baja Catch, 3rd Edition.
(Related Baja California, Mexico, articles and reports may be found at Mexfish.com's main Baja California information page. See weekly fishing news, photos, and reports from the major sportfishing vacation areas of Mexico including the Baja California area in "Mexico Fishing News.")