By Gene Kira, July 27, 2001, as published in Western Outdoor News:

Fred Hoctor, long-standing Baja California columnist for Western Outdoor News, passed away this week after a battle with heart failure and other ailments that never dimmed his great intelligence and brilliant wit. Although Fred had thousands of loyal fans who read his weekly Baja sportfishing columns, his magazine articles, and his classic book, Baja Haha, few knew that he was--behind the wacky humor and carefully cultivated image of the crusty old curmudgeon--also a kind-hearted gentleman and a true scholar.
Fred could readily quote passages from John Donne, Socrates, Descartes, Melville and a host of others, whatever the occasion called for, but he usually did so only privately, and the great breadth and depth of his intellect was rarely revealed in the public writings by which he was known. One of his favorite novels was Tess of the D'Urbervilles by Thomas Hardy, which he re-read every few years.

Fred was born in Schenectady, New York, on November 3, 1930 and attended Port Washington High School on Long Island. In 1952, he graduated from Hamilton College, and he later attended graduate school at NYU. His early employment included stints as a lifeguard, dishwasher, elevator man, bellhop, seaman, bartender, manager of a pet cemetery, horse rancher, flower peddler, illegal fishing guide, and many writing, editorial and public relations jobs in New York, Florida and California.

After a fast-paced series of careers and adventures that could fill several lifetimes, in 1974 Fred married Sylvia Ann Hickman, of Wichita, in San Diego. In 1984 his book, Baja Haha, was published. In 1985 he became Baja columnist for Western Outdoor News, following Ray Cannon and Tom Miller in that position. In 1987 he gave up drinking, and when pressed to describe himself in his later years, offered, "bon vivant, raconteur, fishing guy."

But, above all, Fred was a magnificent story teller who could cut to the core of the matter with a few subtle strokes. He was a master of humorous tone and voice, and here, in his own words, is the story of one of his real life adventures -- when he was "bitten by Ernest Hemingway's dog":
"It was the summer of '51...just before my senior year. I was chasing after a shapely Minnesota girl in the chorus line with Holiday on Ice and toward the end of the summer tending bar in the Bamboo Room, just off the tropical garden at the posh Roney Plaza in Miami Beach. Part of my job was watching Meyer Schine's (G. David "McCarthy Hearing" Schine's father and owner of the Ambassador Hotel in LA) matched Amazon parrots to be sure they were not stolen off their perch. That is another story. Batista was still in power, but Miami was crawling with wealthy Cuban refugees dancing every night and waiting to see how the wind blew. God, could they dance. In the next year or so, Castro was in power and was throwing chicken bones out of his hotel window in NY ... remember that? In any case, after the parrots were stolen from under my nose, I had to go to work for a widow on her yacht, cruising to Cuba. I was a dopey kid. When we got to Havana, she sent me for a bottle of rum. When I got back to the dock, the boat was gone. I took the rum, wandered down Obispo Blvd to the Hotel Nacional and plunked myself down behind a potted palm in the lobby, where I began to furtively drink it. There was a little fountain in the lobby that was full of pure pineapple juice. It had a spigot, and there was a Dixie Cup dispenser, so people would walk up and sample the juice. It was perfect with the rum. The night manager finally caught me and threw me out. I slept in the park. The next day, fiercely hung over, I rented a scooter and went off looking for Hemingway's house somewhere off in the hills outside of town. I remember it was at the top of a cobblestone street, and I peered through the gate to see if I could get a glimpse of the master. The caretaker shooed me away twice. I was just about to leave of my own volition when a little door next to the iron gate opened and out came a big dog that chased me down the hill, nipping at me and tugging at my pant leg as I bumped along on my Lambretta. I don't think that it really drew any blood but scared the hell out of me. I have a scar on my leg which I got when I became entangled in a barstool at the Windjammer and broke my leg. I always refer to it as "My Hemingway scar."

Fred, amigo, you will be sorely missed.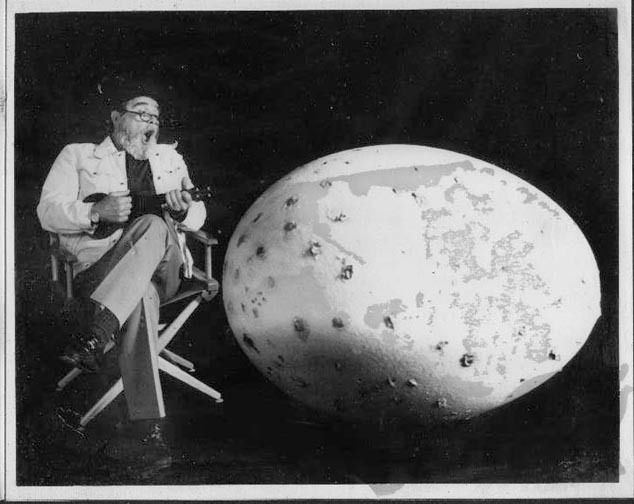 When Fred Hoctor's classic book, Baja Haha, was published in 1984, wily ol' Fred, the former public relations creative director, pulled out all the stops to ensure that his "new baby" would get at least its fair share of publicity -- more than its fair share if he had anything to say about it. The centerpiece of Fred's publicity campaign was this enormous creation, which he called the "world's first whale egg."

Fred claimed that he had discovered the egg "in 60 feet of water off Punta Banda," and he swore with a straight face that it "was one of nine laid pyramid fashion" on the sea bottom." Fred said, "This was the top egg. It was later discovered to contain twins, but they developed severe chest colds and passed away on April 1, 1984." (Get it?)

Anyway, Fred traveled 5,000 miles with his whale egg, getting all the publicity he could handle from the press and from television and radio stations, and Baja Haha went on to become an aficionado's bestseller. The highlight of the book tour came when Fred was giving a promo talk to the Downtown Rotary Club of San Francisco. During his talk, the big earthquake of 1984 struck, and Fred's egg rolled off the dais as everyone ran for cover.

Fred is shown here serenading his egg with a ukelele and his original song, My Hawaiian Dove, which (he was proud to proclaim) Don Ho called "the worst Hawaiian song ever written." As I'm sure Fred would say, "There's no such thing as bad publicity. Thanks Don."
(Related Baja California, Mexico, articles and reports may be found at Mexfish.com's main Baja California information page. See weekly fishing news, photos, and reports from the major sportfishing vacation areas of Mexico including the Baja California area in "Mexico Fishing News.")