By Gene Kira, March 11, 2002, as published in Western Outdoor News:

Every year, the Bongo Girls seem to get younger and cuter, and everybody else gets a little older--except for Tony Reyes Sr., who hasn't changed a bit since he was born beneath a sea turtle shell in about 1817.

All the usual Baja sportfishing suspects showed up for the Fred Hall Long Beach Fishing and Boat Show last week, and as always, it was an invigorating Rite of Spring, when life is renewed, warmer water temps are only a few weeks away, the crowds are huge, and you just know it's gonna be a great year.
In truth, the Baja fishing world needs a great year, or at least a decent one. After 9/11 and Hurricane Juliette last fall, tourism fell to the lowest levels in most of our memories, and traffic going down Mex 1 just about disappeared.

Things are gradually returning to normal now--in fact, advance bookings are looking pretty good--but among the exhibitors at this year's Fred Hall Show there was an unspoken undercurrent, a feeling of relief that, "Hey, I survived! I'm still alive! I'm here!"

Two central icons of the Fred Hall Show and Baja's sport fishing history were in attendance, of course: East Cape's Rancho Buena Vista, one of Baja's four original fishing resorts (1952), was represented by Tami Moyeous; and the Vagabundos del Mar Travel Club, founded with help from Ray Cannon (1966), was represented by the always-gracious Mike Bales.

Among this year's newer Fred Hall recruits was Brian Freitag of Mag Bay Tours, who was announcing the recent establishment of their fourth remote beach camp, this one on the far side of rarely-visited Bahía Almejas (extreme south end of Bahía Magdalena). And making only their second or third Fred Hall appearance were Marisol Verdugo George and husband Greg, of East Cape's Martín Verdugo's Beach Resort, who were happy to say that business was good all winter, and their cruisers have just been put back in the water for the season.

Most of the rest of us fell somewhere in between these two groups. All four San Felipe panga motherships had a presence: Bob Castellon for the Celia Angelina; Cathy Ward Burson for the Captain Villegas (without her dad, Larry, who passed away in June of last year); Gustavo Velez for the Erik; and that icon of icons, Tony Reyes Sr. for the Jose Andres.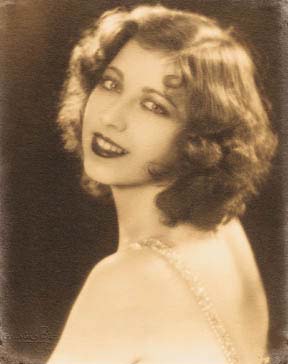 Carla Laemmle, original Western Outdoor News Baja Editor Ray Cannon's "secretary," as a Hollywood actress, c. 1929.
Speaking of icons, this year's Fred Hall Show visit was especially nostalgic for me personally, because earlier in the day I had driven up to the Hollywood area to have lunch with a very elegant, very lively 92-year-old lady named Carla Laemmle.

Never heard of Carla? Well, in 1935 she was a to-die-for gorgeous Hollywood actress and dancer, and while working on a film, she fell in love with the director, whose name happened to be "Ray Cannon," the same Ray Cannon who would become the first Baja columnist for Western Outdoor News in 1954.

Throughout Ray's Western Outdoor News career, Carla permitted herself to be known only as "Ray Cannon's secretary," and for 42 years, she typed and filed, and assisted Ray in his work. It was Carla's hands that helped Ray assemble the massive information used to produce his famous book The Sea of Cortez, and she typed every one of Ray's more than 1,200 Western Outdoor News columns.

After Ray's death in 1977, Carla preserved thousands of manuscripts and photographs--an entire history of modern Baja California--and it was my privilege to work with her for three years, while we produced a book about that magic world--The Unforgettable Sea of Cortez: Baja California's Golden Age 1947-1977; The Life and Writings of Ray Cannon.

During our visit last week, I stood in Ray and Carla's cramped, book-filled study, and posed for a photograph with Carla, at her old typewriter, with Ray's portrait looking down from the wall above us. It was a small place, filled to overflowing with the history of Baja California, and with the adventurous spirit of the many generations of Baja travelers whose modern-day successors were at that very moment assembling in Long Beach for the 2002 Fred Hall Show.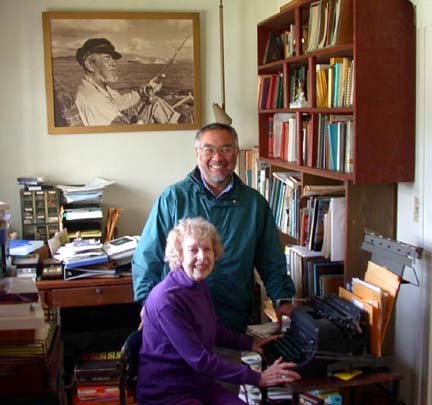 Western Outdoor News Baja editor Gene Kira with Carla Laemmle, in Ray Cannon's study.
(Related Baja California, Mexico, articles and reports may be found at Mexfish.com's main Baja California information page. See weekly fishing news, photos, and reports from the major sportfishing vacation areas of Mexico including the Baja California area in "Mexico Fishing News.")