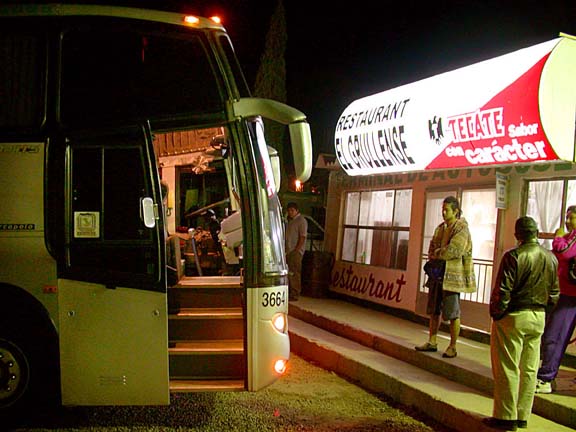 DINNER TIME--The noon ABC bus stops from Tijuana stops at El Rosario, Baja California, Mexico, as darkness falls. Photo by Gene Kira.
By Gene Kira, February 2, 2004, as published in Western Outdoor News:

Back in 1987, I wrote in the first edition of The Baja Catch that when driving down Baja's 1,000-mile-long Transpeninsular Highway, or "Mex 1", you should always be "very careful" around Mexican busses and "never pass them without providing yourself an escape route in case things start to come unglued."

Since then, I've been passed by hundreds of Mexican busses in Baja, but I have never, ever, passed a single one of them in retaliation. These giant, gleaming road missiles go so fast on the straight stretches, I've never been able to catch one. On the tight, winding sections, it's almost impossible to see far enough ahead to take a chance.
And besides, you know darn well that the mysterious, seemingly fearless dude driving that thing is going to pass you again anyway, with just inches to spare, and how many times do you need to go through that?

So, in all these miles, I've never passed a Baja bus. I've just held on tight as they've thundered by, marveling at how their drivers never seem to deviate more than a couple of inches from the absolutely perfect path.

But last week, I finally did satisfy a lifelong desire to ride a bus down Mex 1, and the experience really did live up its reputation. I was left with nothing but admiration for these busses and their amazing drivers.

I caught an ABC Line bus that left the main terminal in Tijuana, Baja California, Mexico, at noon, and arrived about 900 miles south, in La Paz, Baja California Sur, Mexico, exactly 21 hours and 15 minutes later. Total round trip fare: $168.

This "Baja run" was not without its glitches. During the $5 shuttle trip from downtown San Diego, I made a mistake and got off the shuttle bus one terminal too early. That cost me a $15 emergency taxi ride.

Also, I had reserved a seat right in the front row of the bus, hoping to have a Star Wars-like ride down Mex 1, looking right into the terrified eyes of American drivers, scattering in every direction as we blew them into the desert bushes.
But as it turned out, the front of the bus passenger deck is totally blocked off by curtains, and from the front row, you literally cannot see a thing outside. You're totally blind.

Fortunately, the busses usually run half-full, so I was able to move to the back and enjoy a good view to either side.

(After I moved, the second driver of the bus came back and courteously asked if I wished to change my seat reservation to the new location. In addition to being undoubtedly the finest drivers on Mex 1, these bus guys are extremely professional.)

As we merged onto the Ensenada toll road near Rosarito Beach, the driver put the pedal to the metal for the first time, and we started the passing game that would continue for the next 900 miles. Smoothly, so smoothly, we passed through San Quintin, and headed south, hurdling through the lowering darkness, always passing, very rarely being passed.

At 5:58 p.m., we stopped in El Rosario for dinner at the El Grullense Restaurant, just around the corner from Mama Espinoza's. (I elected to dash across the highway and buy a fresh-baked pastry at the panaderia.)

At 6:38 p.m., we reboarded our Baja rocket, and headed south again, passing the last houses with power and phone lines at the east end of town, crossing the legendary El Rosario bridge, and heading up the endless razorback ridges toward Cataviña.

From long experience, I knew my Baja bus driver was very fast, but also very careful, slowing almost to a stop when necessary on the worst of the all too familiar curves. Mile after mile, he was grinding out this difficult section, a real pro.

The night was dark, but warm and clear. I fell asleep...in Baja again.

(Related Baja California, Mexico, articles and reports may be found at Mexfish.com's main Baja California information page. See weekly fishing news, photos, and reports from the major sportfishing vacation areas of Mexico including the Baja California area in "Mexico Fishing News.")