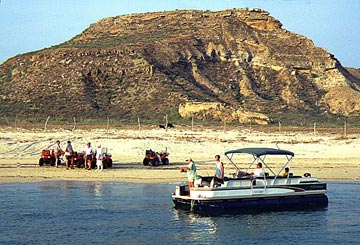 Baja On The Fly's pontoon boat, accompanied by clients on ATVs, fishing the shoreline near Rancho Leonero, on the south shore of Baja California Sur's Bahia de Palmas.
Aug. 20, 1999, by Gene Kira:

When Gary Graham first mentioned "pontoon boat" fishing at Buena Vista, I imagined that the owner of the Baja On The Fly fly fishing guide service had taken up the paddle and was using kayaks or canoes to transport his clients.

Oops! Wrong. Turns out Gary was talking about a real boat--a canopied, flat-decked catamaran powered by a Mercury outboard, kept moored at the Valdez family's Hotel Buena Vista Beach Resort, also known as "Spa," in the East Cape area of Baja California Sur, Mexico.

Gary's been putting his Baja shore fishing clients on fish here for years, running down the beach in ATVs from Buena Vista south as far as the village of La Ribera. But until the pontoon boat, he had to stand and watch in frustration when a big rooster or jack crevalle would break the surface "just a hair" out of fly rod range.
Now, says Gary, "we can fish both sides of the beach," meaning that his clients can cruise along shore in the pontoon boat and target those big ones feeding just inside the color break, but too far out to reach from the beach.

Actually, Gary often has clients both on the boat and running down the beach along side of it on the ATVs. They cruise along, looking for active feeders, and then enjoy the thrill of sight-casting to individual fish crashing on bait. Clients sometimes swap places, going ashore for a while to test the action there, or hopping onto the easily-beached, ultra-stable pontoon boat to cast farther out.

A recent morning spent aboard Gary's floating platform confirmed the new and unique joys of fishing from this type of boat in Baja. With virtually no gunnel surrounding you, it's like sitting at the edge of a swimming pool, watching the fish go by. Often, you can actually see the strike down there in the crystalline blue water, and trolling is a whole new experience with no transom or motor to get in your way, and very little wake or prop wash to obscure your view.

We had a ball enticing three-foot needlefish right to the boat with trolled bait and watching them hit less than ten feet back from our bare toes. These, in a morning of mixed species including roosterfish, jack crevalle, triggerfish, flag cabrilla, barred pargo, and several of the strange but interesting lizardfish.

For fly anglers, Baja On The Fly's pontoon boat offers the ultimate in near shore sight casting thrills. You stand on what amounts to a very low, slowly-moving fishing pier, looking down at your quarry, waiting for a big rooster to thrash the surface within range. Then, it's up to you to avoid "buck fever" and make the presentation. Efficient to the max, and fun!

A professional recommendation from Gary Graham, who is possibly the best in the world at this sort of work: Too many anglers miss fish by making cast after cast when there is nothing there to cast to. Then, when a fish does appear, they are out of position to make an instant presentation, and they miss it. Gary prefers to stalk the beach with his rod at the ready, or even just stand there, poised, waiting for the big moment. Then, he's always ready to pounce on the fish, and hopefully, get the strike. "Just stand there and watch," he says, "if there's going to be any action that day, every five minutes, a quality fish will go by. You have to be ready for it." That's good advice from an everyday, working pro.
Baja On The Fly's Gary Graham, left, spotting roosterfish for clients near Buena Vista, Baja California Sur.
SNOOK FISHING AT MAGDALENA BAY:

But, the biggest thrill of this trip came after the pontoon boat session, when we crossed over to the west side of the Baja peninsula to test Gary's other new fishing program, snook fishing in the Magdalena Bay mangrove channels near the town of San Carlos on the Pacific coast.

Anyone who has read The Baja Catch knows that Neil Kelly and I have always found snook so rare and hard to find in Baja that we came to consider them more of a "freak catch" than a species to be seriously targeted.

No more.

Baja's black snook, Centroponus nigrescens, seem to be making a significant comeback after decades of commercial overfishing with gill nets, and if you haven't ever caught one, here's your chance!

We fished in 73-degree water, near the town of San Carlos, a cannery and shipping port located halfway up Bahía Magdalena, using two boats, a 22-foot Mexican panga and a 12-foot inflatable.
Gary's local guide showed us his best snook holes, only five miles from town, and our party caught snook on 8-weight and 10-weight rods, with 300-grain shooting heads, and 1/0 and 2/0 Clousers in green-and-white and blue-and-white. Also on light spinning gear and cast Krocodiles and Luhr Jensen Stingers.

The snook were found in deep mangrove channel holes on the outsides of slow turns, and they were accompanied by pompano, halibut, corvina, spotted bay bass, barred pargo, needlefish, dog snapper, yellow snapper, and broomtail grouper.

Good fishing, but all I really cared about was the snook, which we caught with the motor off, by casting into the deep holes from anchor or from the sand bars that show at low tide.

These special Magdalena Bay fishing spots, deep holes all of them, are the key, and you need a guide to find the ones that have snook in them. Some holes are empty, even though they may look mighty "fishy" from topside.

Timing is another important factor, as even the good holes turn on and off depending on tidal flow and water level. Again, a knowledgeable guide is your key to success. The best times proved to be the bottom half of a good, strong falling tide. At these times, a good hole will come alive with fish breaking the surface. Get your four to six-inch lure down near the bottom and use a medium retrieve. If you're "in the zone" you will be able to look down and see pods of snook cruising right beneath you, plus some schools of about 20 fish.

Use a 40-pound mono leader to avoid cutoffs, either on the Magdalena Bay mangrove roots or on the fish themselves, and use maximum pressure from the instant of the strike, but don't try to horse the fish, because their mouths are as soft as corvina's.

Snook are probably Baja's ultimate inshore catch, because of their rarity, wariness, excellent fighting characteristics, and the thrill of catching such an active gamester in such quite, confined quarters. Some of the Magdalena Bay mangrove channels are so narrow at low tide you can practically spit across them.

There it is. Baja snook are for real, and if Gary Graham can put this old duffer on them, I believe he can do it for anybody.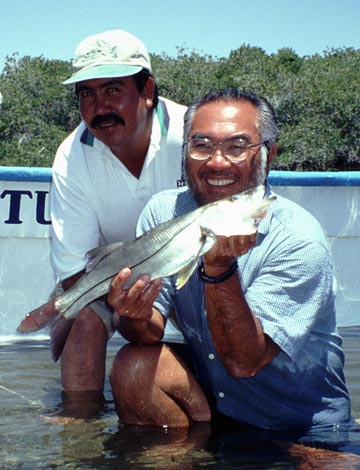 Gene Kira, right, with a Magdalena Bay snook and guide Enrique Soto Madrigal during a trip with Gary Graham of Baja On The Fly.
(Related Baja California, Mexico, articles and reports may be found at Mexfish.com's main Baja California information page. See weekly fishing news, photos, and reports from the major sportfishing vacation areas of Mexico including the Baja California area in "Mexico Fishing News.")