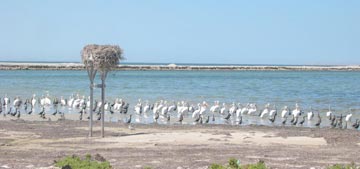 White pelicans on the shore of the lagoon at the ESSA salt plant's Concentration Area 1 at Guerrero Negro, B.C., Mexico.
Mike Kanzler's Yellowtail Tournament Trip To Cedros Island
Editor's Note: Yellowtail expert "Kid Jurel" Mike Kanzler, who lives on Isla San Marcos near Santa Rosalia, Baja California Sur., Mexico, was recently flown out to Isla Cedros on Baja California's Pacific coast to fish in a yellowtail tournament hosted on the island by the ESSA salt plant company of Guerrero Negro, B.C., Mexico. Here's his story of what he found there in remote Baja fishing action:

By Mike Kanzler

It was more, much more than just a fishing excursion. I have to begin the story with explaining how it came to be.

Back in the month of May, during our first Isla San Marcos Yellowtail Shootout tournament at Santa Rosalia, COMSA (Compania Occidental Mexicana, S.A.), the gypsum mining company on island, invited the ESSA (Exportadora de Sal, S.A.), the salt production company of Guerrero Negro, to participate.

In September the workers union of ESSA on Isla Cedros decided to have their first Isla Cedros Yellowtail Tournament, and Raul Lyle, Dirección de Operacions, extended an invitation to us not only fish the event, but to come earlier so they could give us a full tour of the salt production facilities at Guerrero Negro and Isla Cedros.
The trip begins on Friday, Sept. 10, 2004, at 3:30 p.m., by taking a panga from Isla San Marcos. I, Agustin Casanova, Carlos Garces, and Daniel Lopez arrive at San Bruno where our ground transport to Guerrero Negro is waiting. After loading all our bags and fishing gear, we head north.

After a three-hour drive, we pull up in front of the ESSA guesthouse to find our first surprise, the weather. It's hot, humid, and no wind! Anyone who's been through this area knows that's not the norm.

Unloaded the Suburban and met Rafael Vizcaino, Dirección de Mantenimiento, who showed us our accommodations, real nice! With a little unwinding, we took a stroll around the company's employee housing area. Upon returning, we went next door to the dinning area where we sat down with Raul and Rafael for the first of many excellent meals. Dinner consisted of shrimp, scallops, and grilled white seabass !

On Saturday morning at 8:30 a.m., with an outstanding breakfast completed, we were picked up in an ESSA company van and headed to the Office of Operations for a two-hour meeting in the main board room. Here, Raul went over the ESSA history, ecology, and production. One note to be made in the way of ecology is the gray whales and how last year had a record count of 2,011. I was also told that the numbers at Ojo de Liebre and Guerrero Negro lagoons were steady increasing, and the other lagoons at San Ignacio and Mag Bay were on the decline.

With the meeting finished, we took a tour of the whole production area which is 33,000 hectares in size, and I never saw any sign of trash or contamination. Proof was clear from the massive amounts of water fowl present. Over 73 types of birds winter or are full time residents here. White pelicans, peregrine falcons, ospreys and the like were present in large numbers, a bird watchers paradise.

At 1:30 p.m., we came to the 3A pumping station where the lagoon of Ojo de Liebre enters concentration area No. 1, in which I saw mullet the size of yellowtail and a host of other fish swimming, feeding at the edge of the water being pumped. A short drive away, at an isolated point on the pond, was this weathered gazebo. We disembarked from our van, Raul opened the door, and there was the chef from the guesthouse with a lunch spread fit for a king!

Lunch now finished, we drove back to get our bags and head for the airstrip where ESSA's private 18-passenger Caravan turboprop was waiting to take us to Cedros. Raul, knowing that I was taking photos, told me to sit in the copilot seat.

Once airborne, the shutter started going! I love the lagoon and sanddune islands with their abstract colors, shapes all formed by nature. A short 25-minute flight and the plane was on final approach of Morro Redondo, Cedros Island.

We unloaded once more into another van, which took us to another beautiful guesthouse. Few minutes later, all of us piled back into the van and proceeded on a tour of the unloading/loading area where giant 160,000 metric ton capacity ships are waiting for salt. ESSA is the world's largest producer/exporter of natural sea salt in the world.

With the salt tour over, we took a little drive to see the town, which has roughly 4,000-plus population, mostly abalone and lobster co-op fishermen/cannery workers and their families. Back to the guesthouse, for a shower and another great dinner, this time (keeps getting better) abalone, top shell, and yellowtail sashimi appetizers, then carne asada tacos with all the fixin's. Finished off the meal with a real Cuban cigar. Man, I gained 15 pounds on this trip, easy. Most stayed up late into the night, but I rigged up all the rods and crashed out by 10 p.m. Told you it was a lot more than just fishing.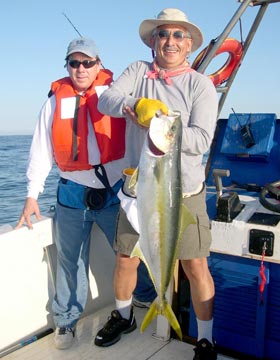 Raul Lyle (left) of ESSA, and Agustin Casanova of COMSA.
The tournament was slated for 5 a.m. to 3 p.m. Sunday. Because was the first time, there where only two final positions, first place for largest yellowtail, weighed in kilograms, and first place for largest total weight of all yellowtail per team. Try to guess what I was shooting for!

After a couple cups of coffee, we left for the marina. There where about 10 boats with teams of 2 to 3 people. The team I was on consisted of Raul Lyle and Agustin Casanova, that's right, the two bosses and Kid Jurel!

At the marina, we had to hunt down the boats that where going to be used. Kind of unorganized, but understandable being Sunday and all, so after a little hunting around the port we found our boat while everyone waited at the beach outside the marina, first come first pick. Took the Mako with the 200-h.p. Yamaha!
Here we go. Make bait? Nope, was told don't need it. Trolling plugs and feathers is what the kid, Gerónimo Aguilar running the boat, told me, and being the bait/iron aficionado that I am, it didn't set well with me. But what the hay, I'm just along for the ride, right? Wrong. I had a game plan that I would spring when on the fishing grounds.

Off we go. The first spot we fished was, how should I put it, strange. Just about a mile-and-a-half north of town there are bluefin tuna pens. Word has it that every morning when they are being fed, large yellowtail come up on the surface to pick off scraps.

We trolled Yo-Zuri Hydro Magnums, big one's since that's what the kid running the boat said works the best. After cleaning the eel grass off the plugs over ten times without any bites, I said, hey, where's the bajos around this area? Reply, about 8 to 10 miles south, out in front of the airstrip. My reply, let's go!

Now we're talking. Four miles offshore, saw Team 2 in the distance and called them on the radio for a quick fishing update. Got the reply I wanted to hear, four yellows and one white seabass in the boat! Once near the spot, which is called Bajo Morro, I could tell this was it, giant kelp rising up from the bottom over a large area. Saw some big breezers in the distance, all good signs of fish.

Started trolling the plugs again. Told Raul and Agustin to take care of those rigs while I put my game plan into affect: drop back yo-yo iron! Within a short distance of dragging, got our first action, double hookup on the plugs. Got one, lost the other. Didn't really get a chance to drop back.

Wanted to make sure we put the first fish in the boat. Trolled up five more yellows, about the same as San Marcos Island size, 22 to 25 pounds. On that fifth fish I did finally get the iron down to the bottom and yah boy! Bit on the sink! After seeing this, the boat operator kept the motor out of gear. About time, I was thinking. Got the other two guys to drop down too, and yellowtail, big calico bass, and monster log barracuda, all started hitting the deck! Sometimes it's hard to teach old dogs new tricks as well as new dogs.

The bite slowed up a bit, so we moved to another bajo, four miles to the northwest called Bajo Prieto. However, on the way there, Gerónimo saw a lobster pot float in a tangle of kelp. He told us that he needed to check it to make sure no trap was attached, for his job during off season is vigilante for the co-op. While he was cutting kelp fronds off the rope, I picked up my rod, flipped a scrambled egg colored iron on the edge of the huge paddy and... bit on the sink again! So every one followed up, and pulled another four yellows there!

We left the paddy for the bajo, caught a few more yellows, calicos, and barracuda by trolling and jigging iron, packed it up, and headed for the marina around 12 p.m., with 13 yellowtail. Didn't count the bass or barra's, quite a few through. On the ride back I'm still awed by volume of fish at just those two areas we fished without the aid of GPS or depth sounder, and I could only imagine what I might do in my boat over a week!

Back at the marina I thought the fishing day was over. Wrong. We were just dropping off Agustin who wasn't feeling too good. Raul told me we still had two-and-one-half-hours left in the tournament. At this point, deep inside I knew we had the volume division locked up, but a few more wouldn't hurt.

Lets go, more fishing! Ran back to those tuna pens, but first stopped by one of the sardine trawlers close by to trade a few beers for a bucket of fresh dead sardines. Tied up to one of the floats, which a tuna cowboy said was okay to do, and started chumming. Then, our guide took out a lobster float which had been modified to accommodate a 200-pound test hand line with a big 12/0 hook, no weight. He pinned on a dead sardine and tossed it with about 100 feet of line behind, letting the rig just lay on the deck, then kicked back. I looked at him with a sheepish grin and said, you going to get bit like that? He replied in Spanish, claro!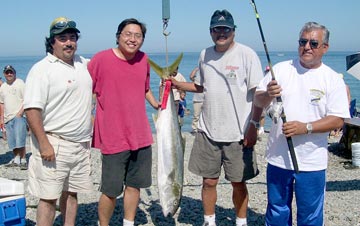 Biggest yellowtail, 16 kilos, by Koji Osuka (second from left) and Humberto Perez of ESSA.
About 15 minutes pasted while I fished some iron. Then all of a sudden Gerónimo's line zipped off the deck. He grabbed it and the battle ensued. A brief moment later and half way around the boat, deep color on the best yellow of the day! Thirty pounds. I guess he taught this old dog a trick! Give me a sardine! We took two more yellows and left for the scales.

At the scales, we where told a 16-kilo fish had been weighed in. But my plan from the start was to take a shot at volume. For me, big fish is more luck, and numbers is skill. We unloaded our catch of 16 yellowtail and tipped the scale at 126 kilos!

While waiting for the last two boats to return before the cutoff, we sat down to some great fish tacos, Yah I know, more food. People are going to think I went just for the food!

Team 2, which consisted of Rafael, Daniel and Carlos, had five yellowtail and a nice 25-pound white sea bass. One boat to go.

With five minutes left, the last boat was in, and it had...only three small yellows. Game over.

Final standings: Largest single, yellowtail, 16 kilos, Koji Osuka, ESSA/ Mitsubishi Corporation, fishing with teammate Humberto Perez; Most volume, 16 yellowtail, total weight 126 kilos, by Raul Lyle, ESSA/ Mitsubishi Corporation, Agustin Casanova, COMSA, and Mike Kanzler "Kid Jurel."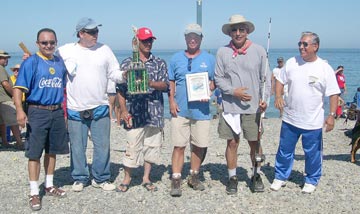 With the most total combined weight, 16 yellowtail at 126 kilos, were (from second left) Raul Lyle of ESSA, Capt. Gerónimo Aguilar, Mike Kanzler "Kid Jurel of Isla San Marcos, and Agustin Casanova of COMSA.
Both winning teams where awarded trophies, fishing rods and reels, award plaques and cash. Our team split up the goods and had to head back to the guesthouse for a quick shower. An hour later, on the plane enroute for Guerrero Negro and an end to the most awesome trip I've ever taken since living in Mexico!

After the plane landed, we said our goodbyes and thank you's, and our transport was waiting to take us south. I tried to sleep on the ride back but couldn't, still buzzing from the whole adventure. The Suburban pulled over the last hill, I could see the squid fishermen's lights on the water. I was home.

I personally would like to thank Raul Lyle and Rafael Vizcaino of ESSA for inviting COMSA and me to participate in this event, and also thank Agustin Casanova and COMSA for inviting me to participate with them. A special thanks to the organizers of the Cedros Yellowtail Tournament, Jose Meneses Garcia, Francisco Ruiz Miranda, Roberto Salgado Yepiz, Jorge Armando Alaneda, Norma Alicia Velez De Mata, and Eulaio Mata Ramirez, along with all the people of ESSA and Cedros Island. Best wishes to all. --Sept. 15, 2004.

(Related Baja California, Mexico, articles and reports may be found at Mexfish.com's main Baja California information page. See weekly fishing news, photos, and reports from the major sportfishing vacation areas of Mexico including the Baja California area in "Mexico Fishing News.")