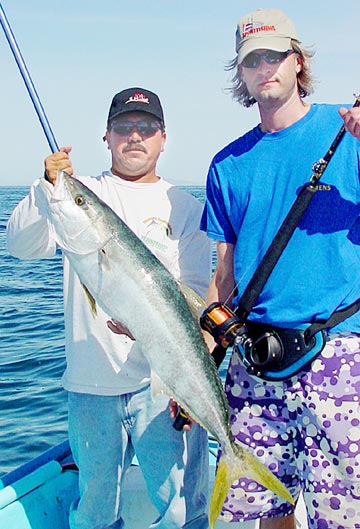 TOUGH LORETO FISHING--Matthias "Hans Grouper" (right) fished with Dean Mitchell and Juncalito's Capt. Manuel Torres (left) who worked hard for two slow days, and they finally scored on a couple of 35-pound yellowtail at Isla Catalana. Photo courtesy Dean Mitchell.
YELLOWTAIL FINALLY LANDED AT LORETO IN SLOW
CONDITIONS DURING TRANS-BAJA FISHING TRIP
May 7, 2005, Dean Mitchell, Baja California, Mexico Fishing Trip Report:
Last week, Matthias "Hans Grouper" and I drove to La Bocana on the Baja California Pacific coast and fished on the 24th with Salvador at Roca Ballena for Black Seabass and Yellowtail. The conditions were good but the fishing wasn't. We later fished the estuary for Barracuda and spotted bay bass.

We crossed over Baja and we fished the 26th and 28th, and were blown off the water on the 27th, with Manuel Torres out of Juncalito, south of Loreto. Once again, Baja fishing conditions were good but the fishing wasn't. We hauled out to Isla Catalan the first day and caught a couple of 35 pound Yellowtail. On the 28th, we couldn't buy a bite and went further south, almost to Isla Santa Cruz. At the reef 7 miles south of Isla Catalan we were able to get a few pargo but that was it. There was a commercial mothership from Topolobambo at the reef with 5-6 pangas fishing the reef hard.

The day we were blown out, we headed up to Bahia Conception and fished from Hans's Zodiac. He caught a Cortez Halibut and we caught a few small snapper and spotties but that was it. The Sargasso was a real problem this time of year. The weather at the bay was perfect.

Sometimes the fishing isn't so great but at least we were in Baja!