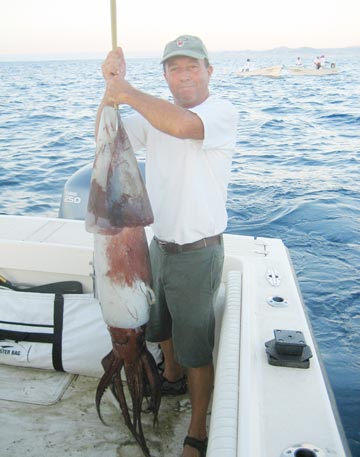 LOS CABOS BIG SQUIRTER -- Tom LaCourse of San Jose del Cabo with an estimated 40 to 50-pound Humboldt giant squid that he jigged up from the depths off La Laguna during an outing with Gordo Banks Pangas. PHOTO COURTESY OF ERIC BRICTSON.
SLUGGISH ACTION AS WATERS SETTLE FOLLOWING HURRICANE JIMENA
CABO SAN LUCAS, MEXICO, SEPT. 10, 2009 -- Sportfishing boats at the tip of Baja California found offshore action slower during the full moon period this week.
Larry Edwards of Cortez Yacht Charters reported on 27 outings by Gaviota Fleet and the Cabo charter boats Fish Cabo, Fish Cabo I, and Tuna Time, with a catch including released fish of: 72 yellowfin tuna of 14 to 50 pounds, 48 dorado, 5 striped marlin, 2 wahoo, and 1 blue marlin.
"The full moon week certainly slowed the fishing for most Cabo boats and made the catching more difficult," Edwards said. Sea conditions were excellent off Cabo San Lucas, with water temperatures averaging about 87 degrees as most local boats fished the Pacific-side banks.
For the week ending Sept. 9, 2009, Tracy Ehrenberg of Pisces Fleet at Cabo San Lucas reported a 525-pound blue marlin landed at Los Cerritos on the Pacific side by the boat Spartacus, as 39 percent of Pisces charters landed a total of 5 striped marlin, 2 sailfish, and 1 blue marlin. Seventy-eight percent of Pisces' Cabo San Lucas charter boats landed yellowfin tuna of 15 to 60 pounds, and 28 percent caught dorado, all of them under 40 pounds.
For the previous Cabo fishing week ending Sept. 3, 2009, Ehrenberg reported 2 days of port closure due to the offshore passage of Hurricane Jimena, as 12-foot swells quickly settled and 23 percent of Pisces Fleet charter boats landed striped marlin, 61 percent landed yellowfin tuna for a total of 140 fish of 15 to 120 pounds, and 76 percent caught 1 to 12 dorado of 15 to 40 pounds.
Cabo San Lucas fishing area weather was clear and calm following 1 day of very strong wind, very large ocean swells, and intermittent rain, with water temperatures averaging 86 degrees.
At nearby San Jose del Cabo on the Sea of Cortez side of Cabo San Lucas, Eric Brictson of Gordo Banks Pangas reported on 39 combined La Playita fleet charter pangas fishing out of San Jose del Cabo's Puerto Los Cabos marina, with a catch including released fish of: 135 dorado, 79 yellowfin tuna, 35 bonito, 22 various pargo species, 9 cabrilla, 7 sailfish, 5 amberjack, 2 striped marlin, and 1 wahoo. Water temperatures averaged 79 to 84 degrees.
"Light tourist crowds are in town now," Brictson said. "This is normal for this time of year. Ocean conditions are calm and there were good supplies of sardinas found around the Puerto Los Cabos jetties."