CABO SAN LUCAS AREA MARINE SPECIES--New species observed and photographed near Cabo San Lucas by San Jose del Cabo specialist John Snow included the Fore Spotted Brotula, previously unknown in Baja...

The colorful but always hard-to-photograph Rainbow Runner...
TOTAL OF 71 MARINE SPECIES RECORDED DURING TRIP TO BAJA SUR
CABO SAN LUCAS, MEXICO, October 11, 2009 -- Hard-to-get good quality photos of the Rainbow Runner (Elagatis bipinnulata), the Fore Spotted Brotula previously unknown in Baja, and the very rare Yellow Margin Moray Eel topped new additions to the personal list of species specialist John Snow during a short trip to Baja California waters straddling Cabo San Lucas from September 24th to October 2nd.
Snow's 4 panga outings at San Jose del Cabo and another trip to visit commercial Mexican fishermen on the Pacific coast of Baja north of Cabo San Lucas produced a total of 54 fish species and 71 other marine life species caught or observed.
Seventy-five fish of 16 species were caught during panga trips out of Punta Palmilla, in summer weather conditions. "Blistering heat continues," Snow said, "with water temperatures now just under 90 degrees. One day this past week we caught six Arco Iris, the local name for Rainbow Runners, which is the first time in 7 years that I have seen this species. We ran into a massive school of Needlefish, a school of seldom seen Rainbow Runners, and an over-abundance of large, uncatchable Yellowfin Surgeonfish, which are very picky eaters, require very small hooks with very light weight and no-see-em line, and I was not prepared for them."
Marine life species new to Snow's list included the Flat Spider Crab, 3 other unidentified types of crabs, 2 gorgonians, the Long Spine Murex, Yellow Sea Fan, and a "weirdo" species of undetermined type.
Also at San Jose del Cabo, Eric Brictson of the Gordo Banks Pangas sportfishing service reported on 58 charter boat trips during the week ending October 8th, with a catch including released fish of: 112 dorado, 110 black skipjack, 74 yellowfin tuna, 68 triggerfish, 22 wahoo, 22 bonito, 16 barred pargo, 14 huachinango, 11 amberjack. 8 cabrilla, 8 dog snapper, and 4 sailfish. Water temperatures in the Sea of Cortez northeast of Cabo San Lucas averaged 80 to 85 degrees.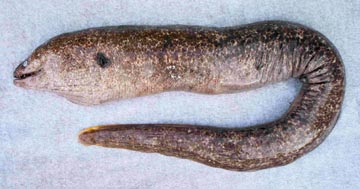 Yellow Margin Moray Eel, found at the extreme tip of Baja and in waters south of Nicaragua...
"Tourists are arriving at Los Cabos in steadily increasing numbers and they are enjoying the arrival of fall weather," Brictson said. "The past several weeks have brought ample rainfall to the area around Cabo San Lucas, turning the parched Baja desert into a lush tropical green."
For the previous week ending October 1st, Brictson reported on 51 Los Cabos pangas, with a catch including released fish of: 162 dorado, 95 triggerfish, 88 yellowfin tuna, 27 bonito, 14 rainbow runner, 12 leopard grouper, 12 barred pargo, 10 dog snapper, 9 wahoo, 9 amberjack, 6 surgeon fish, and 4 sailfish.
"On Wednesday," Brictson said, "local Los Cabos panga Capt. Antonio Guluarte hooked what was estimated to be a more than 700-pound black marlin at the Gordo Banks while slow trolling a large skipjack bait fish. Apparently, the fish battled for about four and one-half hours, before it broke the line and gained its freedom."
Water temperatures northeast of Cabo San Lucas averaged 85 degrees or higher in some locations, with clear blue water found close to the Baja shore.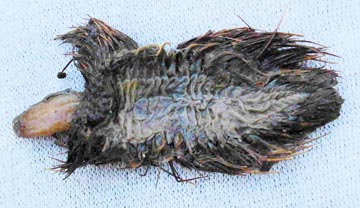 And, a true weirdo of unknown lineage. PHOTOS COURTESY OF JOHN SNOW.