By Gene Kira, Oct. 30, 2001, as published in Western Outdoor News:

The waiters and waitresses of the Hotel Plaza las Glorias put on a show at Cabo San Lucas last Saturday night as they laid out tables and served an even 1,000 dinners al fresco on the marina cruise ship pier for the awards banquet of Bisbee's 2001 Black & Blue Marlin Jackpot Tournament.
Despite September 11th, a down stock market, Hurricane Juliette, relatively slow fishing conditions, and a still-smoldering controversy over last year's dramatic disqualification of the largest fish landed, in the end, one rendered unto Bisbee's that which is Bisbee's. A cool $1,666,070 was awarded to this year's winning teams, not even close to last year's record $2,385,900, but still the fishing tournament event of the year for Cabo San Lucas, the "world capital" of sport fishing.

Stimulator, a 46-foot Bertram, owned and skippered by Jay Bush out of San Diego, took home most of the marbles this year for the "Texas Marlin Maniacs" team, with angler Scott Monroe's 518-pound black marlin good for $684,265.

Lethal Weapon, a 54-foot Bertram, was next in the official prize money with $395,190, followed by Blackjack (42-foot Viking) with $260,138, Lightspeed (47-foot Cabo) with $212,940, Picante Dream (35-foot Cabo) with $104,237, and Dorado I (31-foot Bertram) with $9,300.

La Chula, a 35-foot Cabo owned by Octavio Castro Collins of Cabo San Lucas, won the no-cash, release category by releasing two black marlin and two blues. Socorro (35-foot Cabo), owned by Gonzalo Dolares of Cabo San Lucas, was second with two blue marlin and two stripers released, and Molly Rose (70-foot Mikelson), owned by Mike Deane of the U.S., was third with two blues and a striper released.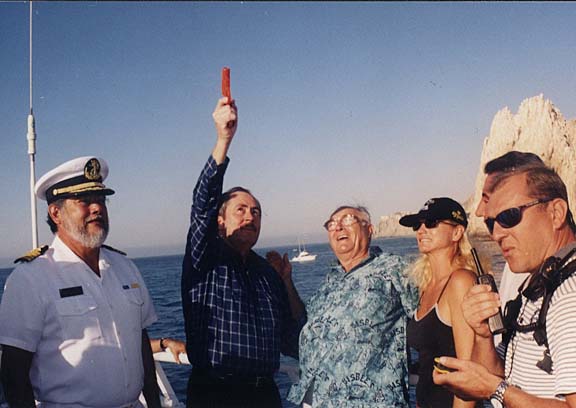 Off the Cabo San Lucas arch at land's end, Baja California Sur Governor, Lic. Leonel Cota Montano, fires the opening gun for the Bisbee's 2001 Black & Blue tournament, with Cabo San Lucas Port Captain, Rafael Martinez Pano,left, tournament founder Robert J. Bisbee, Tricia Bisbee, and Wayne Bisbee, Tournament Director. Photo by Dannilo Mathews.
The top individual fish prizes for the tournament went to the Stimulator's 518-pound black marlin ($77,500), a 470-pound blue caught by Picante Dream ($31,000), a 449-pound black caught by Viking ($23,250), a 396-pound blue caught by Lightspeed ($13,950), and a 388-pound black caught by Dorado I ($9,300).

A total of 155 boats and 734 anglers, including 30 women, fished in this year's 3-day tournament, landing 110 billfish, of which 92 were released. (Last year's 234 boats landed 250 billfish and released 228.) For Bisbee's 2001, 554 anglers came from the U.S., 157 were from Mexico, and 23 came from other countries including Canada, Costa Rica, French Polynesia, France, Japan, South Africa and Venezuela.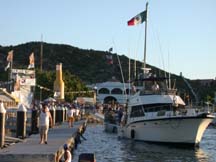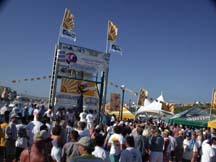 A crowd gathers on the Cabo San Lucas cruise ship pier moments before the winning fish was brought in on the final day of the tournament.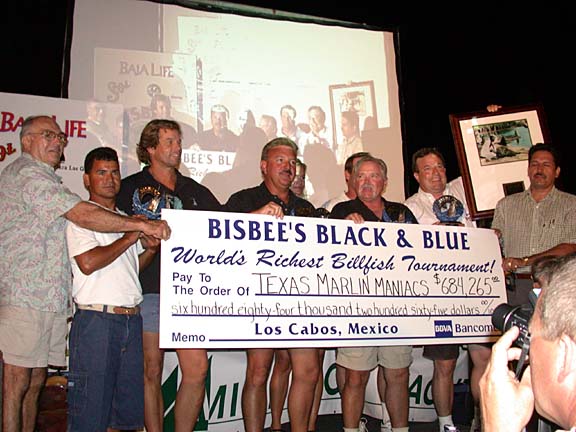 The winning "Texas Marlin Maniacs" collected $684,265.
(Related Cabo San Lucas articles and reports may be found at Mexfish.com's main Cabo San Lucas information page. See weekly fishing news, photos, and reports from the major sportfishing vacation areas of Mexico including the Cabo San Lucas area in "Mexico Fishing News.")