By Gene Kira, Jan. 28, 2002, as published in Western Outdoor News:

Julio Berdegué is widely respected as a marine biologist, a former big shot in the commercial fishing industry, the owner of Mexico's largest independent resort, the El Cid Mega Resort in Mazatlan, a political heavy-weight who visits President Fox at Los Pinos, and probably the most feared conservationist working in Mexico today.

Berdegué also has big, angry-looking eyebrows and a fierce scowl that could stop a battleship in its tracks, and last week I found myself sitting right next to him as he lambasted a room full of 40 VIPs during the Cabo 2002 conference at the luxurious Hotel Solmar in Cabo San Lucas, Baja California Sur, Mexico.
Berdegué was pissed, to put it as mildly and politely as possible, and I could literally feel the table vibrate as he pounded and sputtered, and demanded to all present that Mexico wake up and do something about longlining and other fisheries violations before it's too late.

Sitting directly on Berdegué's right was Luis Fueyo, Mexico's highest fisheries enforcement official, and I saw the color rise and fall several times on Fueyo's face as Don Julio gave him and everybody else a very uncomfortable, five-minute performance. In his excitement, Berdegué got a few of his numbers and facts slightly scrambled, but really, none of the high-level Mexico City delegation seemed to notice or care, and I couldn't help thinking: "This is either going to work, or it's going to blow up in his face, big time."

Long into the night, the phone lines were busy between Mexico City and Cabo San Lucas' Hotels Solmar and Finisterra, and by mid-afternoon the next day, enough information had been received to identify a trend.

It seemed that Berdegué's dramatic soliloquy had been heard where it counted. Fueyo emailed from Mexico City, saying that he would come to San Carlos, Sonora, in less than two weeks to begin talks on implementing a key feature of the proposed reforms: using Mexican sport fishing license revenues to enforce regulations.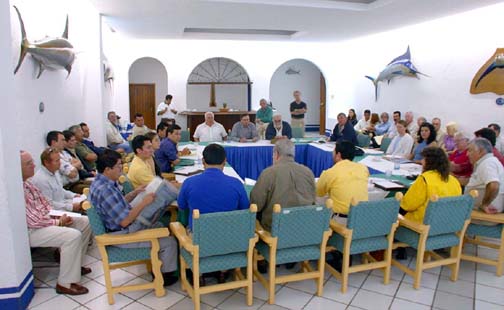 Standing room only, at Cabo San Lucas' Hotel Solmar. The crowded room held top officials from the Mexican Navy, Federal Department of Tourism, several state governments, PROFEPA, the U.S. and Mexican Billfish Foundations, several sport fishing and conservation groups, and...a reporter from Western Outdoor News.
Then, less than 48 hours after the end of the conference, a dramatic event occurred that put such a perfect spin on things, one might suspect Berdegué of rigging it, if that were possible. Only five miles west of Cabo San Lucas, a female humpback whale was discovered, mortally-entangled in a gill net, as she cried and cried to her mate, who circled around and refused to leave her. The female had swum head-first into the net and was completely enshrouded within it. Without aid, it would surely have died.

Had Berdegué--like Shakespeare's magician, Prospero, in The Tempest--conjured up this whale for his own dramatic purposes?

All Thursday afternoon, a team of daring professional divers from the Cabo Expeditions and Deep Blue tour companies worked desperately in very dangerous conditions to cut the gill net from the whale, which had been wrapped up like a gigantic cigar. At one point, team leader Oscar Ortíz narrowly escaped with his life when the struggling whale dived to about 50 feet, and Ortíz' leg became entangled in a line that dragged him under.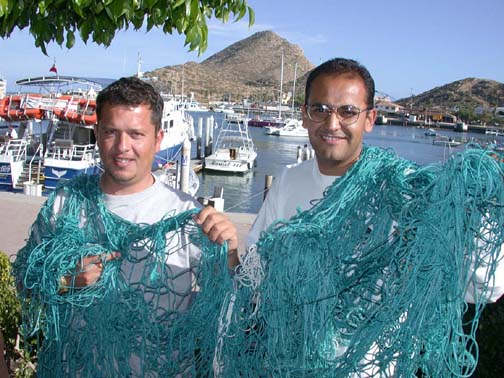 The surpise bonus. Oscar Hernández of Cabo's Deep Blue dive company, left, and Miguel Noriega of the Cabo Expeditions excursion company, show off the large (8-inch) mesh gill net they helped cut from a female humpback whale only two days after the Cabo 2002 conference. The story played big on Mexican television and helped draw government attention to the conservation issues raised.
Finally, the whale understood that the men were trying to save her life. She suddenly became calm, and she floated motionless in the darkening water, and allowed the men to climb all over her, as they cut away the last parts of the net, and night descended over them.

Ortíz said the freed whale lifted its face from the water and looked straight at him for a long moment, crying and calling out audibly, before she slipped beneath the waves and swam away. "It was a very strong moment," said the 29-year-old Ortíz. "A very dramatic moment. I will never forget it for the rest of my life."

The story was told on Mexican national television by newscaster Armando Figueredo, and it also played in the U.S. news. At the perfect moment, it threw the spotlight on Julio Berdegué's vehement speech at the Hotel Solmar, and PROFEPA's Fueyo has vowed to take action on his proposals muy pronto.

Was the trapped whale just a well-timed coincidence? Or, was it conjured up by the sheer will of a modern-day Prospero? Either way, Don Julio gave quite a performance.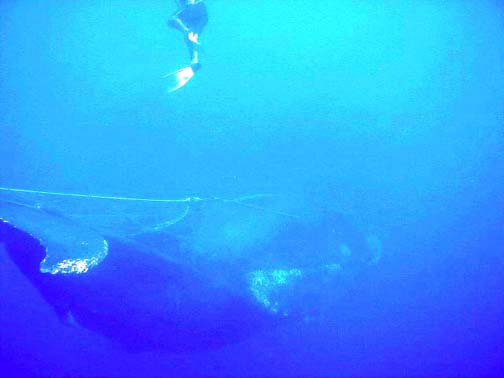 A diver climbs for air during the successful struggle to free the gill net-enshrouded whale.
(Related Cabo San Lucas articles and reports may be found at Mexfish.com's main Cabo San Lucas information page. See weekly fishing news, photos, and reports from the major sportfishing vacation areas of Mexico including the Cabo San Lucas area in "Mexico Fishing News.")