By Gene Kira, May 28, 2002, as published in Western Outdoor News:

The progressive, prestigious, and well-run Rolex/IGFA 2002 Offshore Championship Tournament had a successful outing at Cabo San Lucas, Mexico, on May 17-23, 2002, with 57 teams from more than 20 countries using circle hooks on live and dead bait, and releasing all billfish as they completed for non-cash prizes.

The Cabo San Lucas teams--all previous winners from a list of 81 international qualifying tournaments--fished with 30 and 50-pound tackle on a daily rotation of local boats drawn by lot. Extra points were awarded for 30-pound tackle, and there were also points awarded for tuna kept over 40 pounds, and dorado or wahoo over 25 pounds.
A total of 170 qualifying marlin, including a few blues, 44 qualifying dorado, and 19 qualifying wahoo were landed during the four-day event, in which boat crews were not permitted to assist the anglers, other than by hooking baits for them. According to Tracy Ehrenberg of Cabo San Lucas' Pisces Fleet, the numbers could have been somewhat higher. There were "plenty of fish to be had," Ehrenberg said, but many anglers were unfamiliar with circle hooks and the "Baja technique" of casting baits to billfish. "This proved difficult for a lot of the anglers, who use other methods in their home ports," Ehrenberg said. "Our crews reported up to 11 marlin strikes in a day without luck for their anglers, though some did well. We had one team on Rebecca that managed to release 5 in one day."

Ehrenberg reported the tournament's final results:

Team Winners: 1st Place, New Smyrna Billfish Tournament Team, Florida, 2,518 points; 2nd Place, Bonaire International Tournament, Netherlands Antilles, 2,350 points; 3rd Place: East Cape Billfish Tournament, Baja California Sur, 2,279 points.

Top Anglers: 1st Place, Tony Nungaray, from Cabo San Lucas (5 marlin); 2nd Place, Victor Bertrand Sr.; 3rd Place, Sherry Jumonville.

Top Fish: Largest Dorado, Robert Turner, 49.9 pounds; Largest wahoo, Jerry Yahiro, 89.74 pounds; No qualifying tuna were caught.

The Cabo San Lucas fishing tournament was coordinated by IGFA staff, including tournament director Sue Vermillion, and IGFA president Mike Leech. Special events were held at several Cabo San Lucas locations, including the Hotel Finisterra, Hotel Playa Grande, Baja Cantina, Hotel Fiesta Americana, and the Hilton Los Cabos. "I'm overwhelmed with the amount of support and assistance I have received in the past few months," said tournament director Vermillion, and Tracy Ehrenberg of Pisces Fleet added, "Everybody was thrilled with Cabo, the weather, fishing and friendliness of the people, making it look like the event will take place here again next year."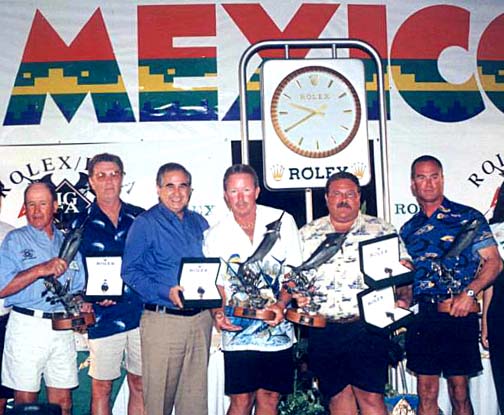 The winning team in the Rolex/IGFA 2002 Offshore Championship Tournament at Cabo San Lucas, Baja California Sur, Mexico: Florida's New Smyrna Billfish Tournament, with 2,518 points, were Frank Schaaf, William Holcomb, John Lloyd, Scott Laney, Daniel White, and Joe Pineiro. Photo by Dannilo Mathews.
(Related Cabo San Lucas articles and reports may be found at Mexfish.com's main Cabo San Lucas information page. See weekly fishing news, photos, and reports from the major sportfishing vacation areas of Mexico including the Cabo San Lucas area in "Mexico Fishing News.")