By Gene Kira, Oct. 21, 2002, as published in Western Outdoor News:

During this week's huge APEC (Asia Pacific Economic Cooperation) conference in Cabo San Lucas, the electronic eyes of the world will be force-focused on Baja California as never before. But so far--for at least one Baja reporter--this whole APEC trip has been mostly a great big blur.

It all started on Thursday. With the truck half-loaded, I realized that I had forgotten to call Bobby Van Wormer Jr., Director of Tourism for Baja California Sur, for some information related to last week's revocation of Shark Norma 029-2000.
I finally caught up with Bobby Jr. in Tijuana, and after talking to him for a while, El Viejo himself, Bobby Van Wormer senior got on the phone, and we had a great time swapping Baja jokes (interviewing this Baja living legend is always productive. I figure Bobby is worth about one good column every four minutes).

But I was starting to get a little worried about Western Outdoor News' October phone bill when sly ol' Bobby let slip with a very casual, "...and yeah, Gene, I guess you heard about the 362-pound tuna."

After I found the phone receiver and picked it up again, Bobby confirmed it. There was a 362-pounder (or maybe 355.2) caught out of Hotel Punta Colorada last week, plus several other 100-pound plus gorillas. It was Big Tuna City down there.

Well... that touched off a series of phone calls and other delays, and I ended up starting down Mex 1 more than a day late. Basically, it was a straight-through drive to Cabo San Lucas, with a short nap at Cataviña (cold!), and a brief stop in Loreto to see Pam Bolles' new house and baby.

I pulled into Cabo San Lucas and drove down the highway to check things out and pick up my APEC press credentials.
So far, the most visible sign of special security measures I've seen is the impressive picket line of Navy ships extending from about Medano Beach to about Cabeza de Ballena. These ships are anchored about five lengths apart, maybe 500 yards off the coast, and you're not supposed to go in there, or (they say) you will be rammed and sunk.

Fair enough, I guess. But as I was driving along, there was at least one hotel cruiser that hadn't gotten the message. It penetrated the picket line, and two ships put out white water wakes as they spun around (quite a sight in shallow water), and started to chase it. The cruiser zig-zagged around, probably wondering what the hell was going on, and finally disappeared around the arch, headed west at top speed. G'day, amigo!

For this week's massive APEC conference, finance ministers and heads of state--including Presidents Bush and Fox--from most of the Pacific Rim countries will meet at various Los Cabos venues. These countries account for about one-half of the world's international trade.

The numbers are pretty impressive. Altogether, about 10,000 people are expected to attend, including a couple of thousand security personnel and plenty of military. The APEC organizing staff from Mexico City numbers several hundred, many of whom are here solely to support about 700 reporters from around the world.

The electronic press corps is housed near Shipwreck Beach in a gigantic inflated dome that could hold a football field (I paced off the interior at 102 yards long). Inside, there are pavilions for each country's electronic equipment, with eight multilingual data feeds going out simultaneously by satellite.

So far, though, little has happened, except for getting credentials confirmed and waiting for the preliminaries to start. Life in Cabo San Lucas goes on as usual; the fishermen are fishing, and the night clubbers are clubbing. But--largely unnoticed by the tourist crowds--this place is a blur of international heat.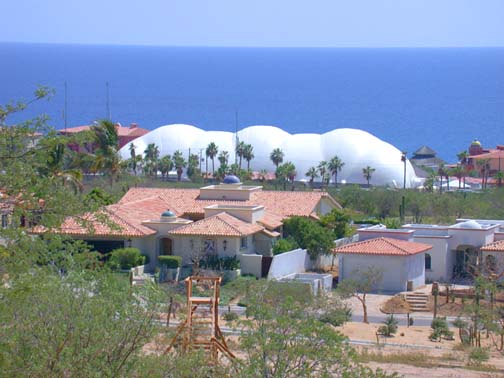 At the new Hotel Sheraton, the dome housing the electronic media corps.
(Related Cabo San Lucas articles and reports may be found at Mexfish.com's main Cabo San Lucas information page. See weekly fishing news, photos, and reports from the major sportfishing vacation areas of Mexico including the Cabo San Lucas area in "Mexico Fishing News.")