By Gene Kira, Oct. 28, 2002, as published in Western Outdoor News:

A hostage crisis in Moscow forced Russian President Vladimir Putin to cancel his trip to Baja California, and--like the booming of the surf from distant Hurricane Kenna--the spectre of global terrorism permeated the very air surrounding Cabo San Lucas last week.

Largely unnoticed by the crowds in downtown Cabo San Lucas, heads of state and top economic leaders from 21 nations were gathered here for the 2002 Asia Pacific Economic Cooperation summit (APEC), held at several major hotels in the Los Cabos Corridor. Included were Presidents Bush and Fox, and representatives from Australia, Brunei Darussalam, Canada, Chile, the People's Republic of China, Hong Kong, Indonesia, Japan, the Republic of Korea, Malaysia, Mexico, New Zealand, Papua New Guinea, Peru, the Philippines, Russia, Singapore, Chinese Taipei (Taiwan), Thailand, the United States, and Viet Nam.
Security measures were extraordinary, something the likes of which Baja California has never seen before. In plain sight were an armada of Navy ships patrolling just off the beaches of Cabo San Lucas, scores of unmarked Suburbans and other vehicles carrying obvious "Jiménez" (Mexican humor for "G-men") wearing their signature dark glasses, and armies of uniformed drones guarding every intersection, parking space, doorway, and palm tree (it seemed) from about the Vagabundo RV Park out to about Punta Palmilla.

On Friday, these APEC security forces really snapped tight. Special scanners were turned on, and when you entered any of the various venues, your mug shot and identification information appeared on a monitor. Supposedly, biometric cameras were scanning the most critical areas, comparing facial profiles to some kind of anti-terrorism database.

Nevertheless, there were gaps. Earlier in the week, I attended a press conference given at the Sheraton Hotel by U.S. Secretary of Transportation, Norman Y. Mineta. Here, my vehicle was waved through solely on the basis of an easily-duplicated dashboard placard. It was visually checked underneath with mirrors, but nobody asked for my I.D., and nobody looked inside, even though I was driving a pickup with a camper shell. Unchallenged, I was allowed to drive to within about sixty feet of the room where the press conference was being held, and I was allowed to walk in, even though my high-tech I.D. tag happened to be turned around backwards so that it could not be read.

During the press conference, Secretary Mineta addressed APEC's dominant theme: How can world commerce function under the threat of terrorism? At one point, an Asian woman rose and asked a crucial question in perfect, though heavily accented English: "What will the ramifications be for countries that cannot afford adequate security measures?" Mineta's response was basically that there may some international aid forthcoming, but the grim reality is that the price of poker is going up--for everyone.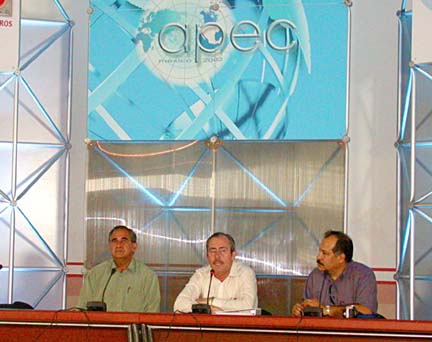 Baja California Sur Governor, Leonel Cota Montaño, center, at the APEC conference, Cabo San Lucas, Mexico.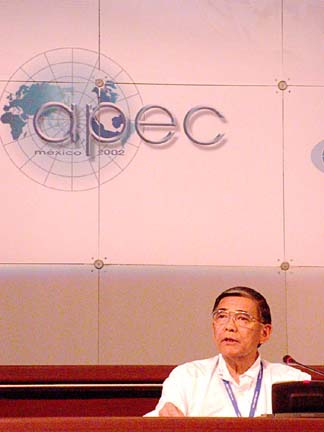 U.S. Secretary of Transportation, Norman Mineta, at his APEC press conference.
About 2 p.m. Friday afternoon, APEC experienced a major embarrassment when the gigantic burbuja--the inflated plastic bubble that housed the largest and most prestigious gatherings--suddenly ripped open and collapsed! Ay...ay...ay! This horizon-dominating objet, with a floor area of more than two acres, was said to be a world record for structures of its kind. Its sudden disappearance was a visual shock, something like the images of New York without the World Trade Center. But for APEC, at least, the lost burbuja was merely an inconvenience, not a tragedy.

The prevailing goal of APEC 2002 at Cabo San Lucas was one of finding resolution for a number of difficult situations: a decade-long economic slump in Japan, South Korea's newly-revealed nuclear twin, Australia grieving for its citizens slaughtered in Bali, Putin's Chechen rebels in a Moscow theater, China and Taiwan in their perennial identity crisis, and dangerous terrorist movements in Indonesia, Malaysia, and the Phillipines, just to mention a few.

Closer to home, Mexico's President Fox needed desperately to defuse a looming agricultural-emigration crisis that may occur if ruinously low-cost American products authorized by NAFTA a decade ago should invade Mexico, potentially putting whole industries and hundreds of thousands of campesinos out of work.

And the U.S.'s President Bush needed to rally international support for the war on terrorism, and to find a formula for balancing security with the free flow of goods and people necessary for international trade.

As Cabo San Lucas' glittering APEC showcase wound to a close, the published statements were predictably lacking in specifics. But one hopes that during the multitude of top-level, closed-door sessions, some concrete progress was also made.

Last week at the tip of Baja California, our own little corner of paradise seemed even more special than usual, a peaceful, sunny haven where perhaps the world could pause vicariously and catch its breath for one brief moment, and perhaps find a way out of this labyrinth.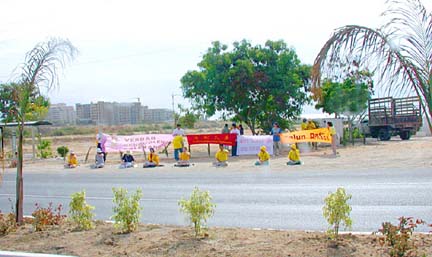 Members of the Falun Gong sect during a peaceful demonstration near the Vagabundo del Mar RV Park, Cabo San Lucas, Mexico.
(Related Cabo San Lucas articles and reports may be found at Mexfish.com's main Cabo San Lucas information page. See weekly fishing news, photos, and reports from the major sportfishing vacation areas of Mexico including the Cabo San Lucas area in "Mexico Fishing News.")