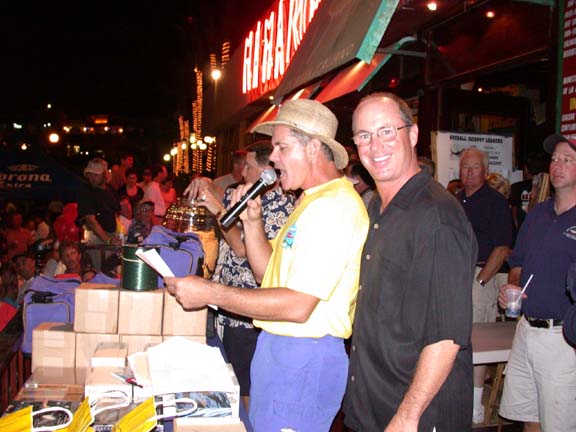 Western Outdoor News staffers Pat McDonell, left, and Joe Higgins, right, work the crowd to a froth at the Friday night Mercury sponsored party at the Shrimp Bucket and Mama Roma's. More than 800 attended the festivities as $50,000 in free trips to Panama, Alaska, Costa Rica, and Baja were doled out along with tackle from dozens of sponsors such as Shimano, Berkely, Flexx-Rap, Costa del Mar, Leatherman, Hi-5 Lures, Furuno, and many others.
RECORD 156 BOATS ENTER WESTERN OUTDOOR NEWS TUNA FISHING TOURNAMENT
By Gene Kira, Nov. 12, 2002, as published in Western Outdoor News:

This year's storybook fourth annual 2002 Western Outdoor News/Mercury Los Cabos Tuna Jackpot Tournament at Cabo San Lucas, Baja California Sur, Mexico, ended with a huge splash of water, and it was about the only one all week that wasn't caused by a big yellowfin tuna.

The big splash came instead when Michael Prida of Alpine, CA heard his name called out as the free-drawing winner of the grand prize $30,000 Ford F-150 Super Cab pickup. Prida got so excited that he dived, fully dressed, into the swimming pool of the Hotel Plaza las Glorias, and swam across to collect his prize, in full view of about 690 people at the Saturday night awards banquet.
Prida's new Ford truck was the exclamation point for a fantastic week of yellowfin tuna fishing at Cabo San Lucas, and an incredible week for him personally, since he had brought his new wife, Kathy, to fish in the tournament on a honeymoon trip, after their marriage on Oct. 16. The happy couple also fished in last year's event, but this was their first after "tying the knot," and they were ecstatic about their trip to Cabo San Lucas, the parties, their new truck, and the outstanding fishing action they enjoyed here last week.

During two tournament fishing days as Team #27 aboard the Marisol III, the honeymooning Prida's landed 10 fish, including a exciting quadruple tuna hookup, and two big wahoo. But nevertheless, their new Ford truck was not won by their own boat.

Instead, the big truck drawing for all of the tournament's 573 team members had been triggered on the first fishing day, Thursday, when an enormous 256-pound yellowfin was brought to the scales by the Griselda, easily topping the 220-pound requirement for the free truck drawing to be held on Saturday.

The truck drawing is sponsored by Burch Ford, El Cajon Ford, and Fairway Ford, and this year the tournament was attended by Marty Burch of Burch Ford, and Dick Landfield of Fairway Ford. Paul Leader of El Cajon Ford could not attend. (Burch's group, representing the infamous Team Borracho, did well in the tournament, landing two fish over 100 pounds, including a 132.5 pounder the first day, and a 109.3 pounder the second day.)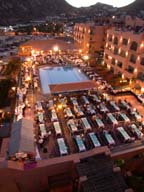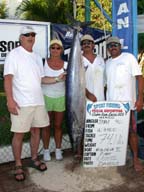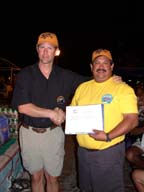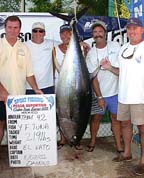 NEARLY 700 TEAM members, guests, and dignitaries attended the exciting Saturday night awards banquet at Plaza las Glorias as the sun set on the fourth annual WON Los Cabos Tuna Jackpot. 2. THE MIVERVA II team of Chuck and Tamy Hagen, Antonio Colorado, and Jaime Contrereas won Shimano reels and G. Loomis rods for catching the largest wahoo, a 74.2 pounder the first day. 3. JOHN BEATH OF Crocodile Lodge in Costa Rica congratulates Patrick Statham, Trabuco Canyon, CA for winning a trip for two to the beautiful fishing resort that includes five days of fishing and an eight-day stay. 4. TITLE SPONSOR MERCURY Outboard's Dave Bolton, left, with the team and crew of El Vato, and a 219-pound yellowfin tuna worth a cool $153,820. The team is made up of Lewis Feuerstein, David Scheppers, Martin Curtin, and Cami Garnier.
For this year's fourth annual Western Outdoor News/Mercury Los Cabos Tuna Jackpot Tournament, held on Nov. 6-9, a record 156 boats were entered, which made it Baja's biggest tournament of the year in terms of boats fishing. Despite September 11th, the Tuna Jackpot grew by two boats over last year's mark of 154, making it the only tournament in Baja to get bigger this year, and setting a new national record for the number of local boats chartered, according to Mexican officials here. The Tuna Jackpot has grown steadily in each of its four years, with 112, 136, 154, and 156 teams entered respectively. This year, some team members came from Canada and Alaska, and even as far away as England for the event.

As it turned out, the Griselda's 256-pound yellowfin tuna was the largest specimen caught during the record 312 boat-days of fishing, but the winning tuna had lots of company in the "gorilla class." This year, an amazing total of 25 yellowfin tuna over 100 pounds were officially weighed, and 3 of those fish topped 200 pounds. Almost 20 additional yellowfin over 100 pounds were not even weighed because they were obviously out of the running for the cash prizes.

Until this year, the largest fish ever weighed in the tournament was the 218.9 pounder caught in the inaugural 1999 event by local fisherman Marco Antonio "Toño" Guluarte Arista on the panga Estrella del Mar. The 2001 tournament was won by a 156-pound tuna by the Stimulator, and 2000 by a Blue Thunder 130 pounder. By comparison, this year the average weight of the top 10 fish brought in was a whopping 188.6 pounds.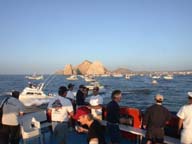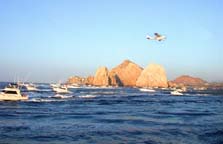 ANTICIPATION RUNS HIGH before the 156-boat start off the Cabo arch. The owner of the catamaran Oceana based in Cabo graciously donated use of the boat both days as staff and dignitaries attended along with the Outdoor Channel. 2. THE VIEW FROM below with the staff on the official starter's boat, Oceanus, just after the start, and the bird's eye view from above in a chartered plane as the exciting flare gun start is filmed by the Outdoor Channel. 3. THE OUTDOOR CHANNEL swoops low in a camera plane during the shotgun start of the 2002 Western Outdoor News/Mercury Los Cabos Tuna Jackpot Tournament. It was the biggest fishing tournament in Baja California this year with 156 teams. The event set a record for the number of teams, quality of fishing, winnings, prizes, and excitement over four days in Cabo San Lucas, Nov. 6-9. Next year's event is slated for Nov. 5-8.
As an example of the quality of the fishing enjoyed by tournament anglers last week, here are the weights of the top 20 fish brought to the scales:

Team #11, Team Capt. Kenneth Longaker, Griselda, 256 pounds; Team #106, Team Capt. Lynn Jones, Edith I, 224 pounds*; Team #42, Team Capt. Lewis Feuerstein, El Vato, 219 pounds; Team #157, Team Capt. Gino O'Leary, Legend of Cabo, 182 pounds*; Team #53, Team Capt. Bob Troutman, Laurita, 181 pounds; Team #120, Team Capt. Jesse Santana, Santana, 178.5 pounds; Team #78, Team Capt. George Lutz, Gaviota IV, 176.5 pounds; Team #114, Team Capt. Wayne Carey, Cal Truss, 158 pounds*; Team #157, Team Capt. Gino O'Leary, Legend of Cabo, 157.3 pounds; Team #90, Team Capt. Mike Haber, Fisher of Men, 155.6 pounds; Team #118, Team Capt. Daniel Ross, Options, 142 pounds; Team #121, Team Capt. Al Porter, Cover Girl, 133.9 pounds*; Team #25, Team Capt. Ron Keith, Fish Cabo, 132.5 pounds*; Team #54, Team Capt. Marty Burch, Reel Trick, Team Borracho, 132.5 pounds; Team #77, Team Capt. Frank Baroudi, Marca, 129.9 pounds; Team #43, Team Capt. Gregor Doerner, Mucho Loco I, 129.8 pounds; Team #150, Team Capt. Timothy D. Atteberry, Baja Raider, 129.6 pounds; Team #99, Team Capt. Scott Dilley, Eagle I, 128.7 pounds*; Team #94, Team Capt. Fred Flatley, Fresh Start, 127 pounds*; Team #57, Team Capt. Christian Neidlinger, Habanero, 122.4 pounds. (Another 5 fish over 100 pounds were also weighed but not listed here. Fish indicated with an asterisk* were caught on Day 2, all other fish on Day 1).

Legend of Cabo, the 26-foot super panga, with team captain Gino O'Leary, did especially well, landing two of the Top 10 fish on Day 2.

This year, the total prizes and premiums awarded in the Western Outdoor News/Mercury Los Cabos Tuna Jackpot Tournament included a record setting $362,000 in cash awards, a record setting $160,000 in free drawing prizes, and the $30,000 Ford F-150 Super Cab truck drawing, for a new record grand total of $562,000.

The inaugural WON/Mercury Los Cabos Tuna Jackpot Tournament title sponsor, Mercury Outboards, returned for the fourth year in a row, and they were represented in Cabo San Lucas by Dave Bolton and Jay Povlin who passed out what might have been some sort of "all-tackle" world record for the greatest number of bright yellow t-shirts ever given away in two days. Said Povlin as he looked out over the huge, standing room only crowd at Friday night's Mama Roma Shrimp Bucket party, which was sponsored by Mercury Outboards: "We passed out 800 Mercury shirts just last night! It's amazing what a free shirt will do for people! Awesome tournament! We're coming back next year for sure."

Pete Gray of the well-known "Let's Talk Hook Up" radio show was also a major sponsor, and Gray came to Cabo San Lucas to broadcast his program and interview the tournament winners of the Griselda for their 258 pounder live on the air from the beautiful dining terrace overlooking the Sea of Cortez at the Hacienda Beach Resort.

In addition to the cash prizes and Ford truck, this year's event featured a bonanza of sponsored drawing prizes including big-ticket fishing trips to Alaska, Costa Rica, and Panama, dozens of high-end Shimano reels and G. Loomis rods, and thousands of fishing tackle prizes donated by the industry's leading companies. For the three big drawing nights, each featuring over $50,000 in giveaways, the hundreds of boxes and bags containing the prizes were trucked south from the U.S. with special customs permission arranged by Bobby Van Wormer Jr., Director of Tourism of Baja California Sur, who was also instrumental in getting the equipment imported for Pete Gray's on-the-scene radio broadcasts from the Hacienda Beach Resort.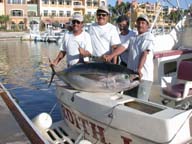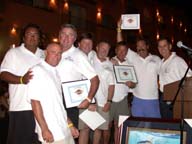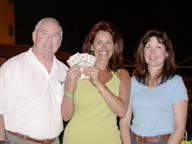 THE EDITH I TEAM took home $116,040 with this 224.0-pound yellowfin tuna in the 2002 Western Outdoor News/Mercury Los Cabos Tuna Jackpot Tournament at Cabo San Lucas. During two fishing days, 156 teams weighed in more than 25 tuna over 100 pounds, and 3 tuna over 200 pounds. 2. CO-DIRECTOR PAT MCDONELL, right, poses with the El Vato crew and team members after they won $116,040 for their 224-pound yellowfin. The team was made up of Lewis Feuerstein, David Scheppers, Martin Curtin, and Cami Garnier. They won the tournament's most money for taking all of the Day 1 Jackpots and Third Place overall with a 219 pounder. 3.3DAVE AND LISA Henry of Flexx-Rap were only too happy to hand out a cool $2,000 cash over three nights in the drawings and one of the recipients was Lynn Connolly of Cabo San Lucas and Montana, here with her crisp $100 bills at the awards banquet.
The cash awards this year were winnable in 13 different ways: the "Overall Big Tuna" prizes for the tournament as a whole, paying out for First, Second, and Third Places; and separate, winner-take-all Daily Jackpots for each of the two fishing days, at the $400, $500, $1,000, $2,000, and $3,000 Levels.

All of the 156 boats fishing were automatically entered in the "Overall Big Tuna" competition. In addition, there were 100 entries (not boats; some boats entered multiple days and levels) submitted at the $400 Daily Jackpot Level, 92 entries at the $500 Level, 79 entries at the $1,000 Level, 55 entries at the $2,000 Level, and 34 entries at the $3,000 Level.

In this year's tournament, four boats finished in the money:

Griselda; Team #11; Bertram 28; Ken Longaker, Seattle; and Karl Bratvold, Mukilteo, WA; 256.0-pound yellowfin tuna; Day 1; First Place Overall, $51,340.

Edith I; Team 106; California 28; Dreammaker Charters; Lynn Jones, Hemet; Kim Jones, Paso Robles; Mike Gow and Lee Jones, Hemet; 224.0-pound yellowfin tuna; Day 2; Second Place Overall, $6,040; Second Day Jackpots, all but the $3,000 level, $110,000; Total Winnings, $116,040.

El Vato; Team 42; Nordlund 70; Lewis Feuerstein and David Scheppers of Buttonwillow, CA, Martin Curtin, and Cami Garnier; 219-pound yellowfin tuna; Day 1; Third Place Overall, $3,020; all Day 1 Jackpot levels, $150,800; Total Winnings, $153,820.

Legend of Cabo; Team 157; Super Panga 26; Gino O'Leary, Los Angeles; Hugo Pino Olachea and Augustin Pino Miranda, La Playita, San Jose del Cabo; 182.1 pound yellowfin tuna; Day 2; $3,000 Jackpot Level, $40,000.

Additionally, a 74.1-pound wahoo caught by the Minerva II, Team 40, Bertram 33, won non-cash Wahoo/Dorado Award tackle prizes for Chuck Hagen of Homer, AK, and Antonio Colorado and Jaime Contreras.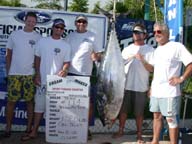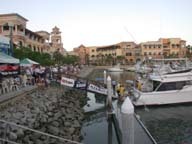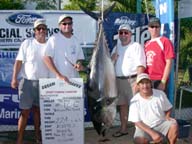 TEAM CALTRUSS LOGGED in this 158-pound yellowfin on Day 2. It was the eighth biggest fish. The team was made up of Wayne and Wes Carey, Bill Newbrand, and Ben Burroults. 2. ANOTHER TEAM WEIGHS in a yellowfin tuna in front of the Cabo San Lucas Marina office. 3. THE EDITH I TEAM weighed in this 224 pounder that earned the team Second Place in the Overall Big Fish category and took all of the Day 2 Jackpots but the $3,000 entry for a total of $116,040 in winnings. The team is made up of Lynn, Kim, and Lee Jones and Mike Gow.
SIGN-IN PARTY

Things got off to a promising start right away for this year's tournament as an overflow crowd began to show up early for snacks and drinks at the Sign-In Team Meeting and the first of three $50,000-plus free prize drawings scheduled at the Hotel Plaza las Glorias, from 1 to 6 p.m., Wednesday, Nov. 6.

Tables were set up around the bar and restaurant on the hotel's upper level pool deck, music drifted out over the boats in the beautiful marina, and all 156 teams checked-in, as the sun set over Cabo San Lucas. A special table was set-up for SAGARPA representative, Luis Alonso Bazua Sicre, who sold over 300 required fishing licenses on the spot (in Mexico, everyone aboard a fishing boat must have a valid license, whether fishing or not). The next day, Bazua said that he might have set a one-day record for Cabo San Lucas, adding, "My hand is sore from writing so many papers!"

Other tables and banners were set up for the multitude of tournament sponsors to display their products, special shirts were sold at the Western Outdoor News booth, and the first of 680 top quality Shimano cooler bags, reels, rods, fishing trips, and literally tons of tackle freebies were handed out, as everyone finished up their paperwork at a sign-up table operated by Western Outdoor News staffers. In short order all 156 boats, 573 team members, and all the boat crews were confirmed as registered, numbered, licensed, and ready to go, and Western Outdoor News Publisher Joe Higgins rapidly announced the prizes and drawing winners to start off the fun. The first trip given away was a long range trip aboard the new Intrepid, a $4,000 sponsorship from the boat's owner, Ken Price who actually kicked in two of the trips for the event. As the cameras rolled for the Outdoor Channel that filmed the Jackpot for an upcoming one-hour show, then came the official welcome of the anglers by Western Outdoor News Editorial Director and Tournament Co-Director Pat McDonell, and a rules meeting by Tournament Co-Director Kit McNear, with all of this mixed with more drawing prizes.

The impressive array of prizes was passed out very quickly (at the rate of about $5,000 per minute!), and after a quick reading of the official tournament rules by McNear, the crowd cleared out and headed downtown for a night of carousing, or back to their hotel rooms and boats to make final preparations for the tournament's Day 1 shotgun start, only 12 hours away at the famous Cabo San Lucas arch at the tip of Baja California

DAY ONE

At 5:30 a.m. the following morning, Thursday, Nov. 7, WON Tournament Co-Director Kit McNear boarded the twin-decked catamaran start boat, Oceanus, near the marina mini cruise ship dock, along with other staff members, Cabo San Lucas Port Captain Manuel Martinez Pano, and Enrique Fernandez del Castillo, General Manager of the Cabo Marina and Vice President of the Mexican Federation of Marinas. Slowly, the Oceanus made its way out of the harbor entrance channel and took up a position just off the arch, as the glow of daylight was beginning to fill the clear eastern sky.

By 6:30 a.m., the excitement was building as boat after boat cruised up to the Oceanus, displayed a cardboard sign with its team number, and then took up a position behind the starting line to wait for the 7 a.m. "shotgun" (actually a flare) signal to begin fishing on Day 1.

At the same time, Tournament Co-Director Pat McDonell was at the airport, taking off in a small plane with a pilot and Outdoor Channel cameraman Keith Covey to record images of the start from the air.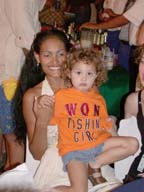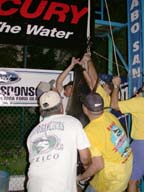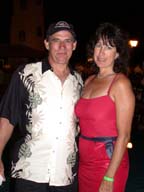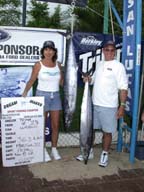 EVELYN BOYER OF Aumsville, Oregon enjoyed the festivities at the Mercury-sponsored party Friday night with her 2-year-old daughter, Donna. They were again part of a competing team. 2. WEIGH MASTER TOM White, Mike Packard, Pat McDonell, Bill Hutchinson, and a dock worker (in white shirt) hoist the winning 256-pound yellowfin caught by team Griselda the first day. The fish was not in any of the optionals but still won $51,340 and kicked in the insurance for the Ford truck drawing as the crowd cheered. 3. & 4. HONEYMOONERS MIKE PRIDA and his lovely wife Kathy at the awards ceremony. In a few hours they would get one more wedding present, a new Ford truck from Burch Ford, Fairway Ford and El Cajon Ford in a special drawing. Mike actually took a swim to accept the award. In the weigh in photo, Mike and Kathy show off their two wahoo, the biggest a 36.3 pounder.
At precisely 7 a.m., just as the sun was rising, Port Capt. Martinez fired the starting flare into the air, and 156 boats roared past the arch and fanned out in all directions at top speed. It was a spectacle to behold as all the famous old fleet names of Cabo San Lucas came streaming by. The Oceanus was rocked by the big wakes hitting from both sides as boats turned right and went up the Pacific toward the Jaime and Golden Gate banks, went straight south, or turned left and went up the Cortez toward the Gordo Banks.

As about half the fleet passed the Oceanus, the chartered plane made everyone gasp as its (hopefully) highly-skilled Mexican pilot swooped in at mast-top level, and then made a tight, high-speed turn, right between the rock pinnacles surrounding the arch, so low that his plane actually disappeared for a moment as seen from the Oceanus. As the plane turned on its side and dived completely behind the rocks, Marina General Manager Enrique Fernandez punched a fist in the air and yelled out, "Yes!!! That's what we call a Mexican roller coaster ride!"

Since the reports for yellowfin tuna during the last few weeks had been very quiet, due either to a lack of fish, or an unwillingness to talk about them because of the approaching tournament, there was no apparent favored fishing location for Day 1, nor were there any really significant temperature breaks or other definite indicators, so the tournament boats were relatively evenly spaced as they disappeared over the horizon. The working game plan for most boats was to run out anywhere from 5 to 50 miles, depending on direction, look for porpoise, and troll or cast caballito, or small tuna or black skipjack live baits around them.

Off to the north on the Pacific side, meanwhile, onlookers were treated to the odd sight of the first of 138 "Baja Ha-Ha" cruising sailboats arriving from the U.S. General Manager Fernandez commented that it was going to be a little crowded inside the harbor that afternoon as the Western Outdoor News tournament boats began returning.

As the Western Outdoor News staff gathered at the weigh-in platform outside the Marina office--near the new launch ramp on the Plaza las Glorias side of the harbor--the shape of the fishing day was already becoming apparent by about noon; there were going to be a lot of big tuna caught.

At 11 a.m., the Gaviota II had radioed in with an estimated 100-pound-plus tuna hookup, and that information was quickly followed by two more calls with big fish.

By 1:43 p.m., 5 tuna estimated at over 100 pounds had already been landed or were being fought, and less than five minutes later, the count went up to eight. Things were looking good, very good.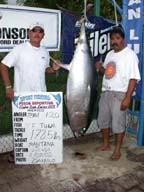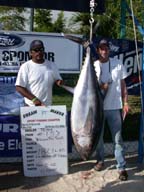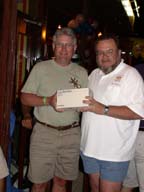 SIXTH BIGGEST TUNA of the event was this 178.5 pounder caught by the Santana on Day 1. 2. LEGEND OF CABO on Day 2 weighed in two Top 10 yellowfin, the biggest of which was this 182.1 pounder that earned the team $40,800 in Day 2, $3,000 Jackpot money. Their other fish weighed 157.3 pounds, giving them the fourth and ninth biggest fish of the event. 3. MARTY BURCH OF Burch Ford, at right, donated three TDL30 Shimano reels in special drawings over three nights. This unidentified but very happy angler was one of hundreds who won some of the $190,000 worth of prizes doled out over three nights. Burch's team was no slouch in the fishing, weighing in two fish over 100 pounds, topped by a 132.5 pounder.
At 2:01 p.m.--just one minute after the scales were officially opened--the Gaviota II pulled up with its fish, which weighed in at 99 pounds, a very nice tuna by anyone's standards, but just small fry compared to what was about to happen over the next few hours. The Gaviota II's fish had been caught on porpoise with a live caballito, establishing a general pattern that would persist for the next two days.

At 2:43 p.m., the Santana called in an estimated 200-pound class tuna hookup, and things really started to get interesting. (This fish would weigh in at a very impressive 178.5 pounds, but even so, it would ultimately be only the sixth largest fish of the tournament. It would finish out of the money.)

In rapid sequence now, fish of 129.9 pounds, 181 pounds, and many more over 100 pounds are weighed in, but disappointingly, nobody can break the magic 220-pound mark that will trigger the Ford F-150 truck drawing on Saturday. Everyone on the dock is wishing for that fish to be caught, because if it is, the whole tournament gets to draw for the truck, not just the winning anglers.

Finally, about half-an-hour after the 4 p.m. "lines out" fishing cut-off, all eyes turn toward the dock as El Vato pulls in and unloads a truly gargantuan tuna. A big crowd gathers around and a chant of "Ford! Ford! Ford!" is yelled out as the monster is hauled up to the scales and lifted up.

But, a collective moan rises as the certified digital scale is read: exactly 219 pounds! Just one pound short of the magic Ford truck! Good natured cries of "FIX!! FIX!!" ring out, as the huge yellowfin is brought down about 5 p.m., and with less than an hour to go before the scales close for the day, everyone begins to resign themselves to missing the 220-pound mark. At least for that day.

More big tuna, including fish of 142, 155.6, and even 176.5 pounds are weighed in, but after the major disappointment of the 219, they just seem anticlimactic. Nobody gets very excited over them, even though on any other day, they would make the headlines.

Then, exactly as the scales are closing for the day at 6 p.m., the Griselda pulls up to the weigh-in dock, and all hell breaks loose.

The yellowfin tuna unloaded by the Griselda is a true monster, a Socorro Island-class fish, that is obviously much bigger than El Vato's 219 pounder.

Someone screams, "That ain't no fish! It's a FORD!"

Several men struggle to get the big tuna hung on the scales, and the crowd waits patiently as scalemaster Tom White does his job, but really, everybody already knows what's about to happen.

Finally, Western Outdoor News staffer Judy Morgan looks at the digital read-out and yelps to the crowd, "Two-hundred fifty-six pounds!!!"

In the complete bedlam that follows on the weigh-in platform, the Griselda's team and crew are finally located and everybody steps up to have a photo taken with the fish that triggered the Ford truck drawing on Saturday night, and as it would ultimately prove to be, the biggest fish to be caught in the 2002 tournament.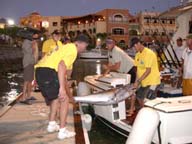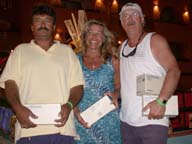 ANOTHER 100-POUND TUNA arrives for weigh in as the cameras roll. 2. CHUCK HAGEN AND his wife, Tamy, from Homer, Alaska were all smiles as they toted home Shimano reels and G. Loomis rods for winning the Wahoo/Dorado award on the Minerva II. They booked their boat through Minerva's Tackle in Cabo.
As it turned out, the 256-pound yellowfin was hooked not on a caballito, but on a live flying fish, one of three handed aboard as anglers Ken Longaker of Seattle and his partner Karl Bratvold of Mukilteo, WA bought bait early that morning.

Longaker said, "I don't know where that story came from," when told that people around the marina were saying the flying fish had been chased aboard the boat by a feeding tuna. The winning bait was actually bought at the marina, together with caballito, and it was cast at porpoise about 7 miles off the cost near the Golden Gate Bank on the Pacific side. It was boated after a long fight on 100-pound line and a broken rod that required two reels to be tied on and released into the water.

"It was the first tournament we ever fished in," said Longaker. "We chartered out of Dreammakers, with Dale and his wife Grace, and they hooked us up with a great skipper. He had us on porpoise schools all day long. On the big fish, the ocean just lit up, birds all over.

"There were about four or five pods of porpoise on the surface. The rod broke after about 2 hours. We and the wives have had a blast! The time of our lives!"

Both Longaker and his fishing partner Bratvold are experienced fishermen who fish commercially six months of the year for pollock in the Bering Sea.

"We came down for the sport of it," Longaker said. "We weren't in any of the daily jackpots. But I think we might start dabbling in it!"

The crew and team of the Griselda, in addition to winning $51,340 and triggering the Ford truck drawing for the entire tournament, are soon to become television stars as well. In an fantastic stroke of luck, their boat was randomly picked after they volunteered to host a camera crew from the Outdoor Channel, and their entire Western Outdoor News/Mercury Los Cabos Tuna Jackpot adventure will soon be relived during three telecasts to 18 million viewers nationwide.

The Griselda may have had the biggest fish of the day, but the biggest paycheck went to the El Vato's team captained by Lewis Fuerstein that claimed $150,800 for taking all the daily optional jackpots, and would eventually claim $153,820 for the event by taking third place overall.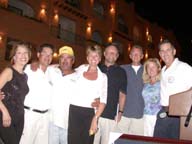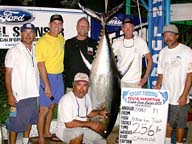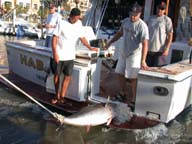 GRACE COTE, far left, of Dreammaker Charters and Pat McDonell, co-director, at far right, share in the happy times of the Griselda team that caught the biggest tuna of the event, a 256 pounder, and took home First Place Overall money at $51,340. The team of Ken Longaker and Karl Bratvold, and their spouses, of the Seattle area, enjoy the moment with their crew members, Capt. Capt. Hugo Aniya and Mate Gustavo Aniya. The team was very popular on the podium since their fish qualified everyone to draw for the Ford truck. 2. CO-DIRECTOR PAT MCDONELL, second from left, celebrates with the team and crew of Griselda who landed the biggest fish of the tournament, a 256-pound yellowfin tuna caught near the Golden Gate Bank. At right is Dale Cote of Dreammaker Charters who owns the boat. The team was made up of Ken Longaker and Karl Bratvold, and crew members, Capt. Capt. Hugo Aniya and Mate Gustavo Aniya. The fish was caught on an Owner hook, as were nearly all of the tuna caught on live bait during the two days of fishing. From left to right are: Capt. Hugh Anaya, Co-Director Pat McDonell, first mate Gustavo Anaya (kneeling), Karl Bratvold, Ken Longaker, and Dale Cote of Dreammaker Charters. 3. THIS 122.4 POUNDER was weighed in by team Habanero on Day 1. It was just one of dozens of 100 pounders caught in a spectacular showing of yellowfin tuna fishing off Cabo San Lucas. It was literally a parade of huge fish both days.
DAY TWO

The second fishing day of the 2002 Western Outdoor News/Mercury Los Cabos Tuna Jackpot Tournament began at 7 a.m., Friday, Nov. 9 with another shotgun start at the arch, and because of the Griselda's big catch at the Golden Gate Bank, the great majority of boats turned northwest and headed up the Pacific side.

The weather was slightly windier than the previous day, but conditions were still close to perfect, with clear skies and water temperatures hovering at about 80 degrees. Again, the basic game plan was to look for porpoise and cast or troll live bait near them, and the basic starting point for tackle used by most boats was 80 to 100-pound main line, 200 to 250-pound mono leader about 3 to 5 feet long, 3/0 to about 7/0 circle hooks, and a live caballito, black skipjack, or small tuna, about 9 to 12 inches long.

Although no fish broke the 256-pound standard set by the Griselda, Day 2 turned out to be an almost perfect carbon copy of Day 1. Seven of the tournament's top 20 fish were caught on Day 2, including 2 of the 4 money winners; the second largest fish overall, the 224 pouner landed by the Edith I of Dreammaker Charters and winners of the second most most money at $116,040; and the fourth largest overall, the 182 pounder of the super panga Legend of Cabo, which had an incredible day of fishing with a 157.3 pounder as well that day, giving it the fourth and ninth largest fish of the two days. Because the Edith I was entered in all the jackpots except for the $3,000 optional, it allowed the Legend of Cabo team that was in all the optionals to share in the glory and the winnings with $40,800 payday.

As the teams settled into their fishing routines, the scene at the weigh-in platform was somewhat calmer than on Day 1, and the first fish was not weighed until 3:20 p.m.

By 5:50 p.m., all the official fish had been weighed in, and at 6:08 p.m., the last boat of the 2002 tournament, the Fresh Start, pulled slowly up to the dock with three tuna to be smoked, but not weighed.

After two days of incredible big tuna action, the fishing competition of the 2002 Western Outdoor News/Mercury Los Cabos Tuna Jackpot Tournament was over, except for a huge party at Mama Roma's Shrimp Bucket hosted by Mercury Outboards in a couple of hours, and the highly anticipated awards banquet at the Hotel Plaza las Glorias the next night.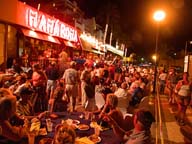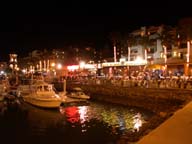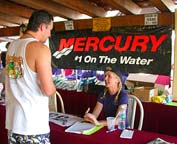 IT WAS STANDING ROOM ONLY at the huge Mercury-sponsored Friday night party at Mama Roma's Shrimp Bucket where $50,000 in drawing prizes was given away. 3. TUNA JACKPOT STAFFER Carolyn Collet signs up a participant at the Hotel Plaza las Glorias on Wednesday afternoon for the 2002 Western Outdoor News/Mercury Los Cabos Tuna Jackpot Tournament.
MAMA ROMA'S PARTY

At the raucous Mama Roma's Mercury Outboards party that night, things actually got into motion about an hour ahead of schedule as people started arriving and Mercury representatives Dave Bolton and Jay Povlin greeted everybody with big smiles and hundreds more of their bright yellow Mercury tee-shirts. Bolton got a big laugh when he said, "We wanted our shirts to be bright yellow so we could spot you later at Squid Roe! Really, it's great to be associated with such an event. We're glad to be out here."

There was standing room only in the large dining area laid out on the marina walkway, and it was a good thing there was a stout rope railing installed, or there would have undoubtedly been some party-goers in the water. Along with plenty of drink and good food, including a complimentary beverage courtesy of Mercury, Western Outdoor News's Joe Higgins and Pat McDonell for the second time began their rapid-fire welcome address and give away of more than $50,000 in drawing prizes.

In the festive outdoor setting beside the boats in the marina, attending sponsors like Bolton and Mike Battistoni of Fred Hall & Associates assisted on stage to get the prizes to winners. In addition to trips to Panama and Alaska, Baja and great tackle from Shimano and G Loomis, Flexx-Rap's Dave and Lisa Henry were a popular couple as they kicked out another $500 in crisp $100 bills. They doled out $2,000 over the three days.

Keith Williams of Del Mar didn't fish in the money, but was having a great time anyway, saying, "My first tournament. Saw lots of jumpers over 300 pounds. They looked like Volkswagens! Only ten miles out. The 256 pounder was caught right next to us! On top of the tuna, we caught marlin and wahoo. A great week!"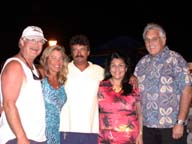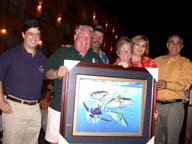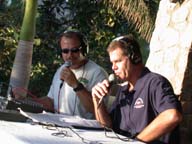 MINERVA AND BOB SMITH of Minerva's Tackle in Cabo San Lucas at right congratulate members of the Minerva II team that took the Wahoo/Dorado Category with a 74.1-pound wahoo, winning Shimano reels and G. Loomis rods. 3. THIS CHUCK BYRON painting was auctioned for $2,500 with the proceeds going to a social services fund for poor Cabo San Lucas children. From left are Enrique Fernandez of Cabo Marina, Danny McNamee who bid on the painting, artist Chuck Byron in background, Kay McNamee, wife of Danny McNamee, and Cabo San Lucas Mayor Ulises Ceseña and Mrs. Ceseña, who administers the charity and accepted the check. 3. PETE GRAY, left, and Co-Director Pat McDonell give Pete's radio listeners the lowdown on the tournament's results on Saturday morning live from the Hacienda Hotel as the sun came up. This is Let's Talk Hook Up's fourth year of broadcasting live from the Tuna Jackpot.
The well-known Richard Castaneda of Cass Tours didn't take home any cash either, and he blamed it on the marlin and wahoo: "Hey, I think we're in the wrong tournament! We just kept raising marlin. Couldn't get away from them. Then we got two nice wahoo. The amount of wahoo this year is just incredible. We got a triple hookup on the Gordo Banks. One boat caught six yesterday, trolling for tuna, of course!"

Finally, the party ended, and the many prize winners strolled away past the boat slips, toward the downtown area of Cabo San Lucas for another night of partying and relaxation, with no further tournament responsibilities except for getting themselves to the climactic complimentary poolside awards banquet at the Hotel Plaza las Glorias the following afternoon.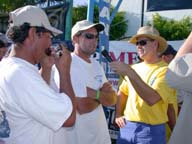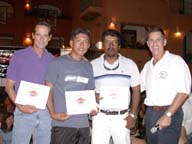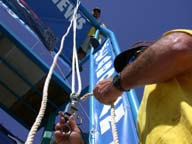 CO-DIRECTOR PAT MCDONELL interviews one of the team members of the Edith I which weighed in a 224 pounder on Day 2. The team took home a total of $116,040. 2. GINO O'LEARY OF Los Angeles, team captain of the Legend of Cabo, at the awards banquet podium with his teammates and Co-Director Pat McDonell at far right. 3. WEIGH MASTER TOM White gets the scale ready as Mike Packard works on it from above.
THE AWARDS BANQUET

By 5:30 p.m. on Saturday evening there were nearly 700 people gathered around the upstairs swimming pool of the Hotel Plaza las Glorias, enjoying drinks and the extravagant complimentary buffet dinner, and swapping stories about fishing and "what I saw last night" at nightclubs Squid Roe and the Giggling Marlin.
During dinner, Western Outdoor News's Joe Higgins and Pat McDonell again did their $50,000-plus drawing give away, and this time they added an original painting by artist Chuck Byron, which was bought at auction for $2,500 by Danny and Kay McNamme for the benefit of the children of Cabo San Lucas. Accepting the check at the podium was the mayor of Cabo and his wife who administers the charity that provides social and medical services for children in Cabo whose familities cannot afford them.

For the third and final time during the tournament, a massive $50,000-plus quantity of top quality tackle products was given away within a few minutes.

Next, a total of $362,000 in checks was presented to the four cash-winning boats: Griselda, Edith I, El Vato, and Legend of Cabo as the teams were interviewed and photographed on stage as the crowd applauded. The stage was then set for the main event that everyone was waiting for, the $30,000 Ford F-150 Super Cab truck drawing that could be won by anyone in the tournament.

At 8:37 p.m., Marty Burch and Dick Landfield of the sponsoring Ford dealers selected the winnng ticket from a specially prepared bag of drawing tickets and handed it to the emcee, McDonell. The final name for 2002 was called out, and the next sound anyone heard was a big splash as Michael Prida of Alpine, CA left his honeymoon bride sitting at the table at the far end of the pool deck from the podium and dived into the pool, fully clothed with his wallet still in his pocket, to swim to the steps below the podium, climb the steps, hug McDonell and collect his new Ford truck -- and, of course, tell his story to thunderous applause.

It was a storybook ending to an incredible tournament that couldn't have been scripted any better by Hollywood.

As the lights went down and the Plaza las Glorias staff scrambled to clear away the hundreds of tables and chairs, Tournament Co-Director Kit McNear looked out over the Cabo harbor and said with a smile, "This without a doubt has been our best tournament to date." And Co-Director Pat McDonell added, "This was an incredible tournament. Can we top it next year? Well, we'll soon find out. This will be one very tough act to follow. But we said that last year, too."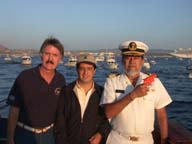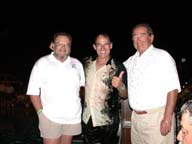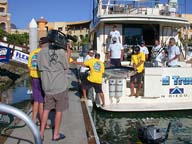 CO-DIRECTOR KIT MCNEAR, left, moments before the flare gun start, with Enrique Fernandez del Castillo, General Manager of the Cabo Marina, and Port Captain Manuel Martinez Pano, right. 2. DICK LANDFIELD, right, of Fairway Ford, and Marty Burch, left, of Burch Ford, two of the three Ford dealerships that sponsored the Ford Truck Giveaway, flank Mike Prida of Alpine, who not only was on his honeymoon with his wife, Kathy, but celebrated his winning the drawing Saturday night by swimming the entire length of the pool to accept his new $30,000 Ford F-150 Super Cab truck. The other sponsoring Ford truck dealership, besides Fairway and Burch, was El Cajon Ford. 3. TV CAMERA CREWS from the Outdoor Channel covered the 2002 Western Outdoor News/Mercury Los Cabos Tuna Jackpot Tournament. With amazing luck, one crew happened to be aboard when the tournament's biggest fish, a 256 pounder, was caught by the Griselda on Day 1. The exciting one-hour show will be aired over the popular channel that has 18 million subscribers. Dates for the show's airing will be announced in a few weeks.
(Related Cabo San Lucas articles and reports may be found at Mexfish.com's main Cabo San Lucas information page. See weekly fishing news, photos, and reports from the major sportfishing vacation areas of Mexico including the Cabo San Lucas area in "Mexico Fishing News.")