By Gene Kira, Dec. 15, 2002, as published in Western Outdoor News:

Dead or alive--or even tap dancing and wearing gold earrings--it's hard to imagine how any dumb old mackerel can be worth two bucks. But for years, that's been the going rate for a live bait at the ultra-glitzy Cabo San Lucas sportfishing marina, perched at the extreme tip of Mexico's Baja California peninsula.

Buying live bait is part of a ritual that happens early every morning here in the sportfishing capitol of Cabo San Lucas, just as light is beginning to show in the eastern sky. The boat crews arrive first, quietly shifting in the dark, throwing switches, putting rods in the holders.
Then, the motors are started, the clients are taken aboard, and the boats assume their places in the slow parade leaving the main channel. Somewhere in the bobbing, weaving mass of shadows, the bait seller's pangas are found, the critical purchases are made of live mackerel, caballito, or sardinas--and only then, is the day's main fishing agenda ready to begin.

With the world's biggest sport fishing fleet, routinely sending out more than a hundred cruisers in a morning, the live bait game at Cabo is serious business, and I'd always wondered about those mysterious bait-seller guys out there in the pangas, how and where they obtained their baits, what their lives were like, and of course...how much of that two bucks is profit.

So, with the well-known Capt. Javier Abaroa of Solmar Fleet acting as intermediary, I arranged to spend a night on one of Cabo's commercial bait pangas, and at 3 a.m. the next morning, I was waiting all alone on the tourist dock for my boat, the Juanita I.

There wasn't a breath of air moving in the dark marina. I sat on the concrete steps, faintly aware of the boom-boom and yakity-yak of the distant downtown nightclubs, mixed with the whirring sound of a pump working at the nearby Navy station. Other than that, everything was as dark and still as a tomb.

A suspicious night guard came over to make sure I wasn't a suicide or a thief.

"What are you doing here?"

"I'm waiting for a bait panga."

"Why?"

"I'm a reportero."

"A reportero?"

"Yes, I'm going to take some photos."

"Ahhh! Photos! Andale, amigo!"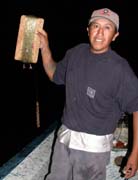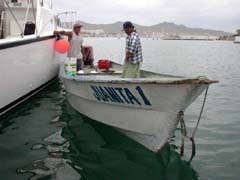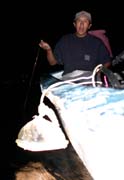 David Sanabria with a winding board and Lucky Joe rig, weighted by a six-inch piece of rebar. A battery-powered light brings bait to the boat--sometimes.
Photos. That always satisfies them.

At 3:35 a.m., a moving shadow slowly approached the dock and bumped against the pilings, the Juanita I, with my morning's three companions already aboard: David Sanabria from Mexico City, Isidro "Chiro" Angulo from Sinaloa, and Emilio Pieda from Guerrero.

David is at the tiller. Young and smooth of complexion, he doesn't really look like a panguero, but it turns out that this chilango has been fishing for bait daily at Cabo San Lucas for the past eight years, and he really likes this place because there is so much less crime and none of the brutal street violence of his home city.
Isidro is older and weathered. He has two kids in school in Sinaloa and fishes for shrimp there every year for about 20 days. Otherwise, he works the live bait trade at Cabo San Lucas, seven days a week, weather permitting.

All three men also "moonlight" in the afternoons, and as we drifted out to the middle of the channel, I was left to wonder when they found time to sleep, since their normal day obviously started about 3 a.m.

Actually, I was wrong. These hardworking men had already been fishing since before 2 a.m., in anticipation of a difficult time making bait only two days before a full moon. In the panga's bait tank, they already had a couple of sardinas and perhaps three lisas (mullet), which they had netted on the far side of the channel in front of the Hotel Hacienda. I realized they had broken off their work in order to come and get me.

As we approached the lights inside the marina, David explained that there are about 20 bait pangas working "carnada" at Cabo San Lucas. In the warm months of spring and summer, they fish around the Pacific side of the arch, and in the cooler temperatures of winter, they fish on the Cortez side. The basic tools of the trade are very simple: a battery-powered light to attract bait, a cast net or "ataraya" for sardina and lisa in the shallows, and "Lucky Joe" handlines for the deeper mackerel and caballito.

For an hour, we drift very slowly and quietly among the big yachts parked in the marina, with Isidro standing on the bow, holding his ataraya ready to cast at any sardinas or lisas that might be spotted under the bright lights. Each time he sees a few, David cuts the motor, and we drift close for the throw. But tonight the marina fish are very difficult to catch. We try around the floating Pemex fuel dock, at the launch ramp, and right in front of Mama Roma's Shrimp Bucket restaurant, all to no avail.

With time growing short, we run outside to fish on the open ocean. In the crystal moonlight, we cut right between the high rock pinnacles surrounding the famous arch of Cabo San Lucas. The rocks glide past us like silent icebergs, as David shoots the gap to the Pacific Ocean, and we stop one-third of a mile off the Hotel Solmar.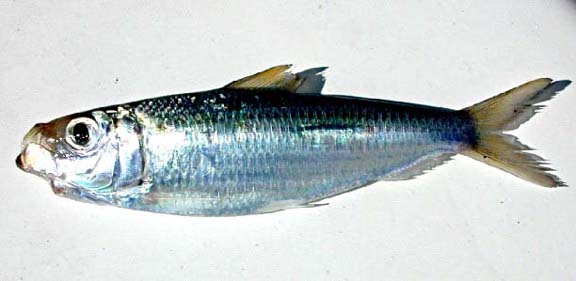 A typical "sardina" netted for use as live bait or chum.
Quickly now, the light is turned on, and the "palangre" handlines with their Lucky Joe feathers are unwound from the wooden boards and dropped over the side. We are fishing on the bottom, about 25 "brazas" deep, 25 fathoms, or about 150 feet, a distance easily reached with our sinkers made of about 10 ounces worth of one-inch steel concrete reinforcing rod.

But we find nothing.

We try several spots, and finally, at 4:41 a.m., we catch our first fish, a small "cocinero" or green jack, and it is tossed into the bait tank. By 5:30 a.m., we have tried half-a-dozen locations, near the arch, off the Solmar, and under an anchored shrimp trawler's lights in front of the Hotel Hacienda, but all we have is one cocinero and a couple of striped grunts.

By 6:30 a.m., we have made another luckless go inside the marina, and tried several more outside spots on the Pacific Ocean and Sea of Cortez sides. With first light already showing in the eastern sky, we have a grand total of five fish on board, and not a single mackerel or caballito.

With the cruisers already loading clients and the fishing day about to begin, I figure my guys have had it. Even if they can sell the green jacks and grunts, with no mackerel, caballito, or sardinas, they are only going to have about ten bucks to share between them.

But suddenly, at 6:44 a.m., Isidro grabs my shoulder and orders, "Sit down!" as David whips the panga around and opens the throttle wide. David is now chattering continuously on VHF Radio Channel 71, as the panga shoots into the outer harbor and we stop at their "vivero" or live bait receiver, anchored near the old cannery building. To my surprise, the receiver is totally plugged with thousands of live sardinas, which the guys had stockpiled the previous day, in anticipation of slow catches of mackerel and caballito.

Very quickly, we fill the panga with sardinas, and with David constantly talking on the radio, we shoot back out into the channel to find the customers he is hustling.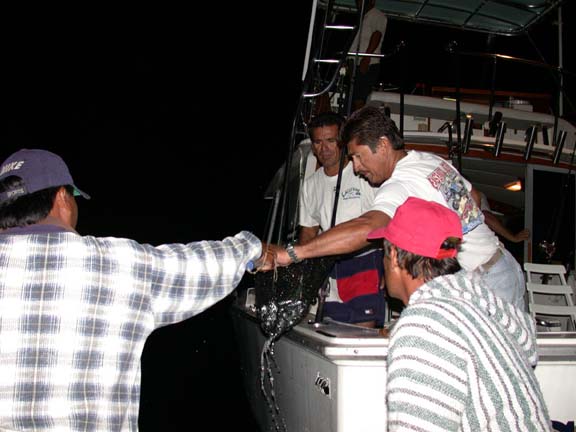 Selling sardinas to a cruiser that will immediately depart the marina and begin its fishing for the day.
Like lightning now, we zip from cruiser to cruiser in the main channel, quickly selling out our sardinas (at $20 per bucket), and refilling several times at the receiver. We make six sales in the first eleven minutes, as David talks over the other pangas' radios, and everyone cuts in and out, rushing to make their sales like a flock of hungry seagulls.

By 7:26 a.m., action in the main channel is pretty much over. In one last flourish of VHF radio salesmanship, David negotiates a bait purchase of caballitos from a competing panga, and we resell them at a modest profit to a cruiser that he's hustled up.

In all, we've sold a dozen buckets of sardina, plus our lisas and "resold" caballitos, for a hard morning's total take of about $256, which must be split with the owner of the panga. For me, at least, the "work day" is over. But for David, Isidro, and Emilio, it's only lunch time. As the sardinas come to the surface for the day, they will work along the beaches for several more hours, plugging their bait receiver again for tomorrow's sales. Then, they will head into town for their day jobs.

After seeing all that, I don't think I'll ever complain again about a $2 live bait, even if it's only a dumb old mackerel.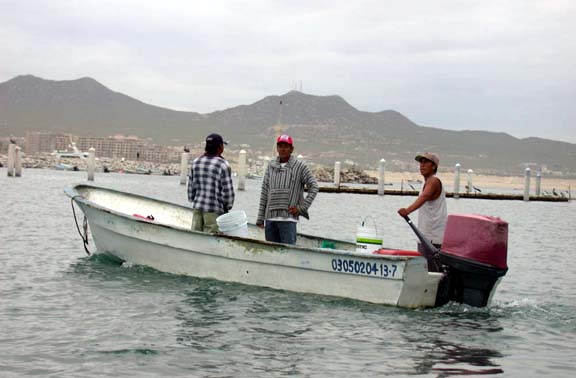 By 7:30 a.m., the bait selling frenzy is over, the sportfishing boats are far out to sea with their clients, and all is quiet at the Cabo San Lucas marina.
(Related Cabo San Lucas articles and reports may be found at Mexfish.com's main Cabo San Lucas information page. See weekly fishing news, photos, and reports from the major sportfishing vacation areas of Mexico including the Cabo San Lucas area in "Mexico Fishing News.")