By Gene Kira, January 27, 2003, as published in Western Outdoor News:

When it comes to Mexican politics, Jorge Gonzalez Torres has kicked the dirt at the top of the mountain, and he knows where the skeletons are buried up there.

Gonzalez founded Mexico's Green Party, won seven percent of the national electorate, and helped put President Vicente Fox into office. But since then, he has been estranged from the center of power because of what he sees as the president's unfulfilled promises to protect the environment.
So when he staged a second anti-longline rally at Cabo San Lucas this Saturday, Gonzalez didn't fire his cannons only at the Department of Fisheries (CONAPESCA) that recently issued 38 questionable permits to the Ensenada fleet.

Instead, Gonzalez aimed directly at the top; he hung President Fox in effigy, high in the air, right from the Bisbee's fish gantry!

You have to admit, these Mexican politicians are geniuses at getting the TV cameras rolling. I spotted at least three crews working the crowd as Gonzalez lambasted not only Fox, but also his Secretary of Agriculture, Javier Usabiaga, for allowing CONAPESCA to decimate the seas at will.

Speaker after speaker addressed the crowd, and almost lost in the rhetoric floating out over the Cabo marina's beautiful afternoon was the name of CONAPESCA chief Jeronimo Ramos, who was seen as a mere underling doing the dirty work for his bosses.

It was Fox and Usabiaga who were hung in effigy from the Bisbee's fish gantry, suspended by giant "longline hooks" placed in their mouths, and as the breeze twisted "Fox" around backwards at one point, Jorge Gonzalez pointed at the presidential backside and said (in translation), "There! That's what he does. Turns his back on our problems!"

Hah! You have to hand it to the son-of-gun. He's good.

In the background of this theatrically-staged event there were some very serious, critical developments.

Simultaneously in Loreto, more than a hundred delegates from environmentalist organizations, academia, and government agencies were preparing to sign a new denuncia or lawsuit against CONAPESCA and its 48 recently-issued permits (38 for Ensenada).
This new lawsuit will be based on a thick government dossier of smoking-gun evidence compiled over a period of more than ten years by PROFEPA, the federal environmental enforcement agency. The contents of this folder were released only last week at the request of Senator Veronica Velazquez. The evidence provides a clear paper trail proving what everybody already knows: CONAPESCA's perennial issuing of "research" fishing permits is nothing more than a fraudulent method of allowing unrestrained commercial fishing.

In an unfathomable move, last week CONAPESCA began paying thousands of dollars for nationwide public advertisements flatly denying the existence of any new permits.

However, that cat is long out of the bag. The new permits were gleefully announced in a very poorly-considered, front page, Christmas Day article in Ensenada's daily newspaper, El Mexicano, which went on to celebrate the fact that these holiday gifts were not even for "research," but were outright fishing permits.

The massive, class action lawsuit resulting from these recent miscues may for the first time compel CONAPESCA to either support its overfishing with scientific evidence (impossible by definition), or pull its permits altogether.

In Baja California Sur, the mood is almost euphoric.

One highly-placed insider said, "This is it. This might be the final battle."

After years of struggle against an intransigent and unresponsive government, the people of Baja California Sur finally have a potent national ally in Jorge Gonzalez' Green Party. Public rallies and backroom meetings are being held from Loreto to Mexico City. Significant money is moving in, not just from Los Cabos, but from all over the country.

And, in a crowning irony, Saturday's demonstration at Cabo San Lucas even included the PRI, the political party that during 71 years of unrestrained power was instrumental in creating Mexico's fisheries mess in the first place.

Strange bedfellows indeed. But, hola! Welcome aboard!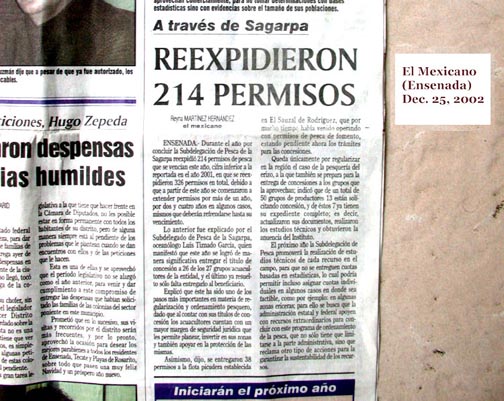 The damning Christmas Day article in Ensenada's daily newspaper, El Mexicano, celebrating the new permits.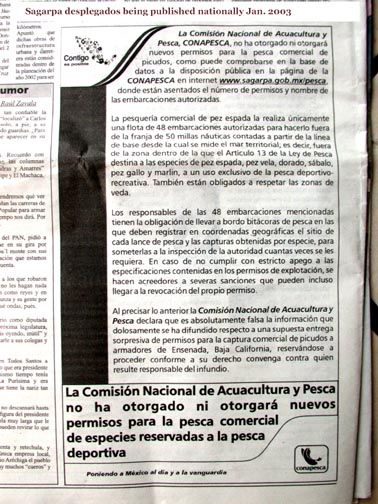 The CONAPESCA ads denying the existence of the same permits.
(Related Cabo San Lucas articles and reports may be found at Mexfish.com's main Cabo San Lucas information page. See weekly fishing news, photos, and reports from the major sportfishing vacation areas of Mexico including the Cabo San Lucas area in "Mexico Fishing News.")