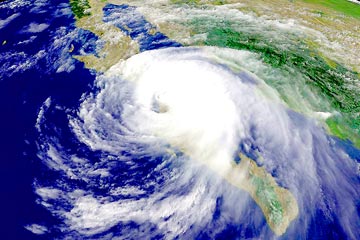 HURRICANE JIMENA--This week's powerful storm bypassed Cabo San Lucas, San Jose del Cabo, and Baja's East Cape areas, but did massive damage as it stalled over the Baja peninsula during its transit from Magdalena Bay on the Pacific coast to the Mulege-Santa Rosalia area on the Sea of Cortez coast. GRAPHIC COURTESY OF RAY BETANCOURT.
Baja Areas of Puerto Lopez Mateos, Santa Rosalia, and Mulege Take Brunt of Storm
CABO SAN LUCAS, Sept. 7, 2009 -- At Cabo San Lucas, Larry Edwards of Cortez Yacht Charters reported only moderate damage from Hurricane Jimena as the storm traveled northwards about 60 miles off the Pacific coast of Baja California during the week ending September 3, 2009. "It was almost a non-event," Edwards said of the hurricane that would later cause severe flooding and wind devastation farther north, especially near Puerto Lopez Mateos on Magdalena Bay and at Mulege and Santa Rosalia on Baja's Sea of Cortez Coast.
SANTA ROSALIA: At severely impacted Santa Rosalia, Syd Lindsay of San Lucas Cove, about 10 miles south of town, said, "How can I describe what a terrible thing this hurricane was. Santa Rosalia and Mulege were struck twice by the same storm system, once as a hurricane, and 27 hours later as a tropical storm. The damage is worse than these people have ever seen. It is still raining after 3-and-a-half days. All I can do is clean up the mess and look forward to my 17th anniversary next month. I still love it here."
CABO SAN LUCAS: In a storm-shortened Cabo San Lucas fishing week, Edwards reported on just 6 outings by Gaviota Fleet and the charter boat Tuna Time, with a catch including released fish of: 3 striped marlin, 19 dorado, 2 yellowfin tuna, and 1 sailfish. Cabo San Lucas area water temperatures were at 85 degrees on the Pacific-side banks and up to 87 degrees running up the Sea of Cortez side to Los Frailes.
SAN JOSE DEL CABO: For the storm-shortened week ending September 3, 2009, Eric Brictson of Gordo Banks Pangas reported on 48 combined La Playita fleet pangas fishing out of nearby San Jose del Cabo's Puerto Los Cabos marina, with a catch including released fish of: 154 dorado, 116 yellowfin tuna to 20 to 100 pounds, 34 Mexican bonito, 32 black skipjack, 18 pargo, 15 cabrilla, 8 amberjack, 7 sailfish, 5 rainbow runner, 3 striped marlin, 2 wahoo, and 1 blue marlin.
Brictson described activities in the Cabo San Lucas and San Jose del Cabo areas as Hurricane Jimena approached from the south and passed west of Cabo San Lucas on Tuesday and Wednesday.
"The warnings quickly spread," Brictson said. "Tourists headed for the airport while they were able to. Local residents went into full storm preparation mode. The marina boat ramps became congested, as owners were hauling their boats to dry dock areas. There were long lines at gas stations, grocery stores, purified drinking water outlets, and lumber yards. Streets were busy as everyone was bustling about before they would hunker down.
"On Monday night the weather really started to deteriorate. By early Tuesday. storm surf was reported to reach 25 feet or more. Rainfall started early on Tuesday, with wind gusts reaching tropical storm force by the afternoon. Even though there was flooding and property damage, it was minor.
"By Thursday morning, schools and businesses were back in operation, the airport was open, and tourists were expected to start arriving again."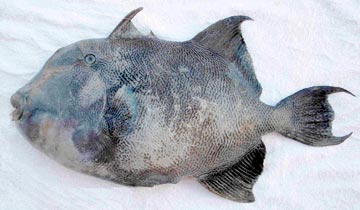 BAJA FISH SPECIES--Specimens observed during John Snow's recent outings at San Jose del Cabo and north of Cabo San Lucas on Baja's southern Pacific coast included this blunthead triggerfish at 24 inches long and about 15 pounds in weight...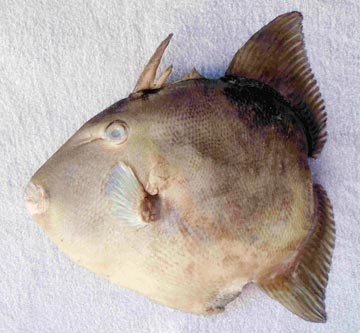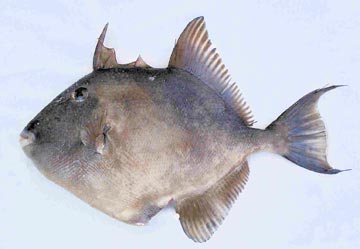 Two specimens of finescale triggerfish, one normal, and the other with a truncated body thought to have been caused by healing without a tail fin after it was bitten off by a predator...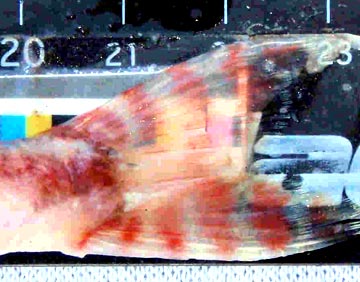 A calico lizard fish, at 21 centimeters long, a centimeter more than the recorded maximum size for the species...

Panama hake...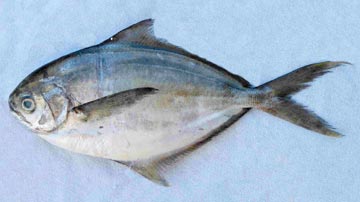 Pacific butterfish...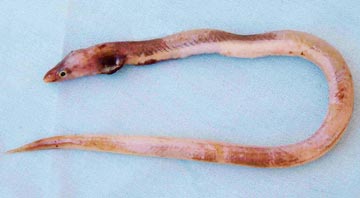 Needletail conger...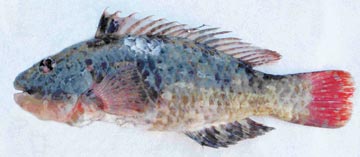 Loosetooth parrotfish...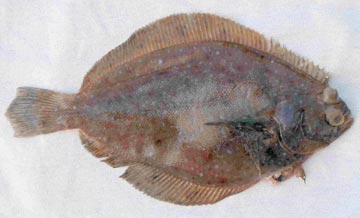 Fantail sole...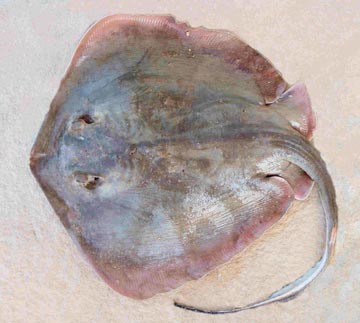 Diamond stingray...
...and Blackfin snook. PHOTOS COURTESY OF JOHN SNOW.
SAN JOSE DEL CABO: Fish species specialist John Snow reported on 3 panga outings during the period of Aug. 9-15, 2009, for a total of 61 fish caught or released, including 7 species new to his list: blackfin snook, diamond stingray, fantail sole, loosetooth parrotfish, needletail conger, Pacific butterfish, and Panama hake.
Also observed in the San Jose del Cabo area were new marine life species including several corals, sea fan, murex, flower urchin, and slipper lobster.
Visits with Mexican commercial fishermen on the Baja coast north of Cabo San Lucas produced observations of 63 species of fish, and a 90-minute surf fishing session north of Cabo San Lucas produced a catch of 3 gafftopsail pompano to 9 inches.
MAZATLAN: On the Mexican mainland coast, for the weather-shortened week ending Sept. 3, 2009, Larry Edwards of Cortez Yacht Charters reported on 7 Aries Fleet offshore charter boats out of Mazatlan's Marina El Cid, with a catch including released fish of: 8 dorado and 4 sailfish. Three inshore super pangas had a catch of: 10 dorado. Edwards noted no damage to Mazatlan from the offshore passage of Hurricane Jimena. "The city of Mazatlan and the fishing fleet are fine," he said.
Mazatlan fishing area weather was clearing in the low-90s, with water temperatures at 87 to 88 degrees.
CANCUN: For the resort area of Cancun on Mexico's southern Atlantic coast, Edwards reported on 9 outings by the El Cid Caribe sportfishing fleet at Puerto Morelos, with a catch including released fish of: 14 Atlantic barracuda, 12 king mackerel, 4 Spanish mackerel, 4 dorado, 2 triggerfish, and 2 amberjack. Cancun fishing area weather was partly cloudy in the mid-90s, with some scattered thunderstorms and water temperatures even at 86 degrees.
LATE SUMMER IN LORETO--Late August dates ripening high above Jeff Petersen's place in Loreto. PHOTO COURTESY OF JEFF PETERSEN.