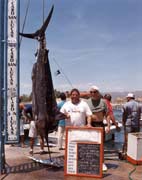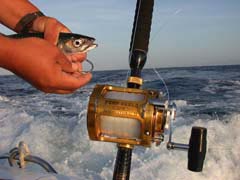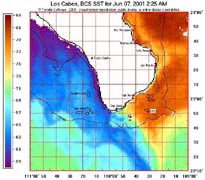 Billfish make Cabo San Lucas' tourist economy hum, here a 300-pound blue marlin caught aboard the Solmar II. Being able to cast a fly-lined mackerel with a 30W is a useful skill at Cabo, center. Satellite sea temperature map, right, courtesy Terrafin Software, shows a typical pattern for Cabo San Lucas, warmer on the Cortez side, cooler on the Pacific side, with a sharp break right at the point and extending many miles out to sea. Terrafin's maps are available by online subscription at www.terrafin.com.
HOW TO CATCH THE BIG ONES AT THE TIP OF MEXICO'S BAJA PENINSULA
If you come to fish at Cabo San Lucas for, say, three days, any week of the year, your chances of landing billfish, tuna, or dorado are as close to guaranteed as you're ever going to have. That's because it would be hard to design a better big water fishing location than Cabo San Lucas, even if you started out with a completely blank piece of paper.
The 700-mile-long Baja California peninsula can be thought of as a giant fishing pier sticking out into the Pacific Ocean, with its tip at just the right angle and latitude to create a mix of tropical water from the Sea of Cortez with temperate currents coming down the coast. These two bodies of water bump heads right at Cabo San Lucas, creating a remarkably stable temperature break that begins practically under the arch at land's end and extends many miles out into the ocean. Thus, Cabo anglers have a wide choice of temperatures to pick from on any given day, typically cooler on the Pacific side and warmer on the Cortez side, and somewhere in that mix are the fish.

For the many Cabo San Lucas anglers who trailer a boat here each year, or who charter one of the fleet cruisers, here are some useful tips on how to plan your visit and fish these waters:

BOATS & SLIPS

At Cabo San Lucas, the more boat you have under you, the better your chances of catching larger fish. Cabo is about blue water, offshore fishing, which sometimes requires that relatively long distances be covered in sometimes less than perfect conditions. While it is true that everything that has been caught from large cruisers has also been caught from pangas, it would be foolhardy to compare the two. At Cabo, a boat over 30 feet long gives you a distinct advantage in your quest for a trophy fish or tournament winner.

Visitors to Cabo are constantly demanding more from their boats, because of their comfort and sea keeping ability, and also because they have the range and speed to reach the outer banks when fish are not available close to port and conditions are a little bumpy.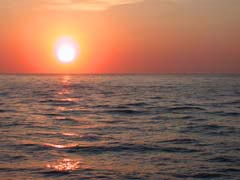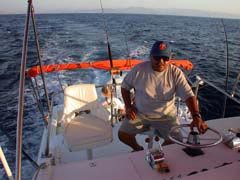 Sunrise seen from the arches. Captain Javier Abaroa of Cabo San Lucas, right, of the Solmar Suite's cruiser, Solmar II, trolling off Cabeza de Ballena.
Nevertheless, trailer boats of 25 feet and under can compete with the big boys in favorable conditions. The underwater topography around the rocks at land's end drops off steeply into the ocean abyss, bringing 100-fathom depths and big fish very close in. At Cabo San Lucas, it's entirely possible to hook dorado and tuna within a long golf shot of the arch, with billfish a just little farther out. On really good days, even a small cartop aluminum boat might venture out a mile or two and snag a trophy blue marlin. But this would be an exception to the general rule, and it's only true because of the peculiar water conditions that can bring gargantuan fish very close to shore.

For those trailering a fishing boat to Cabo San Lucas, it is best not to plan on leaving the boat in the water at night unless you've checked ahead of time to make sure slip space is available. Slip space may not be available during tournaments. Call the marina office at 011-52-114-31251 and ask for Norma, who speaks perfect English. When available, slips in the marina rent for about $37 per day for most trailer boats, which also includes parking for your tow vehicle. For long term boat storage, contact Juan Angel de la Pena, Bodegas Marinas de los Cabos, at Km 1 on the highway to San Jose del Cabo, 011-52-114-31122, Cell 011-52-117-00917. You will need to have obtained your Mexican boat temporary importation permit and your tourist card ahead of time, and most trailer boats can be stored for about $3.50 per day, with a one month minimum. Two-week stays may also be arranged when space permits.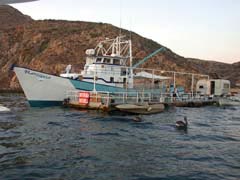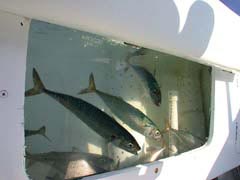 Cabo's bait receiver is kept supplied by the Solmar Suites' Franccesca, which will range as far as San Carlos at Bahia Magdalena if necessary to find macarela, or mackerel live bait. Mackerel live baits in a cruiser bait tank, right.
Within the next year or so, a number of new slips will be built in the harbor by the local sport fishing association, and this should make more space available for visitors. Regardless, the harbor of Cabo San Lucas is essentially built-out, and space will always be at a premium.

If you are launching just for the day and need to park your rig for a few hours, things get a little dicey. Cabo San Lucas police are frowning more and more on street parking, due to traffic congestion, so the best alternative is probably to park at your hotel or RV Park.

The marina ramp has its quirks, and should be eyeballed carefully before backing down, but generally, it should be usable for most rigs up to about 28 feet. For trailer boats, fuel is readily available, either at one of the Pemex stations in town, or at the new on-the-water fuel dock. It goes without saying, that you need Mexican insurance for your drive down, a Mexican boat permit, and Mexican fishing licenses for everyone on your boat.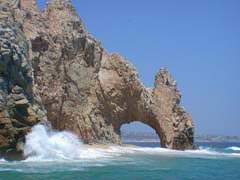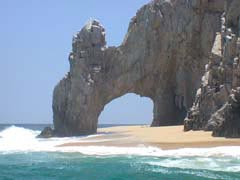 Two views of the opposite sides of the world famous rock arch at Cabo San Lucas, just a few yards from the exact tip of Baja California.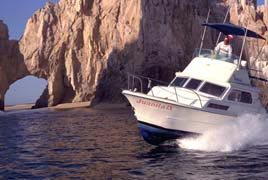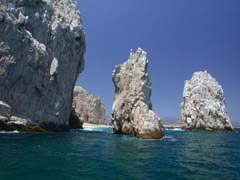 The Hotel Hacienda's cruiser, Juanita IX, motors out past the arch. At Cabo San Lucas, most fish are caught within 20 miles of the harbor. The famous arch is not actually the last piece of Baja. A few yards farther south, these pinnacles mark the extreme terminus of the 700-mile long peninsula.
FISHING AREA & TECHNIQUE

Most fishing out of Cabo San Lucas takes place within a 20-mile radius of the harbor, and it is split into two basic halves, Pacific Coast and Sea of Cortez. Although there are several well-defined banks or "bajos" on both sides, the fish may be almost anywhere within this zone, and it is important to read the satellite sea temperature maps, and monitor the fish reports. Especially the fish reports.

The local sport fishing fleet at Los Cabos is large, sometimes sending over 100 boats out to fish only about 300 square miles of prime water, so the saturation level is high. If there are fish around, somebody found them yesterday, and you need to find out where.

On the Cortez side, the best action is often located near or on the Gordo Banks, a pair of high spots about 11 miles southeast of the city of San Jose del Cabo. On the Pacific side the best action may be centered on the San Jaime or Golden Gate Banks, or the fish could be straight south on temperature breaks, or over some deeper banks farther off shore. The key to success is in finding out where others were successful yesterday.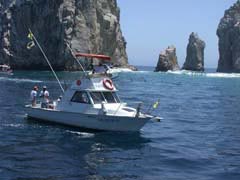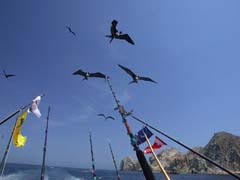 The Solmar Suites' cruiser, San Lucas VI, is one of 27 charter boats belonging to the largest fleet in Cabo San Lucas. The Solmar also operates the Franccesca bait boat that serves the harbor, and the 112-foot Solmar V dive boat that ranges up the Sea of Cortez and as far as Socorro Island to the south. Tuna (white), dorado (yellow), marlin (blue), and catch-and-release (red) flags are accompanied by curious frigate birds as the Solmar II cruises in past the rocks at land's end.
Once your general fishing location is decided upon--Pacific, Cortez, bajo, or deep water--you get bait and run out there early. Put out a spread of lures, and start trolling.

From this moment on, you are in a classic, open water, sight fishing mode, with your eyes and ears open constantly. Why ears? Your radio should be monitoring the local chatter as charter boat skippers report fish, or a lack thereof, in their various locations. Often, a quick run of only a few miles can put you on top of a hot bite just outside of visual range.

At Cabo, the use of GPS and other sophisticated electronics takes a backseat to the radio and eyes as basic fishing tools. You're looking for birds, floating debris, breezing fish, and especially the actions of other boats around you. You're also looking for clean, blue water. As Solmar II skipper, Javier Abaroa, says, "The only use for green water is when there is no blue water."

As you troll, you will have bait rods ready at all times, with a nose-hooked mackerel swimming in the tank and ready for an instant toss. If you spot a tailing billfish, you will pause and throw bait, or you may need to cast to a school of fish that has gone deep or won't hit a trolled lure. Other times when you reach for the bait tank are when there is nothing on the surface and you stop and drift a fly-lined bait, or when action is sluggish and you chum with chunks or whole baits to get a bite going.

The fleet as a whole acts much like a flock of seagulls. When somebody finds fish, everybody's on it in an instant. It is not uncommon for 20 or 30 boats to converge on an active school of fish within a few minutes' time, and the action rises to a frenzy as everybody hooks up and there are bent rods everywhere.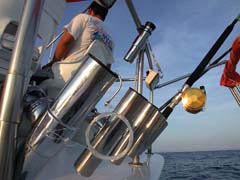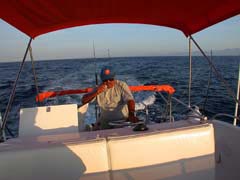 Captain Javier Abaroa of the Solmar Suite's cruiser, Solmar II, gets a "come and get 'em" call while trolling off Cabeza de Ballena. A short, two-mile dash resulted in a 300-pound blue marlin hookup less than 10 minutes later.
TACKLE, LURES & BAIT

Cabo San Lucas charter fishing fleets rely largely upon Penn Internationals and Senators for trolling, and Senators and Jigmaster equivalents for bait casting.

The standard bread-and-butter, all-around reel here, if there is such a thing, would be a Penn International 30W type, with a 50W favored if there are lot of blue marlin around. If you're after tournament fish, it's an 80W. On the Internationals and larger Senators, figure 50-80 pound line. For schooling dorado and the like, you would want to take along something like a Jigmaster or Daiwa SL50 equivalent loaded with 40-pound line.

Mexican-style offshore terminal tackle rigging is simple and effective. Your main line ends with a Perfection Loop tied directly to a large snap swivel, usually without a Bimini. You have pre-rigged 9-15 foot leaders of 80-400 pound mono, with a free Perfection Loop at one end and either a trolling feather or bait hook at the other. Snap on a leader, and you're fishing.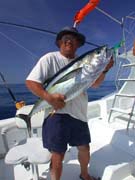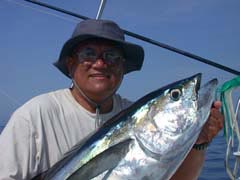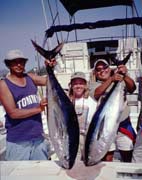 Solmar Suites angler, Ed Genato, with some nice yellowfin tuna for the ice chest, caught swimming with porpoise in 84-degree water about eight miles off Cabeza de Ballena near Cabo San Lucas. Happy campers. Pisces Fleet anglers, right, return to the docks with a pair of yellowfin tuna.
At Cabo, most trolling is done with vinyl-skirted "feathers" or "plumas" ranging from about 6 inches long, up to well over a foot. It is essential to use what's working locally at the time. For this critical decision, check with local crews or at Minerva's Tackle Shop. The color known locally as "chocolate," or "petrolero" (oil rig worker) is the current favorite. This is a very homely-looking combination of chocolate brown and various shades of red, but it works. For schooling tuna, the old-fashioned cedar plug in natural color is also a standby. For wahoo, the most successful lure is the wobbling Marauder plug in orange and purple. For inshore work, the Rapala Magnum series is another popular plug, usually in sizes of CD18 and up.

A typical Cabo San Lucas-style feather trolling pattern nowadays might consist of two lures on the outriggers about three boat-lengths back, two off the corners about a wave shorter, one off the flybridge just a hair longer than that, and a short teaser in the bubbles.

At Cabo, there is some slow trolling of live and dead natural baits, but generally, you troll artificials at about seven to ten knots. Bait trolling, however, is the favored technique for targeting truly large fish, blue and black marlin, with a 11/0 or 12/0 hook rigged just in front of the nose of a skipjack or tuna as large as 5 or 10 pounds.

In addition to the trolling of larger sizes, live bait is also used for casting to tailing billfish, or for drifting with a fly-lined bait or one that has a small rubbercore sinker attached. Live baits available for purchase or by "making bait" yourself, include mackerel during the cooler months and caballito in late summer and fall. For chum or schooling tuna there are several varieties of "sardina" types netted and sold by local pangueros.

HOTEL RELATIONS

Since the majority of anglers who visit Cabo San Lucas stay at a hotel and fish from fleet boats, Solmar Suites Fleet Manager Rene Santa Cruz offers these tips on how to maximize that type of trip:

1. Lures, rods, and tackle are included with the price of your trip, but feel free to bring your own equipment if you wish. If you come often, consider leaving your rods at the hotel between visits. That can save a lot of hassle.

2. Talk to your boat manager about how you want to fish. If you're hard core and want to fish your brains out, say so, and we will plan your day accordingly. If you are looking for a family-style outing with fishing as a secondary consideration, we will be happy to accommodate you, but we can only do so if you tell us. If you communicate your desires ahead of time, we will match you with the right boat and crew.
3. Bring a medium-sized ice chest, not a gigantic one. It's too heavy when loaded. Don't plan on buying an ice chest locally. They are very expensive. Don't bring a plain Styrofoam ice chest. It may not be accepted by your airline, and it isn't up to the job anyway.

4. If you stay at a major hotel, your catch will be filleted and frozen for you. It will be delivered to the front desk, packed in your ice chest, when you check out. There should be not a charge for this service. Vacuum packing is also available for a nominal charge.

5. Tips are customary and appreciated, but over-tipping should be avoided. Bring small bills and plan on tipping your crew a total of about 10 to 15 percent of the true cost of your boat. If you get a super discount on your boat as part of a real estate promotion or other special deal, remember that your tip should be calculated on the normal cost of the boat, not the super discounted price.

6. For the fillet crews at the dock, figure your tip on the size and number of fish being filleted. Figure about $1 for a small fish such as a sierra or snapper. About $2 for a school-sized tuna or dorado up to about 25 pounds. About $15 to $20 for a blue marlin or other large fish.

7. When you land a fish, the crew will ask you if you wish to keep it, or release it. Release all billfish, unless they are injured and will obviously die anyway. Don't keep more fish than you wish to take home personally. Let them live and grow to fight another day.

8. You are welcome to bring light tackle. But if you bring light tackle, be sure you can handle it. It's a panic when a client hands off a big blue marlin on 15-pound line to our crews and then expects them to land it!

9. Bring your motion sickness medication. We hate to bring clients back early, ruining a fishing day because of sea sickness. Non-prescription medicines are available locally, but the patches need to be brought with you. Consider the wrist pressure bands. They really do seem to work.

10. Generally at Cabo San Lucas, the flags you see on the boats in the afternoon are quite honest. If there are ten yellow flags, the boat caught ten dorado, and so forth. But if you want to see exactly what's being caught, and how big, come down to the dock at about 3 p.m., walk over to the fillet table, and take a look. That's the irrefutable proof.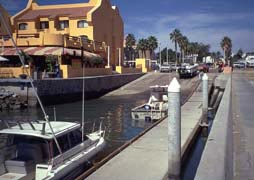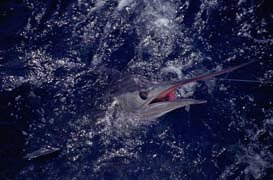 Cabo's marina ramp can handle most trailer boats, but as with any ramp, it should be eyeballed carefully before you back down for the first time. Striped marlin are the most sought offshore quarry at Cabo San Lucas from November until about June, when they are replaced by blues, blacks and sailfish.
(Related Cabo San Lucas articles and reports may be found at Mexfish.com's main Cabo San Lucas information page. See weekly fishing news, photos, and reports from the major sportfishing vacation areas of Mexico including the Cabo San Lucas area in "Mexico Fishing News.")