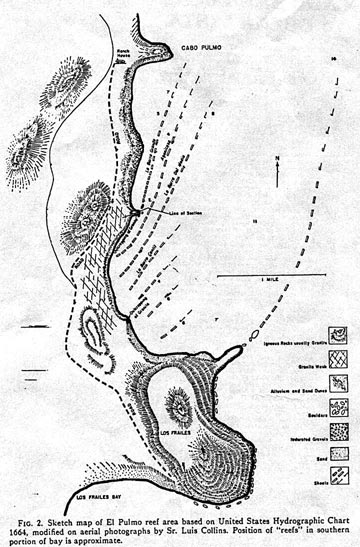 CABO PULMO CORAL REEF -- Map shows layout of the world famous coral reefs at Cabo Pulmo, East Cape, Baja California Sur, Mexico. The reefs and the surrounding area lie within a protected area known as the Cabo Pulmo Marine Park. COURTESY OF RON MCPEAK.
East Cape Diving Conditions Unruffled by Recent Storm
CABO PULMO, B.C.S., MEXICO, SIMON CAZALY, VISTA SEA SPORT, SEPT. 11, 2009 -- The diving water at Cabo Pulmo has been clear and blue, and it didn't seem to get stirred up by the high winds of last week at all. Visibility has been well over 100 feet and bottom temperatures are averaging 85-degrees Fahrenheit, perfect conditions for diving.
Yesterday while diving at the Cabo Pulmo coral reef, we descended straight through a massive school of bigeye jacks, momentarily losing sight of each other as the throng immersed us. Large sea bass and masses of leopard grouper were everywhere, as golden grouper glided amidst them shining bright like a beacon. There were fish of all colors as far as the eye could see.
Three golden cownose rays lazily moved towards us. Subtly, they adjusted their flight path to a more circuitous route.
The find of the day for me at Cabo Pulmo had to be the tiny juvenile rockmover wrasse flitting around a small rock in the sand. I could have spent the rest of the dive there.
With big shark viewing in mind we headed off to Esperanza reef to check out the tiger and bull sharks that we have been seeing there of late.
Sure enough, on descent, I caught a glimpse of a shark which I thought to be a tiger, I but couldn't be sure. We arrived on top of the reef and leveled off at 60 feet. The reef seemed especially lively, with more fish than normal. A bull shark swam by checking us out.
We all positioned ourselves in a trench to watch and wait. I looked up and there was 7 feet of bull shark, in the trench, swimming slowly towards me at a distance of 20 feet. As I made eye contact, the shark exited and swam past.
Then
a 9-foot tiger shark was above and moving towards us
before veering off. Then, behind us, was a huge tiger shark, much bigger and fatter than I had ever seen, easily 15 feet long. This went on for the rest of the dive, one shark passing by in front of us, another from a different angle, and then another. As we made our way up to the surface, we could see them moving beneath us and even from the surface the big tiger shark looked monstrous. Guestimations of its size varied from a conservative 12 feet to an impressive 18 feet, so we all decided to agree on 15 feet which was probably fair. I chatted with some marine biologists diving the same reef a day later and they sized it at 16 to 18 feet. That's a big shark!