Aug. 7, 2000, by Gene Kira:

You wouldn't know it today, but there used to be quite a heavy fish population along the inner beaches of East Cape's Bahia de Palmas. If you launched a small boat at Martin Verdugo's RV Park and trolled a Jointed Rebel south, maybe 35 yards off the beach, you'd catch at least ten fish per hour, ranging up to about seven pounds, as you passed by Palmas de Cortez, Rancho Buena Vista, Spa, and then headed south towards Rancho Leonero.

If you persisted in fishing all the way to the big reef in front of La Ribera, the water would erupt with all kinds of stuff: snapper, cabrilla, grouper, needlefish, ladyfish, many kinds of jacks...and triggerfish, triggerfish, triggerfish. This is the only place in Baja where I've seen triggerfish hunting in wolf packs, rolling and boiling on the surface like tuna.

But that, of course, was in the good old days. Years of live bait fishing, shallow water trawling, and gill netting gradually reduced the near shore fish on these beaches. It was a sadly common sight in the bay to see thousands of pufferfish floating in masses after a trawler had gone through. These fish had been killed as "by-catch" in the nets and--because of their natural bouyancy--they were left behind as floating evidence of the terrible waste and destruction caused by this kind of fishing. The "by-catch" that sank invisibly to the bottom must have been tremendous indeed.
For me, the low point on these beaches came one evening about eight years ago, when in desperation I chummed with a big bucketful of cut mackerel that someone had given me, right on the good reef a few yards off Rancho Buena Vista. I threw the whole bucketful overboard all at once, right at sunset, in an effort to get a bite going and catch myself a nice snapper for dinner with a Krocodile. Caught nothing. The next morning, I launched and happened to troll near the same spot at low tide. Down in the water, there were my cut mackerel chunks! Nothing had eaten them during the night! That, amigos, is slow fishing.

Gradually, over the years, the inner beaches of East Cape's Bahia de Palmas were reduced to the point that few people fished them seriously anymore.

That is changing, very quickly, I think.

One of the early signs of better things to come was the success of Gary and Yvonne Graham's East Cape fly fishing guide service, Baja On The Fly, which was established about six years ago. The Grahams have a house at La Capilla, right in the middle of the East Cape stretch of beach that is the subject of this article, and one of their specialties is fly casting from shore. In the demanding, Darwinian world of "commercial sportfishing," if you don't catch fish, you don't have clients, and shortly thereafter, you don't have a business anymore. Baja On The Fly has not only survived, it has prospered. This year, especially, the fishing has been good on the shores of Bahia de Palmas for pompano, roosterfish, ladyfish, jack crevalle, and half a dozen other species, and Baja On The Fly is busier than ever.

And, last year East Cape living legend Bobby Van Wormer Sr. told of how they had just had the best roosterfish tournament in over 20 years at his Hotel Punta Colorada, and of how his fleet boats were catching more year-round sierra than he could remember in over 40 years at East Cape. "It's simple," said Bobby, "we finally got all those damned gill nets out of here, all the way down to Cabo Pulmo, and now we've got all these fish. Of course we do! It's simple!"

Bobby was referring to the fact that illegal gill nets and illegal trawling in the entire East Cape area has been dramatically reduced for the past two years, due to increased enforcement by the local inspector. The rebound in the local fishery has been dramatic and almost instantaneous.

This summer, I spent a few days kayak fishing along the beaches from La Ribera to Los Barriles, and the overall picture was the best that I've seen here in years. Trolling and casting Jointed Rebels is my standard, calibrated benchmark test of any water. With these "Old Reliables," I scored on a dozen species within 200 yards of shore, including true bonita, black skipjack, ladyfish, sierra, various cabrillas, various snappers, lizardfish, leopard grouper, and various jacks and bass.

One glassy morning, after all the pangas and cruisers had left for the day, I was paddling the stretch between Verdugos and Palmas de Cortez, when I noticed a large area of dimpled water ahead of my kayak. Accellerating to my all-out "flank speed" (about two knots), I attempted to troll through the dimples in hopes of picking up a sierra or bonita, but as I neared them, they disappeared and reappeared again a few yards ahead. Again and again, I paddled toward the dimples only to be frustrated, and gradually, I realized that the disturbed water was all around me, from the beach out to maybe a quarter of a mile, and all the way from Verdugos, down to at least Rancho Buena Vista. There were dimples everywhere, as far as I could see north and south along shore.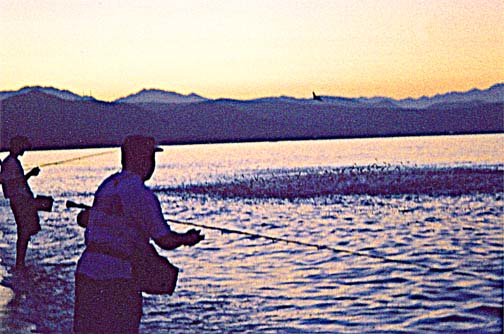 Heavy, heavy bait, and heavy shore action for jacks has been happening all year at East Cape, here, at La Ribera. Photo courtesy, Baja On The Fly.
I paddled and paddled for an hour, desperate to at least see what was causing the dimples, which were way too big for baitfish. Every now and then, I could see a tail flip out of the water and I would stop and cast, but nothing would hit. Each time I approached them on the troll, they went down before I could see what kind of fish they were.
Exhausted, I finally gave up, about a quarter-mile off Spa Buena Vista, and I sat there panting and watching as the dimples slowly closed in around my kayak, closer and closer. I was all by myself, without another person or moving boat in sight. This time, instead of casting, I sat completely still for about five minutes, and then a chill went up my spine when I saw a "five-fingered" dorsal fin flip out of the water no more than twenty feet away. It was definitely a small roosterfish.

Against all hope, I kept waiting for another five minutes, and then I saw at last, that the entire school was composed of two to three-pound roosterfish! All round my kayak, and under it, they cruised in a slowly-moving mass of fish a quarter-mile wide and at least a mile long! They were not feeding at all. Just fooling around in a relaxed, lazy manner, and they made the dimples when they happened to swim near the surface. Most of the fish were at least eight to ten feet down. I sat there for almost two hours, watching the spectacle from my drifting kayak, until my butt started to get sore and I paddled for shore.

Using a calculator, I would have to say that there must have been something like 50,000 juvenile roosterfish swimming off Buena Vista that morning. No. That just can't be true. I know that can't be true. But that's definitely what the little LCD numbers on my calculator say. I'm calling it 50,000, and you can call me anything you want.

As the summer has progressed, the promise of that morning has been fulfilled; the unprecedented roosterfish and jack bite at East Cape this year has been steady and excellent, with no signs of letting up.

Is it only a coincidence that all this good fishing has happened just as the gill nets and trawlers are kicked out of East Cape? We shall see, as the seasons unfold themselves in the years to come. I am betting that this is a permanent change for the good, and I'll be watching closely to see if that dream will come true.

(Related East Cape articles and reports may be found at Mexfish.com's main East Cape information page. See weekly fishing news, photos, and reports from the major sportfishing vacation areas of Mexico including the East Cape area in "Mexico Fishing News.")