By Gene Kira, Sept. 24, 2001, as published in Western Outdoor News:

"Species fishing" aficionados at East Cape, Baja California Sur, Mexico, got some exciting news last week with the discovery of a super-hot bonefish bite only a few miles from East Cape's Buena Vista sportfishing area.

The highly-prized silver bullets, Albula vulpes, are rarely caught in Baja, usually as incidental catches at Bahia Magdalena, and sight fishing for them along the beach with artificials--Bahama flats-style--has up until now been practically unheard of.
That changed at East Cape last Thursday morning when Thomas Pak of New York caught a lifetime best of 22 bonefish on the fly while casting at the mouth of a seasonal estuary one-half mile north of the panga landing beach at La Ribera.

The fish hit on small chartreuse Clousers less than 40 feet from shore and directly in front of the water tower on the hill above town, as Pak stalked both sides of the estuary outlet. Along with the bonefish, he also scored on a steady stream of jacks, lookdowns, and pompanos for what he described as his best single day's catch ever, including trips to Christmas Island and the Bahamas.

Pak was guided by Gary Graham of East Cape's Baja On The Fly, as the fish hit on a rising tide beginning at about 8 a.m. in 80-81 degree water that was cloudy and full of small bits of weed and sardina fry. Short, abrupt stripping along the bottom with a 350-grain shooting head brought the strikes. The bonefish were spotted as they fed on small sardina or were themselves chased to the surface by larger roosterfish cruising around the estuary outlet.

The next morning, Graham returned to the outlet and caught 6 more bonefish in less than an hour, plus a couple of roosters and pompanos.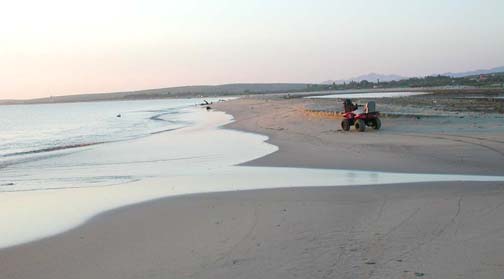 With Gary Graham's Baja On The fly at the mouth of the East Cape arroyo described by original Western Outdoor News Baja Editor, Ray Cannon.
While bonefish are infrequently seen all around Baja in locations as widely separated as the El Mogote side of La Paz Bay, Bahia Magdalena, Estero de Coyote, the small mangrove system between Laguna San Ignacio and San Juanico, and even the Estero of Ensenada, it is fitting that they should finally be caught in numbers at this exact spot and by someone guided by Gary Graham.
This East Cape estuary seems to be especially rich in nutrients from underground seepage, and there are records of the extraordinary fishing around it going back at least half a century. Generally, the boca opens up during the summer months and closes as the winter storm berm builds up. Even when it's wide open, the mouth is almost dry at low tide, and only a couple of feet deep at high tide. During some periods, the boca may not open up for a few years at a time.

In the 1960s, Ray Cannon, Western Outdoor News' first Baja Editor, described this estuary as building up so much fry and plankton after a heavy rain that the water inside it turned to what he called an "oatmeal" consistency. Within a few weeks after one big hurricane, Ray described a wild scene as needlefish, mullet, sierra, and even dorado piled up in a feeding frenzy around the outlet.

Adding to the attraction of this spot, there's also a big shallow reef beginning about a quarter-mile off the boca that is one of the best in Baja for Lord knows how many species, and the great fishing there is undoubtedly fueled by the flow of food and nutrients that flushes out of the estuary with the tides.

So, years ago it came as no surprise when I realized that Gary Graham was zeroing in on this very beach as he pursued his quest to take the art of saltwater flyfishing to a new level. Gary had been talking about seeing bonefish every now and then in the East Cape sport fishing area, sometimes in the live bait wells of hotel cruisers, and--after seeing how doggedly he had developed his successful techniques for marlin and snook at Mag Bay--I felt it was almost inevitable that he would eventually determine how and where bonefish could be caught at East Cape, no matter how difficult that might be. And so it has happened. Congratulations to Thomas Pak, and to Gary Graham, the Captain Ahab of Baja On The Fly!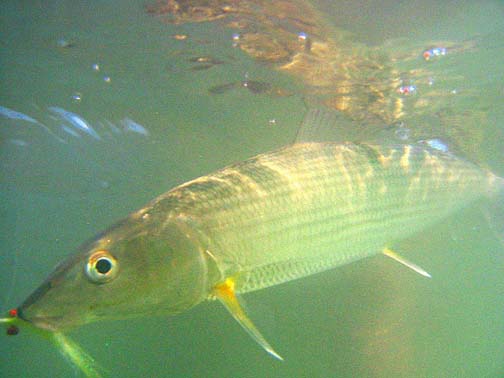 Fly caught bonefish at La Ribera, East Cape, Baja California Sur, Mexico. Photos courtesy Baja On The Fly.
(Related East Cape articles and reports may be found at Mexfish.com's main East Cape information page. See weekly fishing news, photos, and reports from the major sportfishing vacation areas of Mexico including the East Cape area in "Mexico Fishing News.")