By Gene Kira, February 10, 2003, as published in Western Outdoor News:

As anyone knows, the best way to bring a major curse upon yourself is to tell someone you're going fishing--and then accept an order for a specific kind of fish. After causing myself more embarrassment this way than any single human being should have to suffer, I made it a personal rule a long time ago, never, ever, to do this.

But last week at East Cape, I just couldn't resist.

While compiling the Baja fishing reports for Western Outdoor News, you develop a certain feel for things. Last week, I knew that if there ever was a "sure thing" it was the red-hot sierra bite going on in Baja's East Cape inshore fishery.
This bite was already pretty good by last September, but since then it has gotten close to unbelievable, and although most of the fish have been the usual two to five-pound sierra, there have also been some giants in the mix, including Peter Langstraat's 18-pound, 42.5-inch IGFA all-tackle record matching monster.

Soooo...when my good friend Roberto asked the other day if I would catch a couple of sierra for his wife to cook for us, I found the words "for sure" slipping out before I could stop. The fatal die was cast.

Motivation was very high, since Roberto's wife does wonderful things in the kitchen, and has broadened my culinary horizons many times with such amazing dishes as "Tail of the Half-breed Woman" (no kidding), which loses a lot in translation, I'm assuming, but is made with a kind of smoked, dried chiles that are not chipotles, and are heaven for anyone who loves super-exotic Mexican dishes that you'll never find at El Torito.

Anyway, with pride and an already shaky reputation at great risk, I made a call to East Cape's John Ireland, reserved a pre-daybreak panga for the next morning, and drove out to Ireland's totally relaxing Rancho Leonero resort for the night.
Due to a personal screw-up the next morning, I managed to miss getting on the water in time for the first-light bite, which all reports said was over by 9 a.m. By the time I started fishing with my guide, Hector Marquez of La Ribera, it was already about 8:15 a.m., there wasn't a sierra or another boat around for miles, and it looked like the wind was getting ready to howl.

(Oh crap! The Fish-To-Order-Curse strikes again!)

I knew from trial-and-error that there is no better lure for sierra than a blue-silver Jointed Rebel, but we fished the entire prime zone, from Leonero all the way to the Las Arenas lighthouse without a single hit. (The Curse!)

In desperation, I took off my wire leader, went with straight 20-pound mono, and started switching lures, giving each color about five minutes.

At 10 a.m., we were still skunked, and I had begun thinking up elaborate excuses for Roberto's wife. I'd gone through my entire Rebel collection except for black-gold, which I consider more of a bass color.

But...what the heck?

Well, about one minute after the black-gold Rebel hit the water, we had our first fish, and then four more sierra at five-minute intervals. Five-for-five on 20-pound, without wire, pretty lucky. Black-gold on straight mono was the hot ticket.

With my Mexican legal limit in the bait well (five fish of any single species), we ran back to Rancho Leonero, and I leapt from the panga and sprinted to my room to shower for a meeting in Cabo San Lucas. About halfway through the shampoo, two Ziplocs of sierra fillets were handed in to me as I stood there stark naked (man, that's what I call service!), and less than ten minutes later I hit the road.

Once in a while, you get lucky. The next night, we had those delicious sierra, Veracruzana-style at Roberto's house, and no curse ever went down better!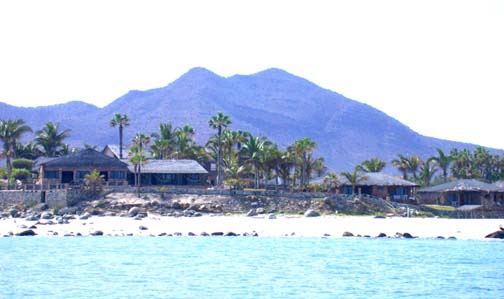 LAID BACK RESORT--John Ireland's laid back, South Seas feel, semi-remote resort, Rancho Leonero, is located on the south shore of East Cape's Bahia de Palmas, Mexico.
SIERRA LIMIT--One of five sierra that made our curse-busting, official Mexican sportfishing limit.
(Related East Cape articles and reports may be found at Mexfish.com's main East Cape information page. See weekly fishing news, photos, and reports from the major sportfishing vacation areas of Mexico including the East Cape area in "Mexico Fishing News.")