By Gene Kira, March 31, 2003, as published in Western Outdoor News:

I know of only two reports of albacore (Thunnus alalunga) caught in Mexico's Sea of Cortez. Both were from the fishing area known as "East Cape," just north of Cabo San Lucas, Baja California Sur, Mexico and only one of them turned out to be authentic.

The first "albacore" report was way back in 1957, and it actually turned out to be about a fish that is sometimes called "albacora" in Spanish--yellowfin tuna. That was a big disappointment, but the upside of the story was that it convinced none other than Western Outdoor News' original Baja Editor, Ray Cannon, to make his very first trip to Rancho Buena Vista, which would later become his "home" in Baja.
Ray was accompanied on that historic trip by Field & Stream writer, Frank Dufresne, after they heard the story while sitting on the veranda of the Hotel los Arcos in La Paz. Guided by Bill Escudero of the old Trans Mar de Cortez DC-3 airline, they drove south to Rancho Buena Vista in search of the "200-pound albacore" that were being reported there.

On that trip, they caught some big yellowfin tuna, and Ray met his lifetime friend, Col. Gene Walters, and his future favorite guide, Liborio Cocio Cocio, but needless to say, nobody caught any "real" albacore on the Sea of Cortez.

And so it remained for almost half a century--until last Monday.

Let the record reflect that about 2 p.m., March 24, 2003, Don Oser, and Mark Rayor of East Cape's Vista Sea Sport dive service, caught two real albacore tuna, Thunnus alalunga, about 13 miles off Los Frailes on Mark's boat the Jenren. Also on board was a 19-year-old deckhand named Diego, about whom Rayor said, "We are teaching him to dive, but he's so good (and lucky) on the fishing boat, I hate to let him dive."

The albies weighed about 30 pounds each, and here's how Mark described the catch: "We were 13 miles off Los Frailes in a huge school of porpoise. There were 6 boats fishing the area, catching 60 to 100-pound yellowfin.
"We had spent the morning about 5 miles off. Got a marlin and 2 dorado right away. We decided to work more outside. The farther out we got, the warmer the water was. Got up to 73.8 and a beautiful blue, 12 miles offshore.

"We got a call that there were 4 boats on fish about 7 miles south of us. Turns out, the fish were on the cooler side of a break, in 70.5 degrees. There were a couple of square miles of porpoise moving southeast, very slowly.

"By 2 in the afternoon, we had 3 nice tuna. It was 33 miles back to Buena Vista. We were just getting ready to wind 'em in, and got hit on a cedar plug. After the boat had slid to a stop, a hoochie got hit on the sink. Diego commented that these fish must be smaller--they weren't zipping us like the 70 pounders.

"He gaffed Don Oser's fish and said, 'Look at this.' He had never seen a tuna with long fins before.

"Moments later, he gaffed mine. We stuck it out until 3 p.m., but the fish were moving farther away from home, and we couldn't seem to get another bite.

"I talked to several old-timers around here, and nobody ever recalls seeing albies. The whole deal was a little weird, finding the tuna in cooler water, plus we never saw the fish feeding. We just stayed in front of the porpoise and hoped for a bite."

Although there have been some very rare catches of albacore at Cabo San Lucas during the past two weeks, a whole bunch of inquires have failed to turn up any other documented reports of albacore caught in the Sea of Cortez.

Soooo...it appears that Don Oser and Mark Rayor have most likely scored an historic first at East Cape. Congratulations Don and Mark! And, congratulations, Ray Cannon! You finally got your East Cape "albacora"!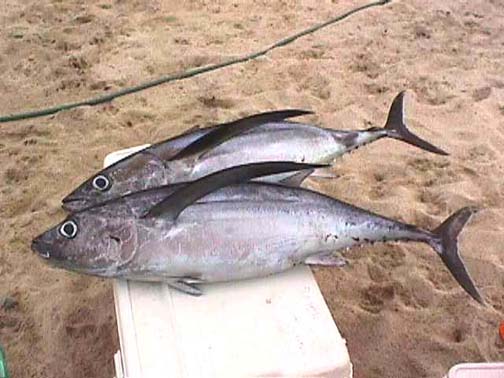 EAST CAPE ALBIES--The two albacore caught in Mexico's Sea of Cortez, about 13 miles off Los Frailes, in 70.5-degree water.
(Related East Cape articles and reports may be found at Mexfish.com's main East Cape information page. See weekly fishing news, photos, and reports from the major sportfishing vacation areas of Mexico including the East Cape area in "Mexico Fishing News.")