Feb. 15, 2004, by Gene Kira, as published in Western Outdoor News:

It was a "Baja fish story" so intriguing I made a special trip to East Cape to check its authenticity.

I'm convinced--it really did happen.

The investigation began several months ago, when I received a stunning set of photographs from Cutter Clotfelter of Rancho Santa Fe, Calif., that showed two large fish caught by some Mexican pangueros near Punta Pescadero--in the "East Cape" area about 70 miles from the extreme southern tip of Mexico's Baja California peninsula.

Nothing extraordinary about that, right? East Cape is a world-famous sportfishing vacation spot known for big fish.
Well, the problem was that the fish shown in Clotfelter's photos were not the tuna, marlin, or dorado that you might expect to be caught East Cape. From all appearances, these five-foot-long fish appeared to be a couple of adult totoaba, Cynoscion macdonaldi, which had no business being anywhere near Punta Pescadero.

When I first saw Clotfelter's photos, I couldn't believe those fat, silvery fish could possibly be totoaba. In scientific literature dating as far back as the 1890s, this giant croaker's maximum known adult range extends southward only to about Bahia de los Angeles on the Baja coast, and on the Mexican mainland, only as far south as the Rio Fuerte, which empties into the Sea of Cortez at about the same latitude as Loreto.

(In Mexico City, Profepa's modern records show some juvenile totoaba observed at Punta Mita near Puerto Vallarta, but that would probably indicate only the dispersal of larvae by currents, not a resident, survivable adult population. Profepa's modern records show adult totoaba no farther south than Isla Tiburón in the Midriff area.)

Even at their primeval population levels, the endangered totoaba have always been thought to live only in the northern two-thirds of the Sea of Cortez. Since they were almost wiped out by commercial fishing in the 1960's, their range has been even more restricted, extending only about two-hundred miles from their spawning grounds at the mouth of the Colorado River.

Totoaba at East Cape? No way! These fish were hundreds of miles from their known range.

But if these fish weren't totoaba, what could they be?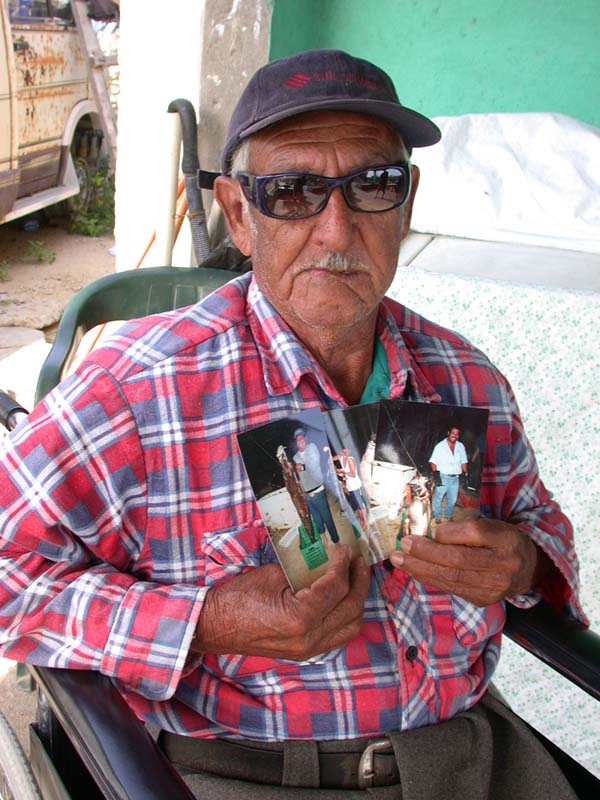 KEEPER OF THE PHOTOS--Jesus Projeres Sández had the confirming photos in his house at Las Tinas. Photo by Gene Kira.
I sent Clotfelter's photos to a number of respected marine biologists and researchers and, one-by-one, the amazing verdict came back: the fish were definitely, positively totoaba. They could be nothing else.

Everyone asked: "Are you sure these photos were really taken at East Cape?" Could this be a hoax? Could the fish actually have been caught somewhere in the northern Cortez?

I fired out emails to several hundred of my weekly Baja reporters, asking if anyone could identify--not the fish--but the people shown in the photos.
Within ten minutes, a positive photo I.D. came back that exactly confirmed the names Cutter Clotfelter had given for these pangueros!

The most positive messages of all came from Alma Rosa Cota of Martin Verdugo's Beach Resort in Los Barriles, and her brother, Chuy Cota of the Vista Sea Sport dive service at Buena Vista, Baja California Sur, who both basically said, "Hey, we know these guys!"

A few days later, Chuy picked me up in Buena Vista and we drove the bumpy dirt road north over Punta Pescadero and down to the tiny fishing village of Las Tinas. Chuy, who grew up in the area, drove directly to a fisherman's house, and within a few minutes, it was obvious that the totoaba story was true.

I spoke with Jesus Projeres Sández, who was born in Las Tinas 74 years ago, and who confirmed that his son, Francisco "Pancho" Zasueta Salgado, and grandson, Francisco Javier Zasueta Sández, caught the totoaba about two years ago, in late February of 2002. Jesus even produced the original photos, complete with dates written on the back!

Luckily, his son Pancho was available at a nearby house, and we were able to get the rest of the story and take a photograph of him, with his panga and the exact spot where the fish were caught shown in the background.

Pancho said he and his son launched their panga about 3 p.m. on the fateful afternoon, and they threw an atarraya cast net to catch some 5-inch squid for bait, which they planned to use for amberjack. About 200 meters directly off Punta Pescadero, they flylined the squid with 120-pound test handlines, and when the baits had sunk about halfway to the 120-foot deep bottom (there was no current), both lines were hit simultaneously.

They fought the fish for a long time, and finally brought them to shore at Las Tinas after dark, still not knowing what they had caught. Only two totoaba were landed, none before and none since, although Pancho said that the very next day, something big snapped his handline in the same spot.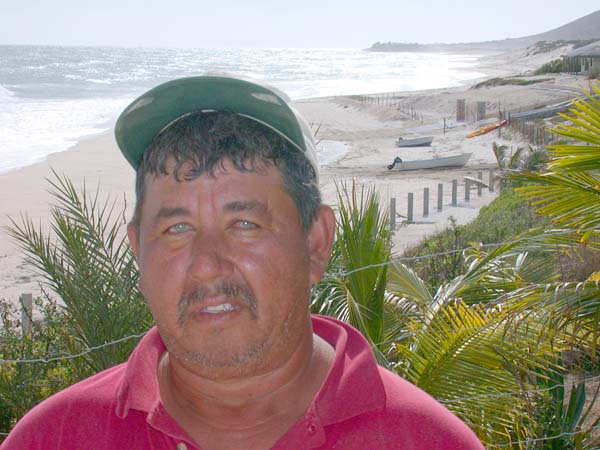 THE FISHERMAN--Francisco "Pancho" Zasueta Salgado caught the totoaba with his son Francisco Javier Zasueta Sández, just off Punta Pescadero, shown in the background. Photo by Gene Kira.
The story might have ended at that point, in obscurity forever, because the two big fish--still not identified as totoaba--would probably have been taken to San Jose del Cabo for sale, just as all market fish would be. The fantastic catch would have gradually faded into a mysterious, minor local legend.

But as luck would have it, Madelon Taylor and her husband Robert--who divide their time between Oregon and their winter home in Las Tinas--heard all the shouting on the beach, and Madelon grabbed a camera and ran down to see what was going on.

A few minutes later, Madelon's flash lit up the night three times, and the historic catch was recorded for posterity.

Totoaba at East Cape!

We interviewed Madelon, confirming that she had taken the photos, and we even got accurate weights for the two fish, as recorded by a local fish buyer's market scale: 32 and 36 kilos, or about 70.4 and 79.2 pounds, respectively.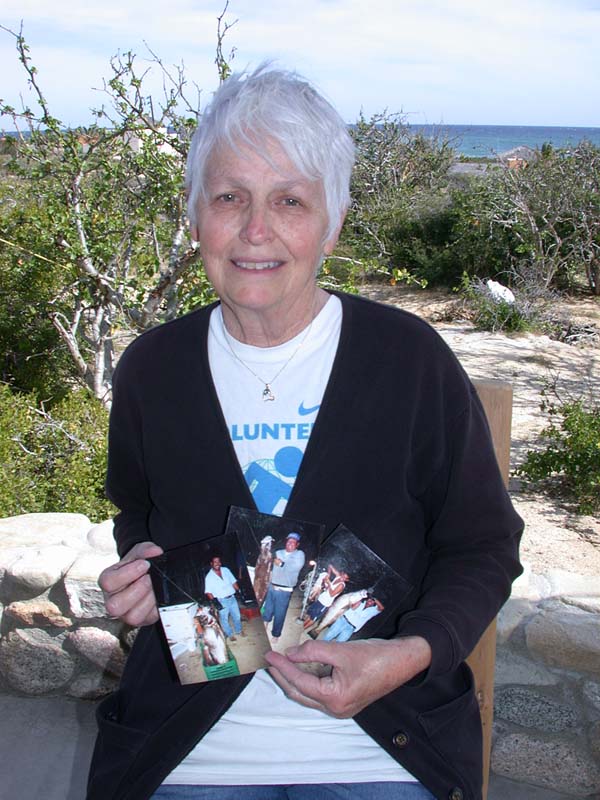 THE PHOTOGRAPHER--Madelon Taylor heard the commotion on the beach and ran down to take the historic photos. Photo by Gene Kira.
Fascinatingly, that is still not the end of the story.

Madelon and Robert Taylor talk of seeing several very large, dark colored fish, possibly totoaba, about five years ago, drifting along near some swimmers near Punta Pescadero. And Barbara Mayer Stinglhamber, well known in the La Paz conservation community, reports reliably that about six years ago, she witnessed three very large totoaba for sale at the La Paz downtown fish market.

And most fascinatingly of all, there is an unconfirmed report that at least one of the fish caught at Punta Pescadero was full of eggs.

If that were true, it would indicate the possible existence of a southern breeding population that may be reproducing itself in isolation from the main body of its species, which at one time spawned by the millions, during the spring, 700 miles north at the mouth of the Colorado River.

A discovery of sexually mature totoaba, in the spring at East Cape, would indicate not only that there are more surviving fish than previously thought, but that much remains to be learned about their behavior. (At the UABC totoaba breeding facility in Ensenada, director Conal David True hypothesized that isolated totoaba populations may be finding the brackish water they need for reproduction near underwater springs.)

In 1954, Western Outdoor News, published a photo of a totoaba described as weighing 312 pounds. In 1961, California Fish & Game biologist, John Fitch, was quoted as having witnessed the weighing of a 330-pound specimen at San Felipe.

This relative of the white seabass seems to be much more complex and resilient than we imagined, and its distribution range may be far greater than was recorded even a hundred years ago.

Today, with this confirmed record of mature fish at East Cape, there is more argument than ever for serious protection of this endangered, magnificent, gigantic croaker that can grow as big as a marlin.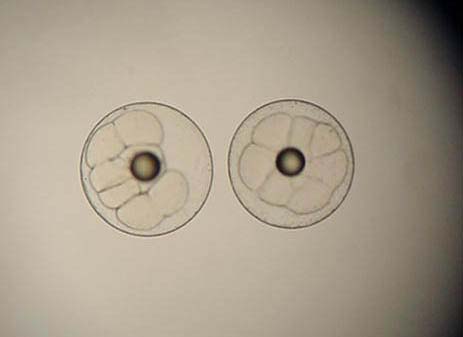 HOPE FOR THE FUTURE--Very young totoaba embryos, caught at about the eight-cell stage, at Conal David True's UABC totoaba hatchery in Ensenada last month. Someday, these fish may weigh over 200 pounds. Photo courtesy Conal David True.
(Related East Cape articles and reports may be found at Mexfish.com's
main East Cape information page
. See weekly fishing news, photos, and reports from the major sportfishing vacation areas of Mexico
including the East Cape area in "Mexico Fishing News
.")