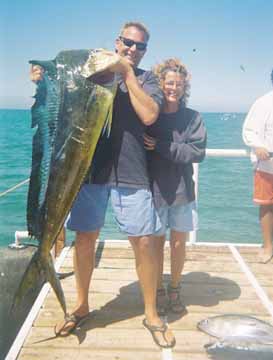 EAST CAPE BEAUTY!--Ida Cohen with a very nice 52-pound dorado caught out of Hotel Punta Colorada, while fishing with Keith Williams (left) on the Vodka with Capt. Chito. Photo courtesy Keith Williams.
LOTS OF TUNA CAUGHT DURING 3 DAYS OF MEXICO
FISHING ON THE EAST CAPE BOAT VODKA WITH CAPT. CHITO
May 28, 2004, Keith Williams, East Cape, Baja California Sur, Mexico Fishing Report:
I just returned from a great trip to Punta Colorada. Fished 3 days this week with Captain Chito on the boat Vodka. Started each day buying bait in front of the hotel. Twenty bucks got you a nice selection of mixed Cabalito, Sardinia, and Mullet. After loading up on the bait, we headed southeast approximately 40 to 45 miles out each day and found all the yellowfin tuna you wanted. Found the porpoise and there where lots of tuna up to 80 lbs. Most in the 15 to 25 lbs range with some bigger guys here and there. It didn't matter what you had on the end of your line.

The tuna bit whatever was in the water. After loading up on the tuna each day, we would start trolling back toward the hotel looking for Marlin and Dorado. We baited at least 6 Marlin a day, but no takers. You could spot Marlin jumping all over. At times, we found 2 and 3 Marlin together at the same time. Apparently there was so much bait around the Marlin where gordo on bait.

We even found a Swordfish and couldn't get him to take the bait either. We only caught one Dorado all three days, but it was a beauty. On the last day of fishing, my sweetheart Ida Cohen caught her first grande Dorado, a nice 52 lb fish that just wouldn't come to the boat. The Dorado was caught on a flying fish pattern "Hi 5' lure right when it was time to reel in the jigs and head for the barn. Ida finally got the fish to the boat after an hour battle. The fish was bigger then her, so I had to hold the monster up for her in the picture. We donated the Dorado to the hotel, which everyone in the hotel got to enjoy that night for dinner.