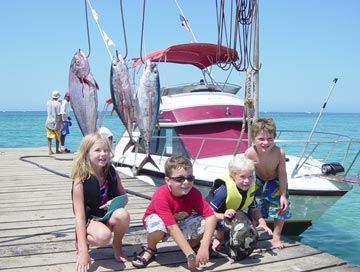 KIDS AT EAST CAPE--The Smith family kids fished with Capt. Chuy Cota on the Hakuna Matata out of Buena Vista Beach Resort and had a great day of adventure on tunas, jacks, and a striped marlin released. The boat finished eighth in the hotel's Los Chinos Tournament. Photo courtesy Axel Valdez.
EAST CAPE REPORT BY AXEL VALDEZ OF BUENA VISTA BEACH RESORT
July 10-17, 2005, Axel Valdez, Buena Vista Beach Resort, East Cape, Baja California Sur, Mexico Fishing:
Total East Cape fishing boats out 90. Fishermen 310. Weather temperature high 90's. Water temperature 79-85. Catch including released fish: Striped Marlin 89; Sailfish 32; Dorado 31; Tuna 180; Wahoo 1; Roosterfish 8; Shark 1; Snapper 38; Amberjack 3; Bonita 70; Ladyfish 1; Pompano 3; Triggerfish 1; Cabrilla 7; Skip Jack 10.

East Cape water temperature has continued to increase and to settle in a more summery warmth. Even though we are in the middle of summer, air temperatures are starting to really get to a very hot point. Up to now we haven't crossed 100 degrees.

You could go 30-45 miles out and find tuna. Come any closer and you will fish for billfish. Dorado is still the missing link this year in the East Cape sportfishing area, as you can find it anywhere, or nowhere.

We are now feeling the summer, great water, sails finally seeming to come to stay. Blues are soon to follow, but stripers and tuna have continued to offer very consistent fishing. We had 20 boats in our 5th annual Los Chinos tournament, and there 28 stripers caught and all released. A lonely 49 lbs dorado.

Inshore Fishing: My brother caught a beautiful 40 lb rooster, right in front, from the dock. There have been very good reports later in the week for good fishing for roosters and jacks.

Baits used at East Cape were mullet, little jacks and radadillos. There are not much sardine around. Most everyone is fishing with little live bait and a lot of ballyhoos.