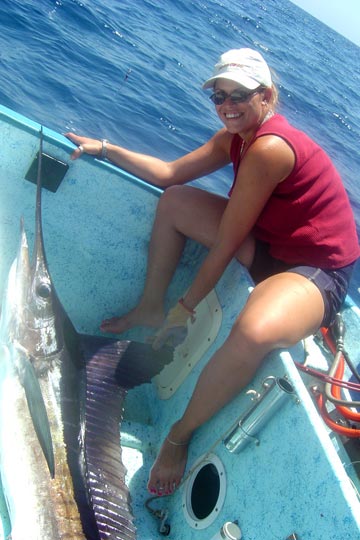 BAJA "WHITE MARLIN"--Vanessa Fritz fished with her dad Russ Fritz of La Ribera and landed this unusual marlin, often called a "white marlin" locally at East Cape, in 25 minutes on 30-pound line. They fished on Russ Fritz' boat Soplado about five miles off the lighthouse. Photo courtesy Vanessa Fritz.
EAST CAPE PANGA FISHING YIELDS A PAIR OF MARLIN
July 15, 2005, Vanessa Fritz, East Cape, Baja California Sur, Mexico Fishing:
My husband Juan Rosales and myself Vanessa Fritz were fishing at East Cape with Capt. Russell Fritz in the Soplado on the 11th and 12th of July and hooked up with two Marlin. I myself caught a 90 lb white marlin on 30 lb test in only 13 minutes and my husband landed a 150 lb striper on 30 lb test in 25 minutes, both 5 miles off the lighthouse near La Ribera.

This was a very momentous trip for us as I was able to run a boat part time and set the hook on a nice striper on the 10th of July for my husband, that being his very first marlin, caught on the Cortez Cat with Capt. Robert Wilhelmy who allowed me to run his boat and set the hook for my husband. Thank you Robert. And a thank you to my father Russell Fritz for being such a great captain and putting us on those fish.