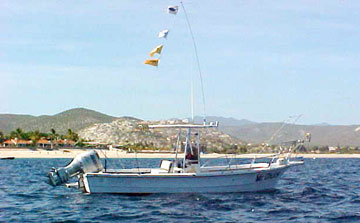 CHUCK'S PANGA--East Cape flags flutter in the breeze for Chuck Meredith of Los Barriles and his super panga Mr. Chuck. Photo courtesy Chuck Meredith.
EAST CAPE FISHING ACTION IN THE DOLDRUMS THIS WEEK
Aug. 27, 2005, Chuck Meredith, Los Barriles, East Cape fishing, Mexico:
The East Cape sportfishing charter cruisers are only doing 50 percent. Yesterday, Friday 8-26, half had marlin flags up, mostly 2 or even 3, and some with 4 blue flags up.

Also the tuna flags were up on 50 percent of the East Cape cruisers returning. The other 50 percent of the East Cape fishing fleet was skunked. The billfish were mostly sailfish, with a few striped marlin, and only a very few true blue marlin.

East Cape tuna were all yellowfin in the small schoolie class, and real sensitive when more than 3 or 4 cruisers would show up and stop the bite altogether.

Dorado, well, what can I say, like an extinct species this summer at East Cape. I read that Mazatlan has them, and that is only 181 miles away from here as the "fish swims," but they are not at the East Cape yet, no matter what some hotel space seller might say.

East Cape had mostly blustery fishing weather all this last week. Rain storms daily. These days are what one would call the doldrums.