By Gene Kira, June 23, 2003, as published in Western Outdoor News:

One of my favorite jigs for fishing in Baja California is the Luhr Jensen Deep Stinger, and recently, I discovered that on every trip down Mex 1 for the last ten years or so, I've been driving right past the factory where they are made, in Ensenada, Baja California, Mexico.

Luhr Jensen, of course, is the famous fishing tackle manufacturer located in Hood River, Oregon, and you don't have to say anything more than "Krocodile" to know that their classic products are a cornerstone of the modern sportfishing industry.
Most of their stuff is oriented toward salmon and such, but much of it is also pure dynamite on a wide spectrum of our Baja species, from grunts to yellowfin tuna, so it was especially satisfying to learn that they make many of their lures right here in Ensenada--including the Stinger.

I recently had a chance to visit the factory, and it was quite an eye-opener for someone who has admired the powers of these products for many years.

My guide was Luhr Jensen's Ensenada production manager, Don Fagan, who is so completely absorbed in his work, he doesn't seem to notice that his telephone desk is surrounded by people operating all kinds of noisy metal-working equipment.

"How the hell do you talk on the phone in here?" I shouted to Don, above the constant banging and whirring.

"If it gets too bad, I just yell at everybody to stop for a second!"

Okay.

About ten years ago, Don came down to Ensenada from Luhr Jensen's Oregon headquarters to help set up the maquiladora factory, which employs about fifty people in a nondescript industrial building located just off the highway going south to Maneadero. Somehow, Don's "temporary assignment" in Ensenada turned permanent, and he's been cranking out lures here ever since, thousands and thousands of lures, that are part of Luhr Jensen's $10-plus million annual production.

It was interesting to see how wooden lures, including a kind of gigantic articulated "frog" that is used to catch Lord-knows-what, are cut out on lathes, rigged with hooks, and painted in a series of complicated, airbrushed layers.

But what I really wanted to see was how Don makes the Stingers, and I wasn't disappointed. No kitchen table, "pour-your-own" craft approach here. Don showed me how the Stingers are "spin cast" in rotating multi-cavity molds that literally throw the molten lead outwards to form the lure bodies. (Wear a good apron, hombre! Preferably a cast-iron one!)
Don obviously loves his work, and his organizational skills are apparent when you see the efficient system he's created out of the coordinated chaos of so many people turning out so many different products simultaneously. To a newcomer, it looks like a madhouse, but, there on the floor, is the proof of the pudding: stacks of shipping cartons, neatly piled high and labeled "Luhr Jensen."

Don also loves to fish; in addition to his own Baja adventures, he takes the whole factory crew out on sponsored fishing trips so they can see and appreciate how their handiwork is actually used.

Don also loves to think, and in addition to filling me in on lots of Luhr Jensen's history and lore, I enjoyed his stories about Robert Louis Stevensen (author of Treasure Island, 1883, who was influenced by his time in Ensenada), and also about his recent fishing trip on the Amazon River.

According to Don, his large riverboat-like mothership cruised up the narrow, winding channels at night--in total darkness, because "if you turn on any lights, it attracts so many bugs you can't see anyway."

Don was allowed to steer the slowly-moving ship as it passed by invisible jungle vegetation on both sides, and since it was completely dark, he swears you steered the big boat left or right according to the vibrations in your feet as you gripped the large wheel.

"If your right foot vibrates, you are too near the right bank of the river, so you steer a little to the left.

"If your left foot starts to vibrate, you steer the other way."

Okay, Don that's a pretty good "fishin' story." And it's nice to know that my favorite Luhr Jensen Stingers are in such steady hands!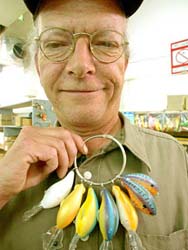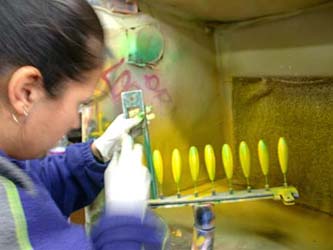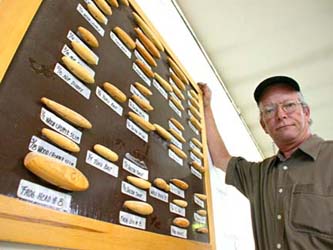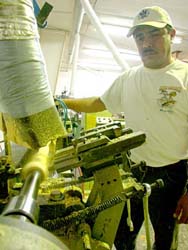 From upper left:

PRETTY PAINT LAYERS--Each lure on the ring is a guide for a different color of paint. This lure requires seven different layers.

SPRAY JOB--A worker air brushes subtle color patterns on wooden lure bodies.

WOODEN LURE SHAPES--Some of the multitude of wooden lure shapes turned out by Luhr Jensen's Ensenada plant.

CHIPS FLY--Lathes turn out long wooden bars of lure bodies that are then cut apart.
(Related Ensenada articles and reports may be found at Mexfish.com's main Ensenada information page. See weekly fishing news, photos, and reports from the major sportfishing vacation areas of Mexico including the Ensenada area in "Mexico Fishing News.")