Feb. 15, 2004, by Gene Kira, as published in Western Outdoor News:

"Where can I find good Baja panga fishing within one day's drive of the border?"

For a lot of people who want to go fishing on Mexico's Baja California peninsula, that's a burning question--when they only have a couple of days available, but they're itching to wet a line and take home an ice chest of fillets.

On a four-day Baja vacation, you could get down to about San Quintin--200 miles south of the U.S. border at Tijuana--fish two mornings on the excellent high-spots just outside the bay, and return home on the fourth day.
Even closer than San Quintin, you could zip into Castro's Camp at Erendira. And even closer than that (if you don't mind about 20 miles of washboard gravel road), you could find pangas and very nice rooms at Puerto Santo Tomas.

But these are all best thought of as moderately ambitious, four-day trips requiring Pemex gas stops, ice reserves, passage through at least one military checkpoint, tourist cards, and blah...blah...blah. These are "real" Baja fishing trips, requiring a bit of thought and preparation, and (yikes!) even a little "work" to make them happen.

But let's say you're really tight on time, you're feeling really lazy, and you're really short on pesos, but...you still want those danged fillets.

Can you still go fishing in Baja?

Can you still have a "real" Baja trip?

¡Sí, señor! And the place to do it is right at the south end of good old Ensenada--with Ivan Villarino's full-service panga outfit, Vonny's Fleet.

Vonny's Fleet is so close to the border, you won't even need to buy Pemex gas (about $2.75 per gallon, including short pumping) during your trip.

In fact, at about 100 miles south of Tijuana, Vonny's Fleet is so easy to get to, I once crossed the border after work one night, fished the next morning, and was back in my office before quitting time that same afternoon--less than 24 hours total elapsed time!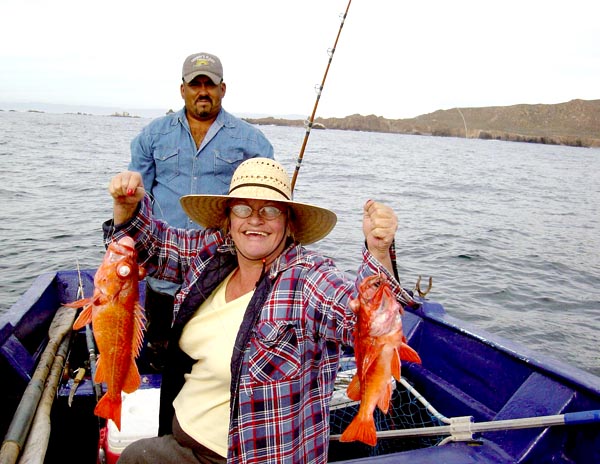 Capt. Beto Zamora with a satisfied client off the tip of Ensenada's Punta Banda.
To fish with Vonny's Fleet, three anglers can easily fill up with gas before crossing the border about noon, drive to Ensenada, stay two nights, panga fish two mornings, and be home on the evening of the third day, not even needing tourist visas. (Required only if you stay more than 72 hours.)

For a group of three, the tab for a trip like this would only come to about $185 per person. That includes gas, Mexican car insurance, the Ensenada toll road, two days of fishing, burrito lunches, tips for the captain, two nights, Ziploc fillet service, and even ice for the trip home! (You should also have your personal I.D., a Mexican fishing license, and, of course, you're on your own for beers and evenings in Ensenada.)

Amigos, panga fishing just can't get much easier or more economical than this.

FISHING AT ENSENADA'S PUNTA BANDA

Okay, so the price and timing are right, but how about the fishing?

Fortunately, Vonny's Fleet's pangas enjoy one of the best semi-sheltered, year-round fishing locations in Baja, never needing to go more than about five miles to their home fishing grounds at the tip of Punta Banda. Typically, almost all the fishing occurs within a one-mile by five-mile area, from about La Bufadora on the south side of the point, around the boiler rocks at the tip, and out towards Isla Todos Santos in the middle of the bay.

The action is on very reliable bottom fish, lingcod, calico bass, barracuda, bonito, occasional white seabass and halibut, and some of Baja's most consistent year-round yellowtail fishing.

Above all else, Vonny's Fleet offers a super-relaxed, completely laid-back style of fishing in and around Bahía de Todos Santos, great for families with kids, seniors, or anybody who just wants to enjoy a visit to Ensenada, have a couple of nice days on the water, and score some good-eating fillets.

Typically, you'll be dropping dead anchovy or squid bait to the bottom, about 30 to 200 feet deep, and you'll get bit within a couple of minutes of arrival at each spot picked by your guide. Full limits are to be expected, on a mixed bag of five to seven species on any given day.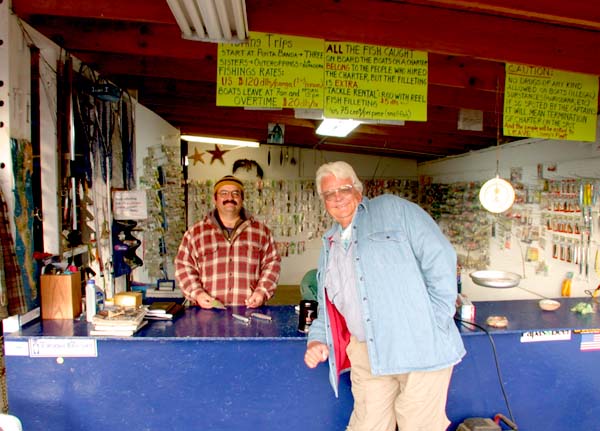 Owner Ivan Villarino at the Vonny's Fleet tackle store. All the best working gear for fishing in the Ensenada area is sold, rented, or loaned.
TYPICAL ENSENADA FISHING TACKLE

Ensenada's yellowtail, up to about 25 pounds in size, can be a bit of a handful, and they are best fought on 40-pound tackle, but most of the many species caught here run well under 10 pounds, and they are great fun on lighter gear. Figure the most enjoyable, all-around rig for Punta Banda at about 20 pounds for both surface and bottom fishing. I would have no problem with taking nothing more than a standard, 7-foot rod, with 20-pound mono, and a Penn Jigmaster. However, optimum tackle is 12-pound for bass, 25-pound for general surface and bottom fishing, and the aforementioned 40-pound for Ensenada yellowtail.

Small iron, such as Krocodiles, Stingers, and Salas Jrs., and Rapala CD7 to CD14 trolled plugs are also effective in the usual colors (you won't go wrong with chrome and white-blue on the iron, and green-mackerel on the plugs). On the surface, there is a no-brand, locally-made brushed aluminum jig available at the Vonny's Fleet store that accounts for more yellowtail here than any other type of terminal tackle. Finally, rubbertail leadheads averaging about three to five inches in size are very effective on the calico bass and other Ensenada resident bottom fish species.

Bait hooks should be 5/0 to 6/0, and you'll need 4, 6, and 8-ounce torpedo sinkers. Your bait rig is the typical two-dropper loop plus torpedo sinker at the end set-up seen everywhere in Baja.

When fishing at Ensenada with Vonny's Fleet, you don't need to worry about loading up on gear before your trip. Bait is included with the price of your panga, and all necessary tackle--in the most effective colors, sizes, and weights for local conditions--is available for sale, loan, or rent at the Vonny's Fleet store. You're welcome to take along whatever you want, of course, but you don't really need to take a thing except your empty ice chest, unless you want to. Like I said, this here is real easy, no-sweat fishin'.

For a relaxed, week-long trip, or a rushed "overnighter," Vonny's Fleet offers an authentic Baja fishing experience with traditional pangas, beach launching, simple but comfortable lodging, and the fun of visiting Ensenada and the still rural Punta Banda area, all priced to fit a family budget.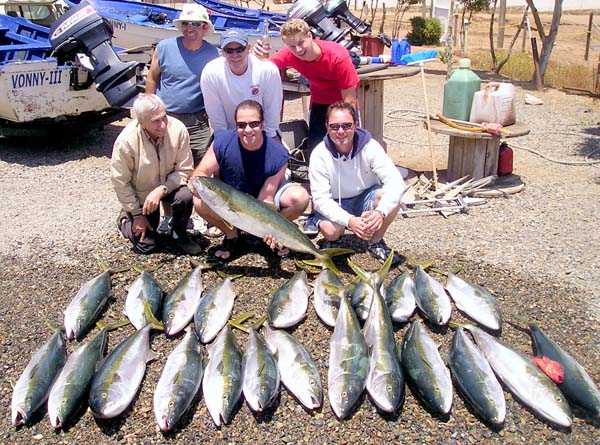 Among the many anglers catching limits or near limits of yellowtail to 24 pounds with Vonny's Fleet at Ensenada were: Levon Kheshvadjian, Russ and Spencer Kalander, Sam and Craig Simonian and Sako Dertorossian.
ENSENADA FISHING SEASONS & TIMING

Bottom fishing at Ensenada is at its peak from August through February, but even during the rest of year, it doesn't get much worse than "pretty good." You can still expect your limit during the March through July "slow season," and during the rest of the year, limits are almost automatic. On average, the most sought species, in order, are: mixed rockfish, lingcod, sheephead, calico bass, sandbass, yellowtail, halibut (March-April), and white seabass (March-April). Sheephead are also available, but Vonny's Fleet does not target them, because this species is important to local commercial fishermen.

(About five years ago, there was a tremendous hatch of lingcod from Punta Banda south to about San Quintin. Since then, Ensenada's lingcod catch has been the best in recorded memory, first on very small fish, and then bigger and bigger each year, with some fish now over 15 pounds. This bump in the lingcod population will inevitably fade, but for now, it makes the very good-eating swaybacks second only to rockcod in the catch list.)

Ensenada surface fishing action peaks in July and August on bonito, barracuda, and yellowtail, which are actively feeding on summer concentrations of anchovy and smelt. In recent years, pods of surface yellowtail to about 25 pounds have been in residence at the tip of Punta Banda right through the winter months, and they have been caught fairly consistently on aluminum jigs cast at birds, breezers, and surface boils.

For some unknown reason, fishing at the tip of Punta Banda is consistently better during periods of wind from the south. This may possibly be related to some kind of disruption of the normal cold water upwelling on the south side of the point. Whatever the reason, there is typically more bait near the point when the wind blows from the south, and both surface and bottom fishing is better.

Very high or low tides may affect beach launching for a few hours, but their effect on fishing is too random to depend on, and there is no apparent pattern. The typical method of fishing, regardless of tides, is to keep moving to various rocky pinnacles or subtle bottom mounds until a productive spot is found. Sometimes, moving as little as 20 feet makes the difference. Your guide is all-important for this work.

The influence of the moon is more predictable. The darker the better. New moons are best, followed by quarter moons, and full moons are worst.

Winter winds peak in February and March when water temperatures bottom out at about 50 degrees. The calmest winds and the year's highest water temperatures of about 70 degrees occur during August through September. During El Niño conditions, tuna and dorado are caught as close as half-a-mile from the point.

Vonny's Fleet is conservative about weather safety, and about 20 days per year are canceled due to possible rough seas. Weather at Ensenada is often cool, due to numerous local cool water upwellings and the normal Pacific prevailing marine layer, so a warm jacket should be brought for your morning departure, regardless of the season.
Vonny's Fleet's three Ensenada charter fishing pangas are fully equipped with fresh motors, cell phones, and safety gear. Launching is at the family's Villarino campground beach just across the street.
THE VILLARINO FAMILY HISTORY

The family-operated Campo Villarino campground and Vonny's Fleet sportfishing operations are located across the street from each other at the southwest corner of Bahia de Todos Santos, an area sometimes called La Jolla or sometimes by its original name, Rincon de Ballenas. This area has the smallest surf of any open beach around Ensenada, and it is no coincidence that Campo Villarino is located here; the Villarino family had "first pick" of the beach, when they settled thousands of hectares of land at Punta Banda in 1927, and subsequently established Campo Villarino as its first tourist facility in 1949. The Villarino's are about as "establishment" as any family can be in Ensenada.
Ivan Villarino, a great grandson of the original settlers, grew up working with tourists at his parent's beach camp, learning the most astonishingly fluent "American" English of any nonnative you are ever likely to meet, and eventually establishing Vonny's Fleet ten years ago as a separate sportfishing business. He is married to the former Martha Elena Ochoa of Mexicali, and they have an 11-year-old daughter, Yvonne "Vonny" Villarino, for whom the fleet is named.

Ivan's mom, the charming Ramona Ibarra Borquez, originally from the Yaqui area of Torin, Sonora, still runs the neat-as-a-pin Campo Villarino today as one of Ensenada's top tourist facilities, and both the campground and sportfishing service are operated with the very close attention and care of traditional family businesses.

BOATS AND CAPTAINS

Vonny's Fleet has three pangas that are launched over the beach at the family's Campo Villarino resort, the 21-foot fiberglass Vonny I, and two traditional wooden skiffs, the 17-foot Vonny II, and 18-foot Vonny III. Although the fiberglass boat is the fastest and ultimately the most seaworthy, there are good reasons to fish out of the wooden skiffs. In Vonny's Fleet's sheltered, close-in fishing grounds, these traditional boats are fully adequate for the task at hand, and they offer some unique advantages of their own. These boats are extremely wide and stable, and they are actually more comfortable than "modern" fiberglass pangas. Their flat bottoms make them very easy to launch and retrieve over the beach. In all of Baja California, these traditional wooden pangas are becoming very rare, and Vonny's Fleet offers the only chance most anglers will ever have to fish from one, an enlightening and pleasant experience that gives you a look at "old Mexico."

Vonny's Fleet's lead skipper is Capt. Beto Zamora, a lifetime Ensenada commercial fisherman and sportfishing guide, who speaks some English and is one of Baja's top captains, with unsurpassed knowledge of the local water, and especially, an almost uncanny ability to find yellowtail. Beto's father, Cruz Zamora, and brother, Victor Zamora, run the other two boats.

In order to maintain safety standards and quality of service, Vonny's Fleet does not call in freelance pangas. If their three fleet boats are all booked, you will have to wait and take your fishing trip another day. For this reason, reservations are always recommended, even during the slow season, and especially on weekends. All pangas are equipped with radios, cell phones, first aid kits and lifejackets, and all captains are fully licensed and insured. Fishing pressure peaks in July, and is the lowest in November and December.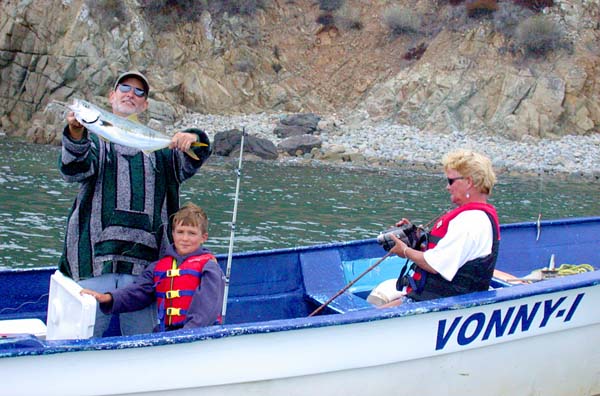 Perfect for kids and famiy fishing, a firecracker yellowtail comes aboard in calm, sheltered water almost on the beach on the north side of Ensenada's Punta Banda.
ACCESS, ACCOMMODATIONS & RATES

In the Ensenada area, there are several panga operations of varying size and capacity, but Vonny's Fleet is the only one that also has a campground and full service store conveniently located across the street.

The boat yard itself is collocated with Ivan Villarino's family residence, and it's one of those places with a happy, comfortable feel about it, where you like to just drive in, pull up a chair and sit a spell.

(Western Outdoor News Baja Editor Fred Hoctor lived for 30 years just a mile or so down the road, and he often did just that on Sunday mornings, bringing a dozen donuts over to share with Ivan's ever-ready pot of coffee.)

Vonny's Fleet is located about 100 miles south of the border, eight paved miles off Mex 1 on the "Bufadora road" at the south end of Ensenada. Look for the big yellow-and-blue "Fishing Trips" sign on the left side of the road that says "anchovies," "fishing line," etc., etc., etc., but does not, repeat not, happen to say "Vonny's Fleet" anywhere on the sign. (Ivan doesn't know exactly how this happened, but he promises to correct the problem, someday soon, maybe even "mañana.")

Across the street from the boat yard and tackle store is the family's beach front Campo Villarino campground and RV park, with its full service convenience store. Anglers may stay at the the campground, or at any of the various hotels and motels in nearby Ensenada.

Pangas launch over the beach about 6:40 a.m., tides permitting, and return about noon or a little later. Lunches are reasonably priced according to how many burritos or drinks are desired. Tipping is strictly voluntary according to customer satisfaction. The boat yard tackle store and office are open daily from about 6 a.m. to about 6 p.m.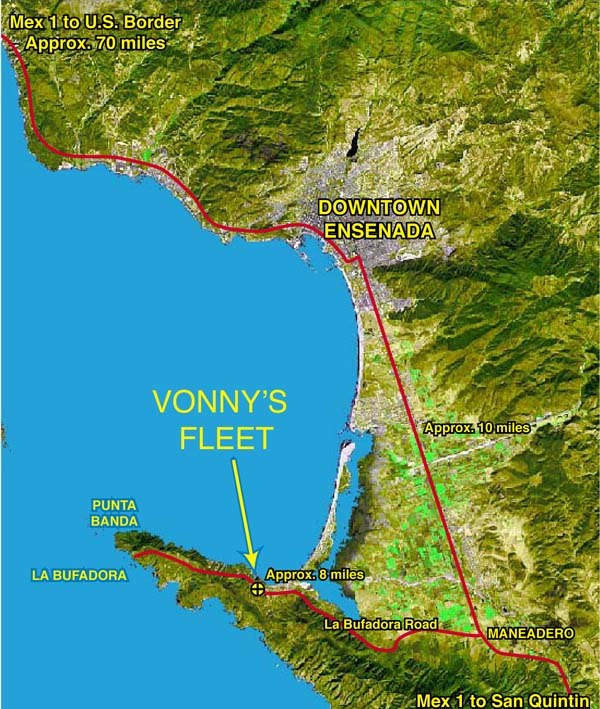 Located at Ensenada, Baja California, Mexico, only about 100 miles south of the U.S. border gate at Tijuana, Vonny's Fleet offers "real" Baja panga fishing within easy overnight trip range.
(Related Ensenada articles and reports may be found at Mexfish.com's main Ensenada information page. See weekly fishing news, photos, and reports from the major sportfishing vacation areas of Mexico including the Ensenada area in "Mexico Fishing News.")