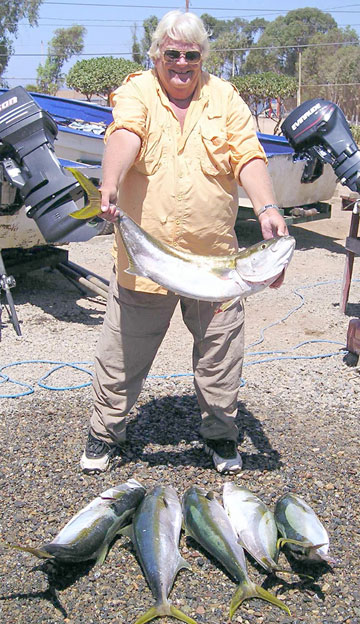 MASTER OF JUREL--Jay Johnson fished with Vonny Fleet's Capt. Beto at Ensenada on Friday and his panga scored on six nice yellowtail, or "jurel" in Spanish. Photo courtesy Ivan Villarino.
JAY JOHNSON CATCHES 6 YELLOWTAIL WHILE
FISHING WITH ENSENADA'S VONNY'S FLEET
Sept. 4-10, 2005, Ivan Villarino, Vonny's Fleet, Ensenada, Baja California, Mexico:
Ensenada fishing water cleared up but it turned a little colder. Our boats did okay on bottom fish, on average of 15 to 30 rockcod per fishing trip with 2 anglers on board.

On Thursday only one boat went out fishing at Punta Banda and did very slow because all they did was troll.

On Friday Jay Johnson went fishing with Capt. Beto and JackPot they landed 6 yellowtails, "good ole" Jay.

On Saturday Mike and Alejandro Figueroa went out fishing with Capt. Beto on the Vonny I and landed 2 yellows, one of which weighed in at 25 pounds, a "first time" event for Alejandro a good future angler.

The Vonny II with Capt. Hector Zamora and Capt. Cruz on the Vonny III did okay with 35 and 27 rockcod, so that sums our fishing at Ensenada for the week.