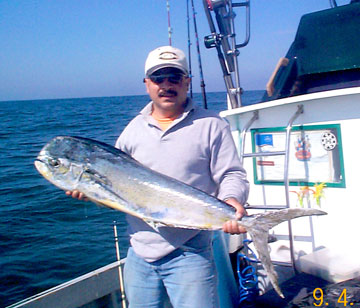 ENSENADA DORADO--Santos Barba of San Diego fished out of Ensenada with KCHTS Sportfishing for a good day on four dorado to 35 pounds, plus two skipjack and a yellowtail. Photo courtesy Gerardo Sanchez.
FOUR DORADO CAUGHT DURING ENSENADA OFFSHORE FISHING TRIP WITH KCHTS
Sept. 9, 2005, Gerardo Sanchez, KCHTS Sportfishing, Ensenada, Baja California, Mexico:
Last Sunday, we went fishing out of Ensenada on a tuna trip and we caught 4 dorados, including one fish of 35 pounds, 2 skipjacks, and 1 yellowtail. We returned to Ensenada early because of the wind. The water temperature off Ensenada was 71 degrees. We caught the big dorado on a flylined bait at a kelp paddy.

During the week the local fishing around the bay at Ensenada was slow. On top we caught a few yellowtail and some barracuda. Fishing was good on the bottom. Yesterday, with three local anglers, we caught limits on rockcod and lingcod at el bajo. On the way back to Ensenada, we stopped to fish at University Point and got some sandbass and calicos. Fishing locally at Ensenada again today, the fishing was the same.