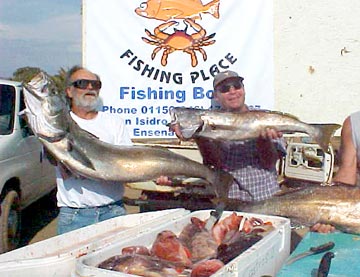 Robert Lindsay of Huntington Beach and Bud Nelson of Yorba Linda scored on white seabass and bottom fish at Castro's Camp, at Erendira, south of Ensenada. Photo courtesy Fernando Castro.
VERY GOOD WHITE SEABASS COUNTS FOR CASTRO'S CAMP FISHING BOATS
July 26, 2004, Fernando Castro, Castro's Camp, Erendira, Baja California Mexico:
During the week 14 boats went out. The temperature of the water was about 67 degrees 3 miles from the coast and the color was clear blue. We had very good weather. We had lots of fish, many white seabass, reds, lingcod, barracuda, and yellowtail. In total, we had 92 white seabass, and some very big yellowtail. We fished 3 miles out, with just caught live mackerel, Krocodiles, and white-colored jigs.