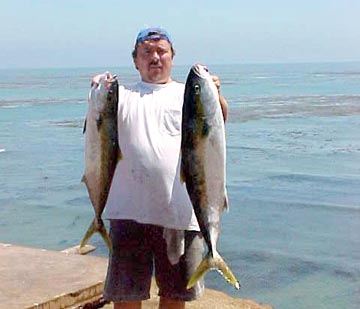 CASTRO'S FORKIES--Bill Stout with yellowtail of 28 and 13 pounds caught at Castro's Camp, Erendira, south of Ensenada. Stout fished with Capt. Mauricio, and buddies Sergio Blushtein, Igor Blushtein, and Felix Redkozub. Photo courtesy Bill Stout.
BIG BAJA WHITE SEABASSS AND YELLOWTAIL CAUGHT AT ERENDIRA
Aug. 4, 2004, Bill Stout, Castro's Camp, Erendira, Baja California, Mexico:
Between us 4 guys we caught 8 White sea bass (37, 35, 33 & 25 lb.) and 5 yellowtail (36, 29, 27, & 15 lbs.) the first day. The single picture is me with a my 28 lb. & a 13 lb yellowtail from our 2nd day catch. We also caught 3 more white sea bass the 2nd day. Total, 11 white seabass and 7 yellowtails.

We were fishing Castro's. Our Captain was Mauricio (I only use him). Of course we also caught 2 (150 quart) coolers full of Red Snapper and Ling Cod each day as is the norm for Castro's Camp.

We were using 4 & 5 inch light weight Silver Mackerel Krocodiles yo-yoing them 5 feet from the boat about 6 feet deep (no bait used).

Best fishing (as far as quality fish go) for the last 10 years I have been going to Castro's Camp.