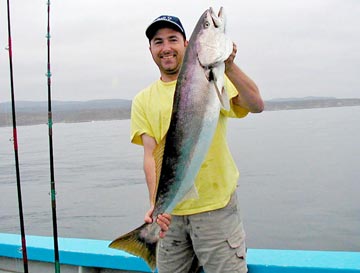 CASTRO'S CAMP CATCH--Derek Arneson with a nice white seabass caught out of Castro's Camp at Erendira. Photo courtesy Richard Arneson.
NEW FISHING BOATS AT CASTRO'S CAMP
Aug. 3, 2004, Richard Arneson, Castro's Camp, Mexico Fishing and New Boats:
They have some new skiffs at Castro's Camp one of which is now in service. It has a steering station well forward with a tall windshield and a flat deck with plenty of dry storage. Four people can fish very comfortably.

The weather was perfect with flat calm seas until about 12:30 when a little wind came up. We actually missed the good white seabass bite which occurred on Sunday while we were fishing in Ensenada. Some of the Castro's Camp fishing skiffs caught as many as 11 whites that day, and I think the total was something like 41 for the camp.

On Monday when we fished there were 4 caught (3 by our boat). Sorry, but I don't remember the name of the boat only the captain (Poncho). The whites are coming up in the morning to feed on the squid in the area right now and will hit on most light colored Salas 6X Jr. type jigs.