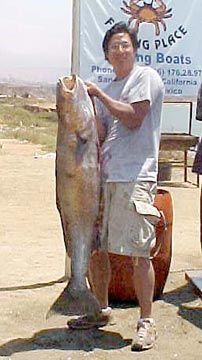 KEEP 'EM COMING--Paul Kim of Palos Verdes with another beautiful white seabass from the big run south of Ensenada. Kim fished at Erendira out of Castro's Camp. Photo courtesy Fernando Castro.
ERENDIRA FISHING AREA WATER TEMPERATURE AT 68 DEGREES
Aug. 23, 2004, Fernando Castro, Castro's Camp, Erendira, Baja California, Mexico:
We had 27 Erendira fishing boats out this week. The water temperature was 68 degrees 2 miles from Castro's Camp, and the water continued to be clear and blue. Erendira weather was light breezes of 3 to 4 knots, very warm and calm. During the week Erendira had continued schools of sardines and mackerel, and many pelicans and seagulls resting on shore. Our Erendira fishing boats caught 48 white seabass, 42 bonita, and 32 yellowtail, many barracuda, and many bottom fish such as red rockcod, lingcod, etc. For bait, we are using salted sardines, frozen mackerel, and jigs, especially chrome ones. The white seabass, yellowtail, and barracuda are being caught 3 miles from the coast in 50 to 70 feet of depth, and the bottom fish are being caught 5 or 6 miles out, and 90 to 120 feet deep.