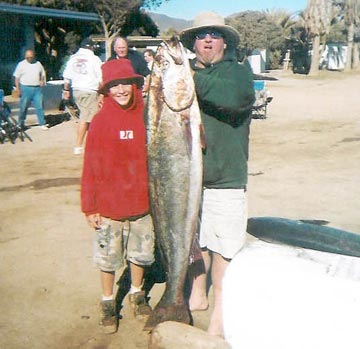 HUGE WHITE SEABASS--David Genter of Westminster and his son caught this humongous white seabass out of Castro's Camp at Erendira. Photo courtesy David Genter.
FULL ICE CHESTS CAUGHT BY CASTRO'S CAMP SPORTFISHING PANGAS
Aug. 30, 2004, David Genter, Castro's Camp, Mexico Fishing Report:
I fish down at Castro's Fishing Place in San Isidro, Mexico. Last week I took my 11 year old son. We spent 2 days fishing off their small pongas.

The first Castro's Camp fishing day was mostly for rock fish and other bottom species. We filled up a 150 quart cooler.

The second day I told the Castro's Camp guide I don't care if I don't see another rock fish all day I just want a monster seabass. He said OK and took us 18 miles south of Castro's Camp, a long ponga boat ride. I decided to do some trolling so, while I was soaking my rapala a group of dolphins showed up and put on a great show for about 45 minutes.

We finally made it to our spot and I made a few cast with my big crocodile spoon. Then the monster attacked. When I saw the fish I yelled shark but quickly realized it was a big white seabass. Though it was only a 4 minute fight, it was a great experience.

The guide started yelling with a lot of excitement (that was quite funny). I asked him how big do you think the fish is, about 70 or 80 lbs? He said no, more, more. The guide said he had not seen a seabass that large in a long time. It truly made our day! This is the biggest fish I've ever caught.

We caught several other very nice fish including Halibut, lingcod, calico, cabazon, black seabass, sandbass, and several species of rock fish. With all that being said it was a trip to remember for ever. Special thanks to Castro's Camp for all their hospitality and fish cleaning. HA HA.

I heard of Castro's Camp through the son of the Garden Grove Tackle's owner. We do overnighters to Castro's, leaving at 1 a.m. and arriving at 6:30, loading the boat and going straight out to fish. We fill our 150 quart coolers with rock fish, lingcod, whitefish, sandbass, calico bass, and white and black sea bass. We drive back right after fishing arriving home at about 1 a.m.

The Castro's Camp fishing cabins were very accommodating. After fishing we spend time celebrating with baja fish tacos, cuban cigars, and $20 TX holdem' poker. The white seabass was caught on the second day of this last trip. we are going down to Castro's Camp again at the end of October.