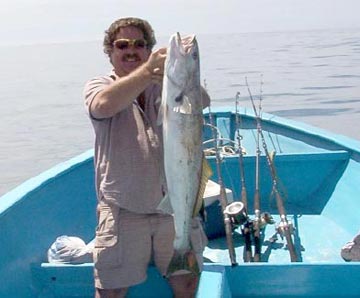 CASTRO'S CATCH--Robert Everett of Las Vegas with a nice white seabass caught at Castro's Camp, Erendira. Photo courtesy Robert Everett.
CASTRO'S SPORTFISHING BOAT LANDS 12 WHITE SEABASS
Sept. 7, 2004, Robert Everett, Castro's Camp Fishing:
I'm reporting from Castro's Camp Sept. 5, 2004 under overcast skies in the morning and clearing in the afternoon Robert Everett out of Nevada and Paul, Guss and Gene out of San Diego hooked 12 White Sea Bass and landed 8. largest being over 40 lbs, along with several rockfish and 3 Barracuda. The key to our success was due totally to our Castro's Camp guide. He kept us moving with the bait fish and the birds. We never stayed in one spot for more than 20 minutes. VIVA FERNANDO!