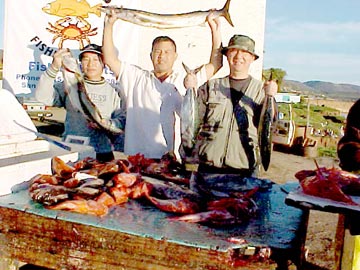 CASTRO'S CATCHES--Jack Tsao and his group from Hacienda Heights loaded up with surface bonito and barracuda, plus the usual haul of bottom fish on a panga out of Castro's Camp, south of Ensenada. Photo courtesy Fernando Castro.
SEVEN CASTRO'S CAMP BOATS FISH IN SANTA ANA WINDS
Dec. 19, 2004, Fernando Castro, Castro's Camp, Erendira, Baja California, Mexico:
This week, we had seven boats fishing out of Castro's Camp. From Monday to Thursday, Castro's Camp had very good weather, but a little bit of Santa Ana wind on Friday and Saturday. On Sunday, the dawn came up again with very good weather. The water temperature has been 64 degrees, 8 miles from the coast, with clear blue color. Castro's Camp pangas continued to catch lots of bottom fish, including many large red rockcod and lingcod. This week, we also caught at lot of whitefish, cabrilla, and a LOT of bonito and barracuda. For fishing, we are using salted sardines and bonito, frozen squid, and all colors and types of rubbertails. We fished 6 to 7 miles from the coast, with clients mostly from San Diego and Los Angeles, including the groups of Bob Nelson, Steve Wong, and Alejandro Pelayo. We had some days with "high surf," but our landing is a good natural port, and we were able to continue fishing without problems. Castro's Camp also had some fog at the beginning of the week.