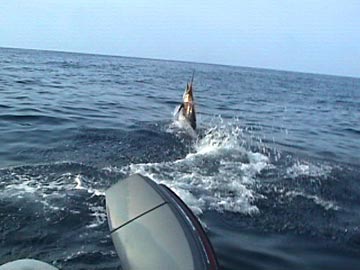 HUATULCO FLY SAILFISH--A sailfish hooked on 14-weight fly tackle jumps behind the boat for an angler fishing with Eric Weissman's guide service Explore Fly Fishing at San Augustinillo, Huatulco. The fish hit one of Weissman's Marlin Monster flies about a mile off the beach. Photo courtesy Eric Weissman.
YELLOWFIN TUNA OF ALL SIZES FROM 10 TO 200 POUNDS
Nov. 25, 2005, Eric Weissman, Explore Fly Fishing, San Augustinillo, Huatulco, Mexico Fishing Report:

My catch yesterday, a personal day off, was one big dorado, one huge sailfish, 20 yellowfin tuna, 20 tunny, one skipjack, several mackerel, and one huge rainbow runner.
The blue water is so close to shore at San Augustinillo that today we hit two sails less than 500 meters from the hotel.

Tuna are here but inconsistent. Groups of 10 to 30 pounders are mixed with 200 pounders. The large tuna are jumping like dolphins, but we have yet to hook up. Maybe later today.

The fish are very aggressive. Dorado are moving 40 and 50 feet to hit flies. Yesterday I landed 100-plus pound sailfish on a 4 inch fly with size 3/0 hook.

Whales are back and the inshore fishery is heating up.

Water temperatures in our Huatulco fishing area are 80-85 degrees, air temperature 83/78, clarity high, colour blue, tons of fish happening right now.

(See "Mexico Fishing News" online for current fishing reports, photos, weather, and water temperatures from Huatulco and other major Mexican sportfishing areas. Vacation travel articles, fishing maps and seasonal calendars, and fishing related information for Huatulco may be found at Mexfish.com's main Huatulco page.