By Gene Kira, April 3, 2002, as published in Western Outdoor News:

The sportfishery of the tropical twin-city of Ixtapa Zihuatanejo--on the Mexican mainland about a hundred miles north of Acapulco--is most known for its awesome winter runs of Pacific sailfish, but what many visitors don't know is that there is also respectable giant yellowfin tuna fishing here, with fish caught well into the 300-pound-plus class.

Capt. Ed Kunze, operator of Mar y Tierra Sport Fishing, thinks plenty of visitors will be chasing Ixtapa Zihuatanejo giant yellowfins once the word gets out. So far, most charter boats are opting to stay close to shore, says Kunze, where the sailfish are thick as fleas, and clients can have a full day of fishing without paying a surcharge for the extra fuel it takes to chase tuna.
Without feedback from a fleet of boats regularly making the 25 to 30-mile run to the tuna grounds, Kunze says it's hard to know exactly where the schools are, and fishing for tuna is a hit-or-miss proposition. Nevertheless, the big fish are out there, and Kunze has pictures to prove it.

"To give you an idea of how many large tuna could be caught here," he says, "consider the accomplishments of two of our top local fishermen."

One of Kunze's picks for Ixtapa Zihuatanejo's top tuna captain is Luis Maciel, who fishes from a 26-foot panga named the Gringo Loco. Maciel's boat has two tuna tubes and a live bait well that can hold about two-dozen big-eye scad baits, which are called "caballitos" in Baja, and "goggle-eyes" locally.

In the past five years, Kunze says, the Gringo Loco has caught more than 100 yellowfin tuna over the 200-pound mark for its clients. Maciel's career best so far was a monstrous 346 pounder.

Maciel's favorite season for giant tuna is May and June, when the giant yellowfin come to within about 15 miles of the beach. Earlier in the year, long runs of up to about 45 miles, and sometimes more, are required to reach the fish. Fuel costs create a problem.
The basic technique for large tuna is to catch a couple of 3-pound black skipjacks (barrilete) baits and keep them alive in the tuna tubes while trolling lures and scanning the water. Once birds or fish signs are spotted, the big baits are trolled about 30 feet beneath the surface on down-riggers. Using this technique, Maciel says, the smaller fish are filtered out, and the majority of hits are from larger fish in the 200-pound range, or larger.

Another of Kunze's favorite big tuna captains is Margarito "Triby" Rodriguez Gomez, who, incredibly, fishes for 200-pound plus tuna with handlines, running 50 miles offshore and fishing solo in his 25-foot panga equipped with a single, 75-horsepower outboard. Using one leather glove for a drag (would that be called a "leather-drag"?), Rodriguez has caught "more 200-pound class yellowfin tuna than most sportsmen will see in their lifetimes," Kunze says, and his personal best is an amazing 360 pounds.

How does Rodriguez get these huge fish into the panga all by himself? Kunze describes his technique: "Triby rocks his panga in time with the swell. He hooks his foot as far back under the tail of the fish as he can, and grabs the gill plates. He is essentially lying down as water starts to come into the boat. He rolls the fish over his body and into the boat. My first reaction to this method was 'that's simple enough,' followed immediately by 'but I do not envision me trying it.'"

According to Kunze, during the November to June season, a few private boats have been quietly tapping into Ixtapa Zihuatanejo's yellowfin tuna fishing many for years. But the word is now starting to spread, and he anticipates that soon more visitors will be coming to this modestly-priced port in quest of the giants.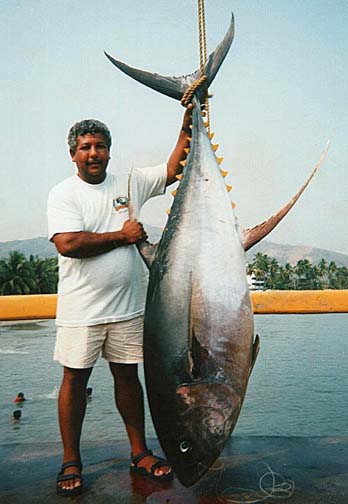 Capt. Alfredo Vargas, now of the Ixtapa Zihuatanejo charter fishing boat Whisky I, with a 250-pound class yellowfin tuna caught aboard the Esturion I a few years ago. Vargas now also runs the Esturion III, which his son uses to specialize in catching tuna. Photo courtesy Paul Phillips of Ixtapa Zihuatanejo's Fintastic Total Catch & Release Tournament.
(Related Ixtapa Zihuatanejo articles and reports may be found at Mexfish.com's main Ixtapa Zihuatanejo information page. See weekly fishing news, photos, and reports from the major sportfishing vacation areas of Mexico including the Ixtapa Zihuatanejo area in "Mexico Fishing News.")