By Gene Kira, March 17, 2003, as published in Western Outdoor News:

Fish with enough Mexican pangueros over a period of time, and you develop a sort of feel for which ones are just filling in when work at the rancho is a little slow, and which ones are the true, true article.
So, even though I'd never fished with him before, the instant I met Luis Maciel on the dock at Zihuatanejo, Mexico, last year, I knew this was a fisherman who not only loved the sea, but was also a devoted scholar of fish and an artist of the Abundio Rodriguez type whose knowledge of such things is not explainable.

Luis appeared on the dock about noon, extended a hand in greeting, and then showed me something in his other hand that knocked my eyes out.

It was a battered, slim chrome jig, about six inches long and tapered at both ends, exquisitely made, with a triangular cross-section and sharp edges, slightly S-curved, and with obviously perfect balance.

When I saw it, one word entered my mind: "tuna." This was the most perfect tuna jig I'd ever seen.

And the first words out of Luis' mouth were: "This is a very good tuna jig. Do you know where I can get any more of them?"

Years ago, some Zihuatanejo sportfishing clients from the East Coast gave Luis a box of these jigs in various sizes, and Luis thought that maybe they were made in New York or New Jersey. He recalled that the clients were originally from Europe, so perhaps that's where the jigs came from.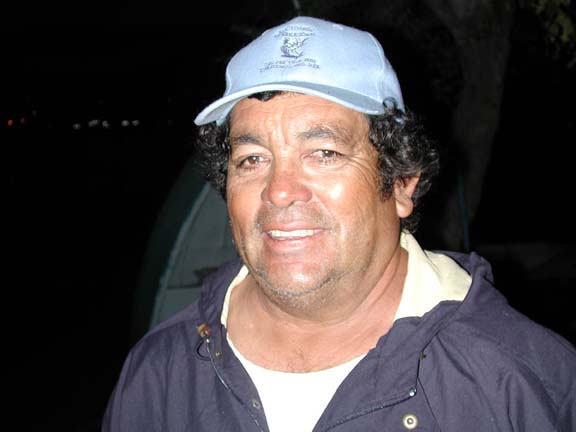 TUNA POWER--Top panguero Luis Maciel of Zihuatanejo, Mexico, discovered the mystery jig's powers when fishing for yellowfin tuna. Photo courtesy Gary Graham.
I knew from its similarity to the very effective Luhr Jensen Stinger that this Zihuatanejo jig would be a phenomenal tuna lure, especially on those days when the fish are reluctant to hit even live bait. With it's lighter weight, curve, balance, and finely flared edges, it would probably have better action than the Stinger, and the size Luis showed me was absolutely perfect, about six inches long, five-eighths of an inch wide, and three-eighths of an inch deep. That's what tuna like.
Luis had the look of a desperate man. He had only a couple of these jigs left, and he loaned me the battered one, after I promised to look for its manufacturer and return it to him--for sure.

Over the following year, I carried this jig with me, and I showed it to perhaps a hundred people, including European manufacturer's reps at the ICAST show in Las Vegas, the Fred Hall Shows, and anybody else who looked old and wise. There were several blind leads, and I found some manufacturers of crudely-made imitations, but nothing as perfect as the original.

In an amazing coincidence, at this year's Long Beach Fred Hall Show, I happened to mention the jig to John Mestrin of Blue Water Tours, and discovered that he not only knew of its effectiveness, but was also well acquainted with Luis Maciel of the Ixtapa Zihuatanejo sportfishing community and had some wonderful stories about what a great fisherman he is. John said that he'd had a computer guy take a three-dimensional scan of the "Maciel jig" and was trying to get it reproduced.

I don't have Luis Maciel's jig any more, having sent it back to Zihuatanejo recently with Gary Graham of Baja On The Fly, but I do have some photos. On the bottom of the jig is the inscription: "S&G VK3."

This was thought by some Europeans to refer to an S&G tackle company that used to exist in Norway or Sweden, and the "VK3" to a "Viking" model or brand name, that is seen here and there.

There are plenty of similar jigs being made, but none with anywhere near the perfection and quality of the original. To this day, nobody has been able to determine the true origin of Luis Maciel's mysterious Zihuatanejo tuna jig. Sure wish I had a box of 'em, and if anybody out there knows where this jig comes from, I'd sure like to hear about it.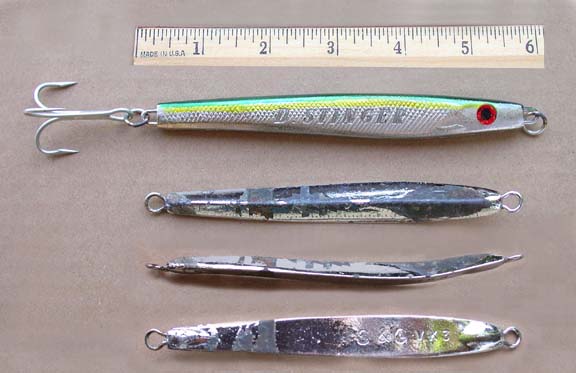 Three views of Luis Maciel's mystery jig compared to a Luhr Jensen Stinger. The inscription on the bottom of the mystery jig says, "S&G VK3."
(Related Ixtapa Zihuatanejo articles and reports may be found at Mexfish.com's main Ixtapa Zihuatanejo information page. See weekly fishing news, photos, and reports from the major sportfishing vacation areas of Mexico including the Ixtapa Zihuatanejo area in "Mexico Fishing News.")