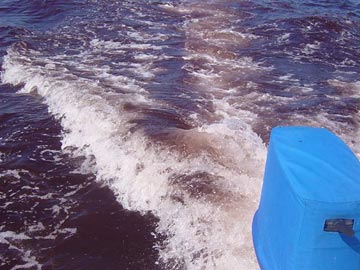 UGLY WATER--Ed Kunze of Zihuatanejo said a cold current knocked out the fishing last week and brought a heavy red tide of a "deep, blood red color," seen here against a bright blue motor cover, to about 12 miles off the coast. Photo courtesy Ed Kunze.

RED TIDE PLANKTON CONDITIONS BESET FISHING BOATS
March 25, 2005, Ed Kunze, Ixtapa Zihuatanejo, Mexico Fishing Report:
About the only thing that can be said about the fishing here in Ixtapa Zihuatanejo vacation area is "slow." There was still some excellent jack crevalle fishing action in the beginning of the week. But the fishing cooler water, which has shut down the sailfish bite, turned dirty inshore and even had several areas of red tide.

On Thursday, I went fishing out of Ixtapa Zihuatanejo with Capt. Martin on the panga Isamar with fly fishing client John Avery of Napa to try for a sailfish. We knew the odds were against us, but John wanted to give it a try. From 12 to 20 miles out, we encountered large areas of red tide and we never even raised a sailfish.

(See "Mexico Fishing News" online for current fishing reports, photos, weather, and water temperatures from Ixtapa Zihuatanejo and other major Mexican sportfishing areas. Vacation travel articles, fishing maps and seasonal calendars, and fishing related information for Ixtapa Zihuatanejo may be found at Mexfish.com's main Ixtapa Zihuatanejo page.