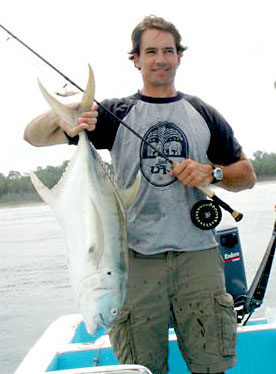 KITE ON THE FLY--Dean Gilardi used a kite teaser to fool this nice jack crevalle into fly rod range while fishing at Pantla, 45 minutes north of Zihuatanejo with Capt. Felipe on the panga Yellowfin. Gilardi's wife also got a roosterfish and another jack on conventional gear with the kite teaser. Photo courtesy Ed Kunze.
GOOD ROOSTERFISH ACTION FOUND AT PANTLA FISHING AREA
July 29, 2005, Ed Kunze, Ixtapa Zihuatanejo, Mexico Fishing Report:

The 80-degree deep blue water is only 4 or 5 miles off the beach at Ixtapa Zihuatanejo. We are getting out of the full moon period and the sailfish fishing is improving daily.
We are currently getting about 2 to 3 fish per boat per day average. There are still not many people fishing at Ixtapa Zihuatanejo, and the fleet is holding fairly steady at about 12 boats a day.

The roosterfish action, at times has been fantastic. Cali, on the panga Zapitito Gordo took fly fishing client Matt Rice of Colorado out to the Pantla area. They raised 5 roosters, of which all could have been caught on conventional gear, but Murphy's Law, and a rush of adrenaline, made it real tough to even get the fly in the water.

Felipe, on the Ixtapa Zihuatanejo charter fishing panga Yellowfin and I had a little better luck in the same area. We were using my kite off the back side of the waves. Kite fishing for roosters and jacks is a very effective method, and probably the best chance to get a rooster on the fly. We were fishing with Dean Gilardi of California. Dean got a very nice Jack Crevalle, and missed a couple of nice roosters. His girlfriend also got a nice jack and a small roosters.

(See "Mexico Fishing News" online for current fishing reports, photos, weather, and water temperatures from Ixtapa Zihuatanejo and other major Mexican sportfishing areas. Vacation travel articles, fishing maps and seasonal calendars, and fishing related information for Ixtapa Zihuatanejo may be found at Mexfish.com's main Ixtapa Zihuatanejo page.