Nov. 29, 2000, by Gene Kira:

Jonathan Roldan's email messages drive me wild with jealousy.

In case you aren't familiar with ol' Sr. Roldan, he's the owner and, as far as I can tell, the only employee of "Jonathan Roldan's Tail Hunters Fishing & Adventures", which is a long-standing and highly-regarded sportfishing service based in La Paz, Baja California Sur, Mexico.

Jonathan also happens to write some of the best fishing reports coming out of La Paz today. Every week I wait for that email message from "Riplipboy@aol.com" to arrive, and I'm never disappointed. Riplip's reports are always illuminating, entertaining, and just plain fun to read. Even if it's blowing 25 knots out there, Jonathan finds a way to spice up his always lively prose (such as sending a photo of two seasick clients upchucking over the transom, or maybe a hot sailfish jumping into a panga and landing in the livebait well).
I used to wonder about Jonathan's uncanny way with words, until I found out that in another life he was a lawyer in Los Angeles. (No hay problema, amigo, everybody makes a few mistakes in life).

But it's those casual emails that really make me jealous. For instance, last night this arrived:

"I'm in Obregon at the moment and spent yesterday in LOVELY Hermosillo. Now there's a great place to write home about."

Jonathan, what the hell are you doing in Hermosillo? Nobody goes to Hermosillo. Jonathan, you're having too much fun. I can't stand it.

In addition to enjoying all kinds of adventures that I only dream about, Jonathan is also a lightning rod for fish. There are two kinds of fishermen: the "fishy" ones and the rest of us. Jonathan is a "fishy" guy, and he makes his living by letting some of that talent rub off on his clients.

For example, here's a photo of one of the biggest barred pargos I've seen caught in Baja in several decades. I was caught by Jonathan's La Paz sportfishing client, Mike Blodgett at the south end of Isla Cerralvo.

Mike had one of those days you dream about, and here's how he describes catching his big, mean La Paz pargo:
"I caught the pargo at the south end of Cerralvo Island on 50-pound line. It was a great fight. The fish immediately went into the rocks. I could not budge him. I tried every trick in the book to coax him out. As I hung on and waited, I looked down and there was a layer of hundreds of needlefish and below them were hundreds of amberjacks.

"I could see at least 50 feet down. I hung on for about 15 minutes. I was just about ready to pull until the fish came out or broke off when I felt a slight movement. I pulled up hard and reeled down fast a few cranks, he was out of the rocks. I worked hard to get a few more cranks to get him away from the rocks. The fight was on. It took me about another 15 minutes to get him to the boat. When I saw him I knew he was something special.

"I love fishing around Cerralvo Island. I'm going back for a week this summer.

"The day I caught the pargo was my favorite day fishing ever. That day I started out early in the morning at the north end of Cerralvo. Immediately caught six bonita. Then I caught a 20-pound dorado. Then I caught three yellowfin tuna back-to-back-to-back. Two of them were about 80 pounds each and one was about 60 pounds. Then I caught a needlefish. Then a large sailfish.

"After all this I needed a break. I asked the panguero what else can we catch? He said pargo? I said okay. So I rested while we cruised to the south end of the island. I hooked a sardine in the butt so he would swim down. The pargo hit it right away. After I landed the pargo I caught four amberjack in a row.

"This was all by 11:30 a.m.! I told the panguero to take me back, I had had enough for the day. I went back to the pool. My wife asked why I was back so early. I told her I came back to spend time with her. The truth was I was beat, and she laughed and knew I was fibbing.

"Baja is great! I spent 15 days down there. Five in Cabo, five on the East Cape, and five in the La Paz area. I have tons of fish stories. This was my first trip down there. I am from Ohio but love ocean fishing. I go somewhere a couple times a year. By the way I really like the book Baja Catch. I read it twice before I went."

Congratulations, Mike, for your beautiful day of fishing at La Paz, and thanks to guys like Jonathan Roldan for making experiences like this possible. (I'm still jealous, though.)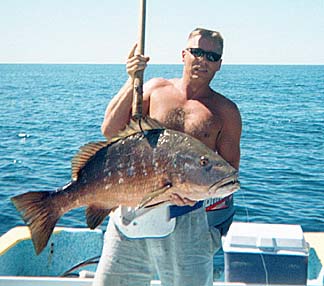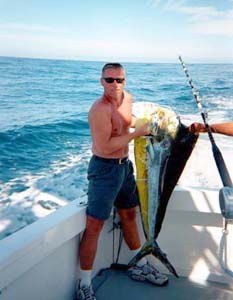 Mike Blodgett's monster pargo and a pretty nice dorado.
(Related La Paz articles and reports may be found at Mexfish.com's main La Paz information page. See weekly fishing news, photos, and reports from the major sportfishing vacation areas of Mexico including the La Paz area in "Mexico Fishing News.")