By Gene Kira, Oct. 15, as published in Western Outdoors Magazine:

During many happy days of foolin' around when I should have been working, I've had the pleasure of rubbing elbows with just a handful of truly great Baja anglers. Two that immediately come to mind are Neil Kelly, the Michelangelo of aluminum boat fishing, and Gary Graham, who manipulates marlin with his flyrod magic wand like a modern-day Merlin.

Just recently, I was fortunate enough to meet another master, Bill Mathias, who may well be one of the best roosterfish anglers that ever lived, even though you would have to sit on him and pound for an hour to make him admit it.

All of the really great anglers I've met have several things in common: they keep copious notes, they are very focused on their quarry, they go about their business completely without fanfare or hocus-pocus, and finally, they catch a hell of a lot of fish.
Bill Mathias fits this profile perfectly. He's a world-traveled geologist with the soul of a scientist. He keeps meticulous notes, right in the panga, and he's always thinking about his quest with a completely open-minded and objective point-of-view. For Mathias, myth and traditional "fishing knowledge" are nothing more than starting points for his roosterfish experiments.

But most importantly, Bill catches great big roosterfish virtually every day that he fishes in his favorite waters south of La Paz, Baja California Sur, Mexico, averaging about two roosterfish per day, and he does it so smoothly and professionally that you don't really appreciate what you've seen, until the day is over and you start to think about it. Not only that, but Bill fishes at La Paz--exclusively for big roosters--seven to eight times per year, for six days on each trip. He's obsessed. As he puts it, "I have a fixation on those stupid fish. They have such a nice surface strike."

I first became aware of Bill's roosterfish exploits in the pages of Western Outdoor News, the weekly sister publication of this magazine. Every now and then, he would be mentioned in the La Paz fishing reports sent in by David Jones of the Fisherman's Fleet panga charter service. Always, there was some reference to big roosterfish, and it became a routine thing after a while.

But this summer, Jones filed an exceptional report that really set your mind to smoldering. In six days of fishing at La Paz, it said, Bill Mathias caught seven roosterfish estimated at 80 pounds or better, including four fish estimated at over 100 pounds, and at least one fish--estimated at 124 pounds--which would have easily broken the current IGFA all-tackle record of 114 pounds (Abe Sackheim, La Paz, 1960).

This was just too much to let slide. I called David Jones to confirm the story, called Bill Mathias to get his okay, and then drove down to La Paz to check him out, camera in hand.

In extremely poor conditions caused by a tropical storm, we fished together for two days this past September at Mathias' favorite roosterfish grounds--centered in about a 10-mile radius around Punta Arena de la Ventana south of La Paz. I saw enough to be convinced that if you want to catch lots of very big roosters, you would do well to consider the methods that Bill has developed. We didn't break the all-tackle record, but we pulled up five big roosterfish (and no other species) from water I would have sworn was empty or nearly so. Bill's methods taught me something new about how many fish are actually down there, even when it doesn't look like it.

(At this point, it must be said that Bill gave his permission to be the subject of this article only with the understanding that catch-and-release fishing would be stressed. Bill goes to extreme lengths to release all roosterfish, even to the extent of giving up world records. In fact, he releases his fish so quickly, he's the worst photographic subject I've ever met. Even with a trophy in his hands, he really, truly cares more about the health of the fish than getting a possible photo of a lifetime. Frustrating, but you gotta respect it. So, amigos, release all roosterfish to fight another day. They are a pure game fish anyway, lousy eating, but magnificent catching.)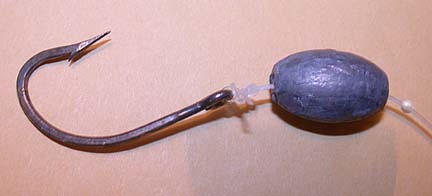 Mathias' ultra-simple but very effective ladyfish lure.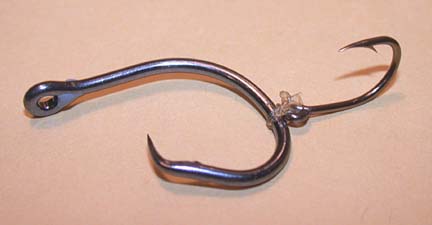 The set-up that Mathias uses for an 85 to 90 percent roosterfish hookup ratio.
So how, exactly, does Bill Mathias do it?

First off, Bill almost always fishes with his favorite La Paz guide, Isidro, of Fisherman's Fleet, and he always fishes somewhere around Isla Cerralvo or Punta Arena de la Ventana, an hour's drive over the hill south of La Paz. (This area is one of Baja's two top hot spots for roosterfish, and the other one, in East Cape, is also named Punta Arena.)

Bill's seven to eight La Paz fishing trips per year are scheduled in all the seasons except winter, but that's only because he hates to be cold and wet. If it weren't for that, he'd probably fish in winter too. He catches big roosters at all seasons.

The fishing day starts off with a search for big ladyfish, or sábalo--the bigger the better--around the points south of the lighthouse. As a last resort, Bill will use a cocinero (green jack), mackerel, or whatever, but for big roosters you want a great big ladyfish. The size of Bill's baits in relation to the fish he catches is just amazing. On one measured fish, he caught an 80 cm (nose-to-fork) roosterfish with a 50 cm live bait! Talk about a mouthful!
To catch these ladyfish live baits, Bill and Isidro use the most basic of all lures, as is sometimes seen in the hands of Mexican boys. It's a plain 3/4-ounce egg sinker, with a 2-foot, 40-pound shock leader passed through and tied to a 5/0 hook. Punto. After years of experimentation, Bill and Isidro have settled on this ultra-simple lure as the best for ladyfish, and it does indeed work quite well. To get really fancy, Bill will slide a bead onto the shock leader in order to keep the lure from slipping up over the knot that connects the leader to the 12-pound main line, but that's not really necessary.

To catch bait, drift around the points, casting and jigging, until you have half-a-dozen good ones.

For fishing the roosters, Bill uses a lever-drag reel loaded with 20-pound mono that ends in a 2-foot Bimini Twist knot that he glues for extra security. Next comes a 10-foot leader of 40-pound clear mono (Fluorocarbon? Nah.), tied with a palomar knot to a very special hook setup.

Heads up here:

Bill uses a super-special hook setup that he's developed over the years. Starting with a 7/0 Eagle Claw (#L2OO4) circle hook, he crimps the barb flat, then puts the hook down and pounds out the offset, resulting in a no-offset, no-barb hook. This almost eliminates gut-hooked fish (you still get a few), and makes release easy.

Directly to the middle of the outer bend of this main hook, Bill ties the eye of a smaller 2/0 hook, using a bit of light mono or something like dental floss.

This smaller hook is run downwards through the upper lip of a ladyfish, leaving the 7/0 main hook floating free in the water perhaps half-an-inch in front of the bait's nose.

Again, the actual fishing is ultra-businesslike, simplicity itself. With the drag set just hard enough to keep the line from pulling away, your ladyfish live bait is trolled very slowly around this classic roosterfish area of sandy bottom and scattered rock piles, from the beach out to a few hundred yards...until you get a strike. False alarms might be caused by needlefish attacking your bait, but when you get a good buzz, you simply push the lever forward to "strike" and wind.

There is no formal hook-set, no raised rod tip, and fascinatingly, Bill uses virtually no "waiting period" before he starts winding. With a very timid "tick, tick, tick" alarm on the take, he might wait as long as four or five seconds, but that's all. On a solid "ripping canvas" take, he doesn't wait at all. He just starts winding. Remember, there is virtually no wait, and no wild, TV bass angler hook set.

On the days we fished together at La Paz, Bill went five-for-five on good-sized roosterfish with this setup, which he says was slightly better than his average of 85 to 90 percent, as opposed to, say, 50 percent with the standard J-hook, long wait, and hard hookset.

So, there you have it, the spot, the guide, and Bill Mathias' finely-honed method for catching lots of big roosters. ¡Andale!

(Related La Paz articles and reports may be found at Mexfish.com's main La Paz information page. See weekly fishing news, photos, and reports from the major sportfishing vacation areas of Mexico including the La Paz area in "Mexico Fishing News.")