By Gene Kira, June 16, 2003, as published in Western Outdoor News:

It seems there is always more stuff to discover on each Baja trip, and my recent fishing trip to La Paz, Baja California Sur, Mexico, was no exception.

Not only did I get some new fish species photos that I've been wanting for a long time, but I also got an introduction to a promising, relatively new fishing operation--and I even added a new taco stand to my personal "Best in Baja" lifetime list!

The new species photos were taken during a pleasant day of fishing on the "Las Arenas side" south of La Paz with Capt. Jorge Hirales of the relatively new Tortuga Sport Fishing operation.
I'd only talked to Tortuga's owner, Gerardo Hernández, a few times on the phone, but Tortuga Sport Fishing turned out to be one of the highest service level, comfortable, and friendly operations I've ever seen. Originally from Oaxaca, the Hernández family (father, Gerardo; mother, Maya; son, "Dos"; and daughter, "Celi") personally tends to every aspect of the business, which is based in a new, two-story, five-room guesthouse in downtown La Paz. There isn't enough space here to describe the whole deal, but suffice it to say that it's nice, real nice. Tortuga Fleet, for example, is the only operation I know of that fillets your iced down fish at no charge, and vacuum packs and freezes it for you, also at no charge.

They also ride you around La Paz in their near-new vehicles, stuff you with incredible food, and, while you fish with their six hand-picked captains from Agua Amarga, Dos Hernández himself waits on the beach to personally fix any problems that might arise during the day.

After many years of rattling around Baja, I was impressed. Probably, the most enjoyable part of my visit was in meeting their other guests, who were just a big mob of smiles, funny stories, and good vibes. Tortuga's guest lounge and dinner table is a happy place where you are made to feel like "one of the gang" about fifteen seconds after arriving. Here's the contact info: Tel. 011-52-612-122-5112, gerardo_tortuga@hotmail.com.

Another thing I liked was my panguero, Jorge Hirales, who quickly understood that I didn't care about tuna and dorado; I wanted to catch some new species photos only, and if possible, I wanted to use some new lures I was testing, instead of the normal La Paz technique of flylining live bait.

To tell you the truth, the fishing was so tough that we did eventually resort to live sardinas, and Jorge even tolerated me missing fish after fish (Hey, gimme a break! I'm just a lure guy).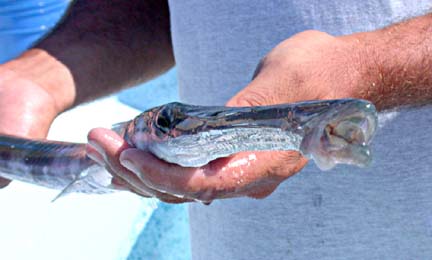 BUGLE BEAK--The thimble-mouthed, almost finless cornetfish still manages to chase and catch sardinas. Photo by Gene Kira.
Despite the unfavorable conditions, I got some much coveted photos of cornetfish, greenjack, two phases of hogfish, needlefish, orangeside triggerfish, rose threadfin bass, blue-and-gold snapper, and (take that, Jorge!) I caught the biggest fish of the day with a jig, a nice Panama Graysby.

In all, it was a great day, with a very nice fishing operation, and a panguero who was willing to let me do my thing and not worry about competing with his colleagues. Gracias, Jorge Hirales.

Speaking of taco stands (we were speaking of taco stands, weren't we?), on this La Paz trip, I finally got to the amazing "Bismark-cita" all-seafood stand, actually a small restaurant, toward the east end of the malecon. This place is a little pricey, up to about 11 pesos for the fancier tacos, which includes stuff like lobster, but it's well worth it. The selection is fantastic.

Combined with the all-night Rancho Viejo carne taco restaurant at the opposite end of the malecon, and the La Fuente custom ice cream parlor in the middle, this makes La Paz' waterfront the street dining "species" capital of Baja, as far as I'm concerned. Love it!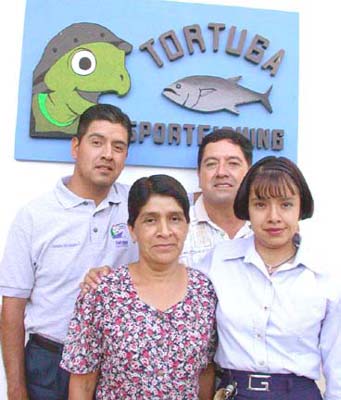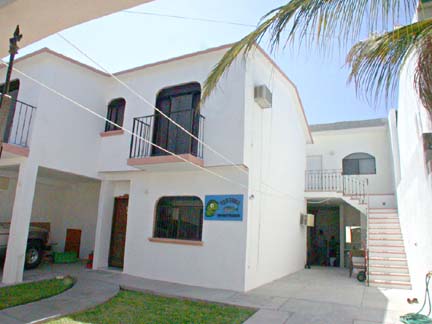 "AMARILLOS" (Left)--Tortuga Sport Fishing Capt. Jorge Hirales, with an orangeside triggerfish on the "Las Arenas side," La Paz, Baja California Sur, Mexico.

FAMILY BUSINESS (Right)--Operating Tortuga Sport Fishing at La Paz are, left to right: son, "Dos" Hernández; mom, Maya; father, Gerardo; and daughter, "Celi."

CENTRAL LA PAZ--Tortuga Sport Fishing's comfortable guesthouse in La Paz, Baja California Sur, Mexico. Photos by Gene Kira.
(Related La Paz articles and reports may be found at Mexfish.com's main La Paz information page. See weekly fishing news, photos, and reports from the major sportfishing vacation areas of Mexico including the La Paz area in "Mexico Fishing News.")