July 15, 2003, by Gene Kira, as published in Western Outdoors Magazine:

I'm going to La Paz again in a few weeks, to hunt for big roosterfish--at Las Arenas and on the southwest side of Isla Cerralvo--but the real show, as always, will be given on the waterfront malecon each evening by the city's beautiful and charming señoritas.

Nobody can really explain why the women of Baja California Sur's capital city should be so especially attractive and amiable, but visiting tourist anglers have known this fact for many decades, and it has even inspired Mexican songs and legends. If you don't believe it, all you have to do is walk down the street with your eyes half-open (and watch out for lampposts).

I was awakened to this phenomenon some years ago at a taco stand a few blocks up from the Hotel los Arcos. It was late on a suffocatingly hot summer evening, and I ordered my carne tacos in the dim street light without really paying much attention. As I started to squeeze the little piece of lime over my taco, I happened to glance at the face of the stand's young lady proprietor, who, very briefly, batted her eyelashes at me and smiled.
Well, I almost dropped my little paper plate, right there on the cobblestones, and she saw it and threw her head back and laughed, knowing full well the hypnotic power that her perfect oval face and huge black eyes had over men--even sweaty, dirty, tired old beach rats like me.

Since then, of course, I've learned to hold onto my tacos with both hands in La Paz, but you still have to beware of those dangerous fire hydrants and lampposts that seem to come out of nowhere, while your eyes are distracted. Watch out for missing cobblestones too.

Western Outdoor News' first Baja editor, Ray Cannon, was a former Hollywood movie director who had a professional eye for beautiful, vivacious women, and ol' Ray wrote a number of stories about the self-confident and outgoing señoritas that he met at the Hotel los Arcos and other locations around the city of La Paz. (Ray also wrote about another local establishment, risibly referred to in those days as Mrs. Murphy's Riding Academy, but that's another story entirely.)

In a Western Outdoor News column that was never published, Ray even theorized that the unusual friendliness of the city's young ladies might have originated during an earlier era when women greatly outnumbered men.

Said Ray: "On my first visit to La Paz I was agreeably surprised to find the young ladies to be very genial...when I asked a sloe-eyed beauty here where the post office was, she didn't just tell me, she took me...This could have developed half a century ago when men seeking employment and higher education left the town to an overbalanced female population--a ratio of six women to one man."

Ray's theory might partially explain the friendly personalities of these ladies, but it certainly can't explain what's going on with La Paz' gene pool of feminine DNA, which is unmistakably skewed toward producing a seemingly inexhaustible supply of eye-popping beauties who can break your heart at fifteen and still make you look at fifty-five.

In today's La Paz, there is no finer place to ponder the mysteries of this phenomenon than the landmark, family-operated custom ice cream parlor called "La Fuente." (You can find this place easily, since it's right on the waterfront malecon, between the Hotel Perla and the Hotel los Arcos, and it faces directly onto the main municipal pier.)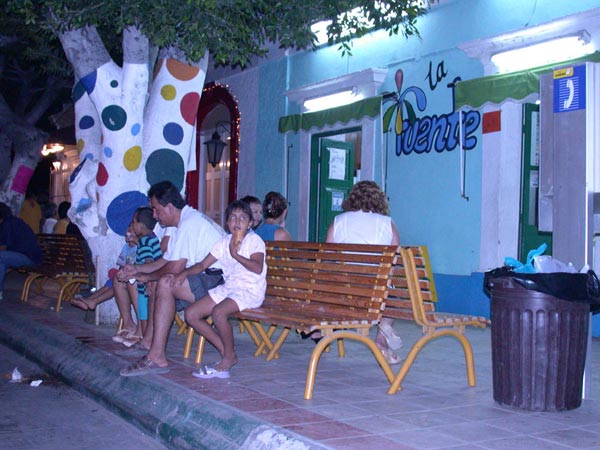 A hot summer night at the La Fuente ice cream store on La Paz' famous malecón.
At La Fuente, the basic technique is to get yourself a huge double cone and simply sit on the wooden benches to enjoy the show, or perhaps stroll out on the pier, and look back at the young couples silhouetted against the city lights. What you are seeing is the vestigial modern version of a custom that goes back centuries, to when Mexican boys and girls would stroll around the town square in opposite directions, covertly glancing at one another under the watchful eyes of parents, grandparents, and chaperones. (In La Paz, this ritual once took place on a large square area built out over the bay near this very spot.)

And now, it seems, with the advent of the internet and online dating and so forth, that the charming ladies of La Paz have widened their nets to encircle men they've never even met. I recently received the following email from a man we'll just call "John" who asked for advice about how to solve his lovelorn predicament with a La Paz señorita we'll call "Maria":

"I'm 52 years old, single, never married, no kids. I need your advice.
"I met a young Mexican lady through the internet who lives in La Paz. She's 24 years old and very smart. She has an education and works in a store. Her name is Maria, and we've been corresponding through email.

"She lives with her grandmother. She had a boyfriend who used alcohol and drugs and beat her up, so she left him.

"Maria stated that she makes $14 a day. So, through our correspondence, I fell for her, and I told her I would bring her here.

"But she does not have enough money. She said she needed $400 to cover her expenses to get a visa. After she gets the visa, I will buy a ticket for her to catch the airplane. She wants a better future. What do you think, sir?"

John also sent his phone number, and I did call him, but he was very nervous and ended the conversation rather abruptly. He never called back, and I've always wondered how things turned out with his "Maria."

In Baja, it's amazing how often such impromptu affairs of the heart between romantic, impulsive foreigners and these beautiful señoritas have turned out to be the stuff that dynasties are made of, and I can think of half-a-dozen of Baja's historic fishing resorts that were the products of such fecund and long-lasting unions.

Another, quite elderly acquaintance of mine, with a terminal heart condition, also asked the same question when his new, very young and spectacularly beautiful novia from Ensenada demanded that he marry her, or "no touch."

"I know it's only for a short while," he said, after buying her a huge diamond ring, "but I don't care."

I'm sure he must have died with a smile.

But right now, there are roosterfish slashing the beaches at Las Arenas and the pangas are waiting. It's time to put on the blinders, hit the water, and get "serious." The señoritas of La Paz will have to wait a few more evenings.

But then, it will be time for an ice cream at La Fuente...and maybe just a short stroll on the pier...and maybe, one of those señoritas will smile and bat her eyelashes at a sweaty old Baja fishing guy, and maybe she'll even gently grasp his wrist with her slender fingers and ask him what time it is.

Hey, it ain't for nothing that the beautiful and beguiling city of La Paz bills itself as the "Puerto de Ilusión"!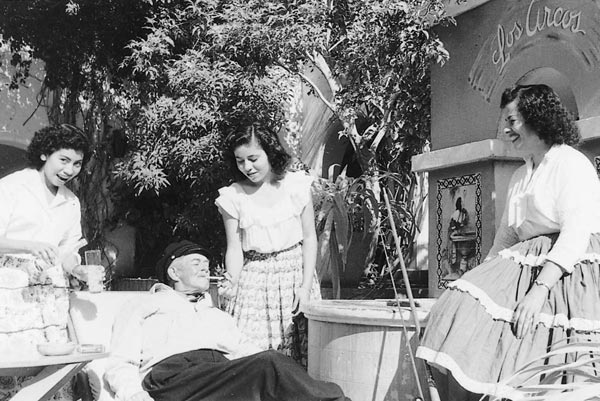 Former Western Outdoor News Baja Editor, Ray Cannon, with his faithful spinning rod and three charming waitresses at La Paz' Hotel los Arcos.
(Related La Paz articles and reports may be found at Mexfish.com's main La Paz information page. See weekly fishing news, photos, and reports from the major sportfishing vacation areas of Mexico including the La Paz area in "Mexico Fishing News.")